Summertime is usually pretty relaxing on the sports media circuit. It's a time without the NFL or the NBA when press-box warriors can slip on their shades, sip mojitos and scribe whimsically about Wimbledon, the Tour de France and the PGA.
It's a time when I like to slip into my two-piece and hit the stands in the sands for some good times on the AVP Pro Beach Volleyball Tour. And usually, it's the best time for me to rave about the sport's ridiculous fan-to-fun ratio.
But in a summer of Barry Bonds chasing 756*, and the Phillies rattling off their record-setting 10,000th loss, and Roger Federer going agro on grass, and David Beckham coming to America, it's a little harder to get a headline around here.
Even if you're Misty May-Treanor.
Shoot, it's not like she's been slacking off in the sunshine. Last weekend in Berlin, Misty (and playing partner Kerri Walsh) nabbed their third international FIVB gold medal in four attempts this season.
When they weren't crossing borders to stockpile points in an ongoing effort to qualify for Beijing '08 and defend their Athens gold medal, Misty and Kerri were dominating domestically, rattling off an unprecedented eight consecutive AVP tournament titles in the nine tourneys the team has entered this season.
One more little credential you might have missed -- back in May, when Misty and Kerri won the AVP Hermosa Beach Open, May-Treanor became the winningest female player in beach volleyball history. The victory in Hermosa was Misty's 73rd and set her atop previous record holder Holly McPeak (Misty's former playing partner).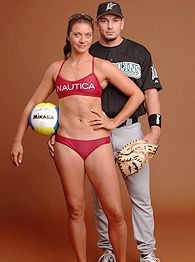 Despite their crazy schedules, M-squared are still going strong.
Still, for all of her accomplishments this summer, Misty May-Treanor has somehow remained relatively under the radar. She herself told fans in attendance after the record-breaker that she prefers a low-profile, quipping, "I don't like to be the center of attention unless I'm on the dance floor."
Dance moves notwithstanding, she successfully ducks mega-mainstream headlights. Maybe it's because she is often packaged together, sharing the spotlight with someone else. In volleyball, the tandem is inescapable. It's Misty and Kerri. Always Misty and Kerri. In life, she's linked by marriage (and by hyphen) to her husband, Marlins catcher Matt Treanor. And if that's not enough distribution of attention, people even like to link Misty to tennis star Taylor Dent, her first cousin.
So maybe she's got plenty of outs from the solo spotlight. But this weekend, as the AVP tour heads to Long Beach, Calif., all eyes will be on Misty May-Treanor whether she likes it or not.
The Long Beach State alum comes home after being out of California for eight weeks. She and Kerri will return as the familiar top seed in AVP action after their glaring absence from the most recent tour stop (Seaside Heights, N.J.) earlier this month. The AVP tour itself returns to Long Beach after a hiatus, marking the first time the tour has hit the LBC since Misty's rookie season in 2000. It should be noted that Misty's collegiate senior season at Long Beach State was punctuated by a 36-0 run and her 49ers hoisting the NCAA national championship trophy in team indoor competition.
So to Long Beach we go. In the dub style of hometown heroes Sublime, it's summertime, and the livin's easy. And all the people at the dance will agree that she is well-qualified to represent the LBC.
My friends, meet Misty May-Treanor, in her own words...
On her life as a constant tandem.
"Well, of course I have no problem being attached to Matt Treanor. I wouldn't want to be attached to anyone else. ... Kerri and I are a unit. We're a team, and just by the nature of our sport, we're always promoted together. I think we are definitely two different people with two different personalities, but we're always linked."
On her neighborhood anonymity.
"I'm a big Starbucks fan. I have this strange ability to sniff out Starbucks no matter what city I'm in, but when I go to the local shop, and we're in season so I'm not in there regularly, I still have to tell them my name when I order my soy vanilla latte."
On how she keeps a low profile.
"Once the day is over in volleyball, I leave the court and no one sees or hears from me for the rest of the day. I like to keep work at work. It's pretty easy for me to live a pretty normal life. I like to coach and I like to sit in a crowd at a baseball game. No one really recognizes me unless I'm walking around a beach half-naked in a suit with my name on it. Of course, I have it easier than Kerri. When you're 6-3 you tend to stick out a little bit."
On getting hitched to husband Matt Treanor vs. teaming up with partner Kerri Walsh. "Not to take anything away from my husband -- his proposal was very cute, but I kind of knew it was coming. The engagement wasn't a huge surprise. I knew I had him! But with Kerri, I needed to do a little more convincing! I'd have to say that the bigger shocker in my life was when Kerr and I decided to play together."
On who she spends more time with.
"Oh man, it's no contest. Matt would even say that I spend more time with Kerri. It's not even close. It's pretty sad, but it's the truth and there's nothing we can do about it."
On staying together season after season while other teams split up.
"Kerri and I have had our ups and downs, of course. Last year we had some rough times, but we never needed marriage counseling or anything like that. We're pretty good at communicating with each other. We talked things out in the offseason and figured it out. ... And for the record, Matt and I have never needed marriage counseling, either."
On her and Matt's tandem tattoos.
"I have three tattoos. The most recent is the M-squared. That's for me and Matt. He has it on his left arm. I always joke with him and say, 'Babe, if anything ever happens, I'm still MM, but I don't know about you.' [laughs] No. That will never, ever happen, but I like to joke with him about it."
On opting out of the AVP Seaside Heights Tournament for FIVB's Montreal Open.
"Kerri and I came into the season with a list of events we wanted to go to, knowing that there were Olympic qualifications. Montreal was on that list. It's not that we want to miss AVP events, but we want to try to qualify for the 2008 Olympics, and as much as we can get accomplished this year -- so that we don't have to travel so much next year -- is a plan that makes sense for us. That's what our thinking was. Montreal is right across the border, it's the closest one and it made sense to knock it out. We gave plenty of notification [to the AVP] and fans know where we stand and they understand our priorities."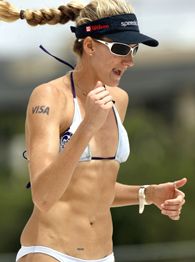 Since teaming up, Walsh and May-Treanor have been inseparable in the winner's circle.
On the intense travel schedule. (Weeks spent in Berlin, Montreal, Stavanger, Charlotte, Atlanta, Tampa, Louisville, Hermosa Beach, Glendale and Huntington Beach -- with Austria, Boston, Brooklyn, Cincinnati, Las Vegas and San Francisco around the corner.)
"Even with the AVP schedule expanding and adding cities and tour stops, if it was just AVP events, I'd be like, 'This is heaven'. We just got back from Berlin, and at this point in the summer it's like, my head is here, my body has no idea what's going on. You're nine hours ahead, you're three hours behind, who knows. It definitely takes its toll, especially the international travel. That's just another reason why we're trying to get those events in this year, so that we don't have to feel like this next year. We want to take care of ourselves as best we can in that all-important Olympic year. We're taking one for the team this time around, that's the only way to put it."
On her most memorable volleyball loss.
"The one that sticks with me is probably back when I was playing with Holly for the 2000 Games. I think we lost in the third set. It was a tight match, and if we won we would have had a chance to medal." On starting the AVP 2007 season with a loss (before streaking to eight straight wins).
"Looking back, I think it was a good thing for us. Obviously we wanted to win, but when you are working on new things all offseason and plus we have a new coach this year, we knew that with all the changes we were bound to have a few things to work out. It taught us a lot and I think we're still on an upswing." On her Long Beach homecoming this weekend.
"I'm so excited to be at home right now and back in California. Of course, Long Beach is very special to me. Huntington has always been the biggest of the California events because I grew up playing on those beaches. Since eighth grade I was going to that beach every single summer. Huntington was my childhood. From there, it was Long Beach."
Favorite college hangout?
"I would say the training room, the gym. Ha, oh you mean besides that? We always went to baseball games on the weekends. Our food spots were Super Mex, and Sunday's we were always at Nick's Deli for breakfast burritos.
Favorite class at Long Beach State?
"I loved anatomy and physiology, and just about everything in my major [kinesiology]. And there was also this theatre class that I loved."
Favorite class to skip at Long Beach State?
"Definitely political science, freshman year."
On what she was like as a college student at Long Beach State.
"Do we have to talk about that? I was a college kid. I definitely enjoyed my time in college. I think my coaches would tell you the same."
On the 49ers fight song.
"I swear we didn't have a fight song when we were there. Now they play it, and the girls hold their finger in the air and it's this big thing. I don't know where it came from. We never sang anything. ... We won the title and just waved. Thank you for coming. Ha-ha. That was it."
Most favorite article of clothing ever issued by the Long Beach State athletic department?
"Obviously my jerseys. And believe it or not, I still wear my bikers from college to work out in. But my favorite is probably these down, feather coats we got during the Final Four in Spokane, because it was snowing up there. Those were great. I'm thinking we were supposed to give those back, but that definitely made it home with me. I still wear it. "
On the biggest life lesson learned from her time at Long Beach State University ?
"Treat people the way you want to be treated, because it's funny how you will run into people years later, after college and you're older, and who knows what you're doing with your life. But you'll remember how you were treated, and people will remember how you treated them. So when you're at those parties, be nice! You'll run into people somewhere, someday, and that's what sticks."
Mary Buckheit is a Page 2 columnist. She can be reached at marybuckheit@hotmail.com.