Whether he really was shopping for an engagement ring this week or not, Minnesota Timberwolves roster placeholder Marko Jaric is still going home to Victoria's Secret supermodel Adriana Lima at night.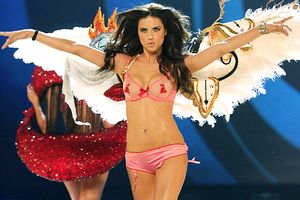 Steve Granitz/WireImage
Yes, it's true, this woman is dating Marko Jaric.
And whether they were reasonably cute in the haze of the hot-tub steam or not, Matt Leinart -- one of the hottest, most successful young quarterbacks in the NFL -- has been busy
holding a funnel for 20-year-old community college chicks
.
I'm not one to judge, but what gives, boys and girls?
This binary aberration cannot be ignored, lest we miss the profound lesson it imparts. After all, it's good to learn from our own mistakes, but even better to learn from someone else's (camera-phone-captured, Internet-blasted) missteps.
Let's start with Mr. Leinart. He had himself a fine Southern Cal baby mama, and where has he gone from there? To Paris Hilton and a bunch of random bikini-clad coeds.
Reading a page from Tom Brady's playbook surely would remind Leinart that a touch of class goes a long way. Next time you're in a Jacuzzi with young babes, ask yourself: WWTD?
The answer? Tom would inquire about an upgrade. Tara Reid ... Bridget Moynahan ... Gisele Bundchen. See that progression, Matty? Tom Brady is not made of Teflon, but his image remains unscathed because he's always riding the escalator headed up.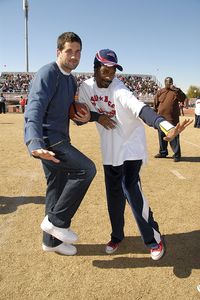 Frank Micelotta/Getty Images
Snoop could probably help Matt Leinart upgrade.
Right now, Matty, your glass elevator is slowly cruising down the shaft, stopping floor by floor at subterranean parking levels. Ring the emergency bell, and don't step out until you're back with a B-movie star, an American Idol, or, better yet, a philanthropic multilingual supermodel. Say ... Adriana Lima.
The 5-foot-10 Brazilian beauty is bold enough to grace the cover of GQ with nothing but a piece of palm keeping her classy. Accolades awarded to her most elegant excellence include Spike TV's Hottest Girl on the Planet, AskMen.com's Most Desirable, and People magazine's Most Beautiful. She's got it all and seems to maintain it wisely, which is why I'm officially adding another title to her catalog-enshrined shelf: Most Underachieving Global Goddess.
This comes via her man Marko -- whose biggest distinction, before he started dating Lima, had been entering an NBA game with his jersey on backwards.
Lima is "the best face in the industry," entrusted with Victoria's secret -- and she has chosen to whisper it in the ear of Marko Jaric. There is no explanation for this. Especially because she makes more coin than he does, and she swears, in solidarity with virtuous Catholic girls everywhere, that it's not all about the nookie.
The lesson of this state of affairs is simple. If you're a supermodel and can't quite shake your jones for jocks, make sure they're not from the JV ranks before you commit to a contract. Outsource your research if you have to, but remember, pro sports teams keep pretty robust rosters these days. So just because a dude's on one doesn't mean he's got game worth playing with.
Furthermore, make sure your sporty stud isn't just a false alarm. That is, make sure he didn't charm you the night he was traded from the Clippers to the Wolves, thus skewing your first impression of him (via a "SportsCenter" split-screen with Sam Cassell).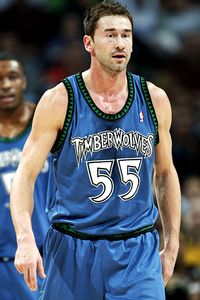 AP Photo/David Zalubowski
Enjoy it while it lasts, Marko!
Finally, just make sure your team member's got talent. If you're an Angel, you deserve better than a second-rate scrub. (You listening, Brooklyn Decker? What has Andy Roddick really done lately, besides map out tennis tournament escape routes?)
Yes folks, a lot can be learned from this week's tale of two pretties. Don't sell yourself short. Don't fall for fame (or juco fakes). And don't be fooled by false bravado.
When all else fails, just follow your heart. And if a scruffy, scrubby Serb is really the one who knocks your supermodel socks off at the end of the day, well, I'm happy for you.
And I hope someone somewhere is helping Marko Jaric pick you out a really nice rock.
Mary Buckheit is a Page 2 columnist. She can be reached at marybuckheit@hotmail.com.