Annika Sorenstam and Justine Henin just walked away. Sorenstam, 37, and arguably the greatest female golfer of all time, announced last week that she will retire at the end of this season. Henin, 25, and the No. 1-ranked female tennis player in the world, announced that she's retiring immediately.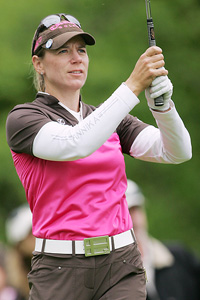 AP Photo/Rich Schultz
Sorenstam is still playing outstanding golf, even though Lorena Ochoa is now considered the top female golfer in the world.
What gives? Why would they call it quits right now -- and how could they just slip out the door with a wave and a smile?
Imagine if tomorrow Tom Brady, Kobe Bryant or Alex Rodriguez looked out into a jam-packed press room, leaned into a microphone, and said, "You know, I just feel like it's time to focus on other things. I've had enough."
We'd freak out.
To understand why Sorenstam and Henin (and many women before them) have decided to walk away during the primes of their professional athletic careers, we must first examine the expectations placed on women in our society.
After all, what's the first question we hear when a baby is born? "Not, 'Does it have 10 fingers and 10 toes,'" says Colleen Hacker, the long-time sports psychology consultant for the U.S. national women's soccer and field hockey teams. "We want to know if it's a boy or a girl."
Simply stated, we cannot deny the fact that we live in a gendered society. And, similarly, we can't refute the idea that, even as gender roles have evolved, motherhood -- even in this age of less conventional family structures -- still carries much of the same weighty responsibility that it did when June Cleaver patented the mold. Even today, if a mother decides to work outside the home, she must prove to her family and to society that her profession (and paycheck) is noble and necessary enough to rationalize a perceived snub of her children.
Men's roles have certainly evolved too. We now demand that dads give more attention to their children, and have a deeper understanding of their spouses. But fathers aren't expected to give up their jobs in order to meet new family requirements. Instead, they are expected to balance their jobs and family.
Imagine if you'd heard someone say a few years back, "Oh, Tiger Woods is going to start a family? Well, he should stop playing golf so he can raise his children as best he can. They have enough money. He should be focusing on being a good father right now."
You'd say that was ridiculous.
Our culture sees becoming an elite male athlete as just about the best thing a guy can do with himself. So we generally agree that if a man manages to mount the prestigious bull of professional athletics, he should ride it until it bucks his old bones up and away into obscurity.
Noah Gentner, an assistant professor of the department of exercise and sport sciences at Ithaca College, says that the glorified perception of the male athlete sets up an interesting scenario. "Men see sport as the end-all be-all, and our culture generally supports that idea," says Gentner. "That's why we see male athletes hanging on, sometimes even much longer than they should. They don't want to walk away from the top of the mountain they're standing on."
But professional athletics, even at the most elite level, is not viewed as the top of the mountain for women. Think about how we perceive professional female athletes like Candace Parker, Sue Bird, Cat Osterman, Jennie Finch, Abby Wambach, Kerri Walsh and Misty May-Treanor. They're almost a novelty in our culture, right? A unique kind of quirky talent. An aberration.
I would argue that, for better or for worse, our society simply does not mark their incredible achievements with the same reverent distinction that their male counterparts enjoy. So then, isn't it interesting that we often see women, in the prime of their careers (or at least far from washed-up), hang 'em up and move on with nothing more than a news conference and a satisfied wave goodbye?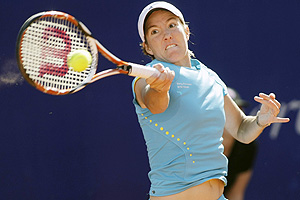 AP Photo/Miguel Villagran
Henin has won the last three French Opens -- but suddenly, she won't be defending her title this year.
It makes you wonder if there is something different in the way women are wired. Something built into their psyches that makes them more willing to retire from a high-level career in pro sports to pursue other things, even if there's still talent left in the tank. It sure seems as if male athletes are driven by much different desires. That would explain why, say, Brett Favre spent 17 long years in the NFL and could barely get through his emotional goodbye, while the world's top-ranked women's tennis player, Henin, was able to walk away tear-free at age 25.
"Why on earth would she do that?" many have asked. I asked Hacker the same question. She told me that personal happiness was the first thing that crossed her mind when she heard the recent announcements of Sorenstam and Henin. "They have already proven that they have the talent, discipline and charisma to achieve the highest success in their sport, but there is a larger question that surrounds these individuals," Hacker explained. "Do they want what they have? That is the question. Success is getting what you want. Happiness is wanting what you get. See the difference?"
So what makes someone happy -- or, perhaps, keeps them happy -- after they've found success? The answer is often scarcely related to on-the-field exploits. Especially for women.
And that success-to-happiness, cost/benefit analysis of a life enveloped entirely in a sport is exactly what's up for debate. Sorenstam explained her decision by saying, "I have other priorities in my life. I have a lot of dreams I want to follow, that I want to live." She added that walking away when she's just 16 wins shy of Kathy Whitworth's LPGA-record 88 titles doesn't bother her. "I'm leaving the game on my own terms. … I'm at peace with what I'm doing."
Henin expressed similar sentiments in her own news conference: "It's a page that's turning. I don't feel sadness, it's more relief."
"Elite athletes, both men and women, all face unique pressures in attaining and sustaining success, but to say that there isn't a gender piece to this puzzle of work-life balance, and persistence, and satisfaction, I think, would be inaccurate," says Joel Fish, director of the Center for Sports Psychology in Philadelphia. "Consider issues of identity, the 'who am I and what am I looking to accomplish with my life?' Certainly women are faced with a much different set of expectations than men."
Hacker provided an analogy to illustrate a professional athlete's personal identity. "Some athletes can draw a big circle on a chalkboard and say, 'This is me. I am my sport. It's that simple,'" she said. "Other athletes would have one big circle with many little circles drawn inside it, of all the things they see themselves as, and one of those little circles is their sport. That is more often the case with female athletes."
That may the case because women aren't expected to be professional athletes. They're expected to be mothers, sisters, writers, teachers, doctors, nurses, scientists and librarians. Most professional female athletes still tell me they never dreamed they'd be able to make a living by playing their sport. Because of that, most of the finest female athletes in the world have something to fall into (not fall back on) when the time comes.
"The biggest thing is, female athletes get into sports expecting their athletic careers to come to an end someday," Gentner said. "They believe they will need to move on to something else when it's over. Because of that, we see that female athletes transition to life after competition much more comfortably than men."
Disagree? Go back and watch how Sorenstam and Henin fielded questions after their announcements. These two women were undaunted in their decision. They were diplomatic, professional and almost apathetic to our pleas for full disclosure, for the "real" reasons to explain their departures.
Simply put, these two women have decided that their sports will no longer be their lives. They're anxious to prove they're no one-trick ponies. In fact, they're anxious to prove they are bright, ambitious women who know better than to let their identities be defined solely by their athletic successes. They chose the pursuit of happiness.
So maybe it's society's expectations that make female athletes more apt and able to choose the retirement path less traveled. But, right this second, I think we're better and broader for it.
Mary Buckheit is a Page 2 columnist. She can be reached at marybuckheit@hotmail.com.