Phillies shortstop Jimmy Rollins went on a talk show recently and called Philadelphia fans "front-runners," and he's got more than a few folks eager to eat him alive.
So we had plenty of fodder for our recent one-on-one interview with him, in addition to finding out what makes the reigning NL MVP tick.
---
Page 2: What's your favorite thing about the city of Philadelphia, Jimmy?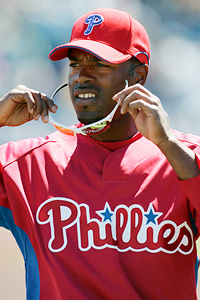 AP Photo/Paul Sancya
Jimmy Rollins understands the intensity of Philadelphia fans.
Jimmy Rollins: Philadelphia has so much history. I like that. A lot of big things happened right here, and if you're a history buff, it's a very cool place to be because it's basically where the United States started. But I'd have to say that my favorite thing about Philadelphia is probably all the great restaurants. I mean, there are so many amazing places to eat. You've got Stephen Starr, who pretty much has a lock on the whole city, and he keeps bringing us new places that never let you down.
How strict is the meal plan for a Philadelphia Phillie?
It's very strict, actually; we don't get any junk. I mean, it's bison burgers on the airplanes and brown rice all the time, that kind of thing. I've taken to salmon a whole bunch, and lots of steamed vegetables. I'll eat a potato any way you cook it. During the day I usually go to a Clif Bar -- I like peanut butter crunch ones, those are my favorite. That's about it, but the funny thing is, when you eat healthy and it becomes part of your lifestyle, you don't really crave those things you used to. You see 'em and it kind of turns you off.
C'mon, nothing can break your meal plan?
Oh yeah, that's easy: macadamia brittle ice cream. Whole pints -- gone! I love it.
Are you a Bull's BBQ fan?
I got some sitting right in front of me, actually, what do you know? And a pretzel, two of Philly's favorites. They bring it down to the clubhouse, which is really a treat. We get a day to splurge. I think this is pulled pork. I've never actually went to the restaurant, though.
Where are the most happenin' hangouts you go to in the city?
Well, there are two sides to Philadelphia. You have Old City, the 2nd and Market area where there's Glam, 32 Degrees, Bleu Martini -- all those places on that end. Then, up in Rittenhouse Square, there's a new spot called the g lounge, and there's Rouge, that's a nice, happenin' patio spot to eat lunch in the middle of the day and watch people walking by. There are a lot of great places in Philadelphia.
Ever run up the Museum of Art steps like Rocky?
No, I've never ran up them. I've seen them, I've driven by them a number of times, but I've never had the urge to go run up the stairs!
What are your thoughts on the Philadelphia sports fans? They are a spirited bunch who a lot of people have a lot of different opinions about. What do you think?
Well, "spirited" is a chosen word. There are a lot of words that can describe them, but I would call them something along the lines of hungry, or thirsty, for a championship. The thing is, they've been frustrated and let down for so many years that, unfortunately for players here now, whether it's your fault or not, you hear about the last 20, 25 years of their anger. It comes out anytime they don't feel you're doing good enough. It doesn't matter what the score of the game is, necessarily; if they don't feel you are doing good enough, they let you know.
Some fans adore you forever and always, others folks want to tear you down every chance they get. They're all over you when you don't run out a fly ball, or if you're a few minutes late. How does it make you feel at the end of the day?
That pretty much comes with the territory. When you're put up -- I'm not going to say on a pedestal, but when you're just put up high, where people can see -- some people pull you down and some people pull you up. There are a lot of reasons people try to pull you down. Maybe they once had a dream of doing what you do and would give their left arm to be able to be on the field playing. "You know, if I was playing, I would be doing this!" Yeah, it's always like that when you're not out there. But when you're in the middle of it, you know what, things happen, emotions come into play, some days you're tired, some days it's hot, some days you get frustrated and you don't always do everything, let's say, at 100 percent. So of course, in my situation, as a leader of the team, when it happened when I got taken out for not running the bases, it becomes a big deal. Now does that mean I'm the only one on the team that doesn't do it? No. But I'm supposed to be the leader, and so I am the one who gets punished and that's all a part of that role, and I accept that role as much as I accept it when all the glory comes.
Does that get to you, what people think?
I know what I mean to the team. We all know what each of us means to the team. I'm secure in who I am, so I don't really let it all get to me. It all comes and goes. It's going to have its life whether it's good or bad. What's that saying? "You're never as good as they say you are, and you're never as bad as they say you are." Ha. And that's true. You just have to know who you are. We see it every day, you've got US Weekly and TMZ and all that because people are always in the news -- for doing something right, or doing something wrong, or doing something crazy, or now, just for being around not even doing anything. Somebody's always interested. Being a public figure, you just have to know who you are, don't get caught up, don't get lost. Remember, people are still people, and never forget who you are.
Who is Jimmy Rollins?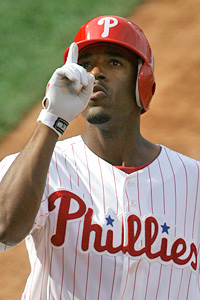 AP Photo/Matt Rourke
Rollins says he's blessed to be in the position he's in.
Jimmy Rollins is just an ordinary guy that has been blessed. Keeping that in focus has always helped to keep me grounded. I've never seen myself as more than who I was. I've always known who I was. I know I make mistakes, and I have to brush my teeth! I mean, I'm just like the next person. Other than for, I don't know, six hours out of the day I get to put on the uniform and make people cheer. But after that, I'm back to being just me.
What do you do on an off day?
Off days I do nothing but sleep in, watch TV, maybe go check out a movie. I probably wake up around 10:30, but I won't get outta bed until 1 o'clock. I toss and turn for a few hours.
On days that you just want to do nothing -- not work out, not practice -- what pulls you out of bed? What's your motivation?
A lot of times you just have to remind yourself that when you're not doing something, somebody else is. For every time you take a break, someone else is out there working, whether it's an opponent, a guy in the minors trying to come up and take your job -- someone's doing it, waiting for you to mess up, waiting for you to get hurt, waiting for you to give them a chance, anything. So it's easy to get complacent. Guys might ease up and think, "I have a contract, so I'm not going anywhere for a while." Well, as we've all seen, a sports contract doesn't necessarily guarantee you anything.
How do you block everything else out and get in the game-on mindset before a game?
Well, I think you have to come in and show up in a ready-to-play mindset, but then, for me, it's usually one or two good songs just to get in that mood, get the blood flowing and get me jumping around.
Gimme your three-song "I'm about to step on the field" playlist.
First I'd probably go with Lil Wayne, "A Milli."
A millionaire, I'm a young money millionaire!
Follow that with "Mr. Carter" -- so two Lil Wayne tracks. And for the last one, I would go with Lloyd, the one that's out now, it's featuring Lil Wayne with that old school beat over the top.
"Girls Around the World."
Yeah, yeah, I like that song.
Those last two are pretty chill.
Yeah, see you have that one big first song and then you kind of smooth it out to something a little softer so you can settle down and focus on what you need to do. You can't get all fired up like you're about to run out there and hit people -- we're not football players, you know, so I gotta bring it back down.
All right, let's talk baseball. The International Baseball Federation adopted a new rule for the Olympics -- each team's at-bat in the 11th inning and beyond begins with runners on first and second base, and teams may start the 11th at any point in their batting order. Good idea for MLB?
No, heck no! If they just want to speed up games, then it makes sense, but I saw that on the ticker on ESPN the other day and I was like, 'No way in the world!' So then I got to thinking about it and if I'm a team, it's an easy solution. My nine-hole hitter's on second, my lead-off hitter is on first, my number two guy is going to bunt 'em over, and now I've got three and four to drive 'em in. But everyone is going to do that, everybody will have the same philosophy and then, what did that really solve? But try new things. Why not? If that keeps baseball in the Olympics, then I'm all for it.
Ninth inning, two outs, you're up. Who don't you want on the mound?
Hmm, well, let's see, it's a closing situation … actually, fortunately for me, he's on my team now so I won't have to face him. I'd say Brad Lidge, he has a slider at around 84, 85, but it comes out of his hand like a fastball, and then he has a fastball that he still throws up there at 97. You have a 50/50 chance. You know you're going to get one or the other, but the speed differential is still so great that it's so tough to recognize in a situation where your team and the entire stadium is counting on you to come through.
What's Brad like off the field?
You know what? He's completely different than what I thought he was. Playing against him, I just thought he was this mean, intimidating guy, but that's just the closer's role, you know? They get out there and they come right at you and they have that attitude about them. But when Brad's not on the mound he's actually quite pleasant … and he's a pretty good card player. We like to play cards on the airplanes and he seems to walk away with a lot of the money a lot of the times.
Word associations, OK? Say the first thing that comes to your head. Let's go. MVP:
Honor.
New York Mets:
Tough.
Florida Marlins:
Scrappy.
Citizens Bank Park:
Great place to hit.
Ryan Howard:
Monster.
Charlie Manuel:
Mmmm. … Nice guy.
Chase Utley:
Crazy!
You grew up in Oakland, and you have a penchant for stealing bases. Ever catch up with Rickey Henderson?
Yes, actually. I haven't spoke to him in awhile, maybe since January. My parents threw an MVP party for me back at the house and he showed up. He and my dad actually know each other, so my dad invited him, and Rickey showed up and lo and behold, from that moment on, it was no longer my party. (Laughing) It was just Rickey taking pictures with everybody. Everybody like, "You know we love you, Jim, but this is Rickey. This is the original!" And I didn't mind that at all. Not at all.
Your dad calls you Jim-Bob. Fans call you J-Roll. Any other nicknames we don't know about?
Well, Jim-Bob was the one growing up. J-Roll came a lot later, in '97, my second year playing ball. In high school, I was J-Smooth. That's what the girls used to call me. That's just what they used to call me, I had nothing to do with it!
Mary Buckheit is a Page 2 columnist. She can be reached at marybuckheit@hotmail.com.