Commentary
Get to know PBR champ Kody Lostroh
With another bowl officially in the books, it's time to move the chains down the page in the sporting phone book to bull. We caught up with defending Professional Bull Riders circuit world champion Kody Lostroh to try to figure out just why mamas shouldn't let their babies to grow up to be like him. Grab a spot by the campfire, cowboy, and wise up on the sport whose season is just heating up. Rule No. 1: Don't squat with your spurs on.
Page 2: I once had a few wild go-rounds on a mechanical bull in a New Orleans bar -- Bourbon Cowboy -- so I want you to know that I already have a pretty good understanding of what it takes to be a rodeo champ.
Kody Lostroh: Mechanical bulls are just bar amusement rides, really. They might look like the real thing but they don't compare a dang bit.
[+] Enlarge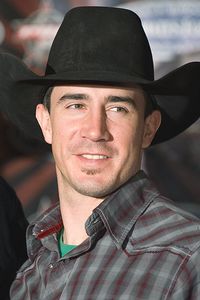 AP Photo/Charles SykesIt's safe to say Kody Lostroh has a higher pain threshold than the rest of us.
Really? I'm telling you, this one on Bourbon Street is legit. I was pretty sore the next day, so I can only imagine the beating you take from the real thing.
Yeah, our pain tolerance is probably higher than the average, but we've been doing this our whole lives, so we're used to living a little banged up. Actually, it's only when you take some time off that you realize how good your body feels when it's not sore. You kind of get used to it.
What's interesting to me is, a quarterback either gets sacked or he survives the play without a hit, right? But you guys have to get off the bull one way or the other.
Yeah, it's true, whether he bucks you off or you try for a controlled dismount, pretty much either way we're hittin' the dirt.
OK, this question's a little personal. Most folks are a little sore in the nether regions after a leisurely bike ride. How is it after a few rides on a bull? What reprieve can your bodies use -- padded compression shorts? A cup? Good whiskey?
[Laughing] I guess that's just another thing you get used to. Nobody wears a cup, or anything, that would get in the way. Most guys wear spandex shorts just to keep everything up out of the way, but beyond that, there's nothing else to tell. Bulls are actually pretty comfortable when you're just sitting on them.
I've heard rugby players taunt football players' toughness because they're covered in pads and helmets. Do bull riders wear any pads for protection?
Absolutely nothing. I mean, I have no padding other than a vest -- similar to a bulletproof vest. Some guys choose to wear a helmet. I'd say it's half and half of guys who opt for a helmet.
How come? Is there a stigma on the guys who choose to protect their brains?
No, I think they're a really good idea, actually. Everyone should wear them. I don't, but that's me. I tried it. It just didn't work for me.
From the moment you step out of bed in the morning, how much time goes by before you reach for your cowboy hat?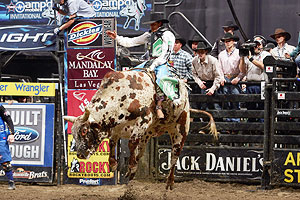 Harry How/Getty ImagesLostroh won five PBR events en route to capturing the 2009 championship.
I don't know. Not too much. I never walk out of the house without one on. I always have a hat on my head, I feel naked without it.
When's the last time you wore a belt without a big ol' buckle?
A belt without a buckle? Uhh, I don't think I ever have.
Do people confuse the PBR for Pabst Blue Ribbon, or is that just me?
Oh, no. It happens all the time. I'm sponsored by Enterprise, so I have their name on my shirts and I also have some PBR logos. If I'm not in a rodeo setting, everyone always thinks I work for Pabst Blue Ribbon.
Maybe our daddy's Pabst had some red-blooded street cred but today, in my neck of the woods, PBR is the beer of urban hipsters. Does that rustle your stubble?
Nah, it doesn't bother me, it usually makes me laugh and it's actually a good opportunity to explain to people about the PBR organization.
It's a solid name. The bulls have pretty interesting names. Your publicist sent me a photo of you and White Trash.
Oh yeah, that's one of the bulls. A lot of their names are off the wall. The fans tend to get behind you if you're on a funny one. There's Kool-N-Sexy, Beer Goggles, Fully Loaded, Chicken on a Chain, Bones, Uncle Buck, Fender Bender, Unabomber -- my favorite right now is probably Voodoo Child. He's only been ridden once. He's bucked me off three times, but I'm gonna figure him out yet.
I understand that before competitions there is a bull draft, and the top-ranked rider gets the pick of the litter and the lowest-ranked cowboys get stuck riding the duds, right? Kind of like picking teams on a playground?
Yeah, the guy who sets up the pen tries to match them up pretty evenly, but there will always be bulls that are better than all the rest and a few that nobody wants.
What's a bull nobody wants like?
Well, the best are bulls that kick hard (which are good because you have a chance to get more points) and you can get into a rhythm with them, but some bulls have really awkward timing and they roll to a side and just kind of throw themselves around. You can't get good time with them.
What's the deal with eight seconds? Why is that the magic number? Is it like 8-minute abs? It just works that way?
It's funny. You know, I'm not sure. There's been talk in the past of changing it, but seven seconds just seems too easy and nine is just too hard.
How about those clowns? Are they as cray-cray as I think they are, or even crazier?
Ha. They're interesting guys and they might be a little crazy, but they put their pants on like everybody else. They really enjoy what they do. They want to help people. Without them, I wouldn't be able to do what I do. They save my butt every weekend.
Even with the crazy-face guardian angels, you've endured plenty of injuries. Which one was the absolute worst?
I've broken a lot of bones, that's for sure. But that's the usual stuff nobody even remembers. The most painful had to be -- you know your groin muscles, right? The ones you use to squeeze your legs together? Well, I tore one of those completely in half. I was squeezing them around the bull so hard, that when he bucked it actually just snapped the muscle clear through. That was probably the worst pain I've ever been in.
You're a Colorado boy, Kody; why not just ski or snowboard for a thrill? Why ride bulls? What separates the cowboys from the snow bunnies?
I don't know. I mean, I snowboard -- anything with an element of speed and danger, I'm into it -- but of everything I've tried, nothing compares to the rush of riding a bull. When I think about my life and what I do, I'm exactly where I want to be. I couldn't imagine it any other way.
Mary Buckheit is an ESPN.com columnist and can be reached at MaryBuckheit@hotmail.com.