Commentary
Urijah Faber gets in octagon with Page 2
Originally Published:
July 1, 2011
By
Patrick Cain
| Special to Page 2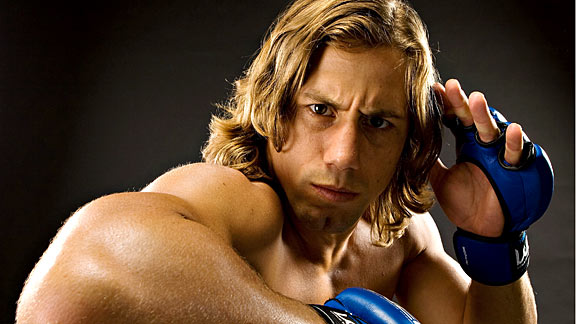 Jim Kemper/Getty ImagesUrijah Faber won a school-record 92 wrestling matches at UC Davis prior to his pro MMA career.
Urijah Faber steps into the brightest spotlight of his career on Saturday night, as he battles Dominic Cruz in the main event of UFC 132.
After years of dominating the WEC, the California Kid, now 32, goes for his first UFC title. A win over Cruz would take his career to the next echelon -- something Faber is ready to tackle.
Some athletes never seem to be comfortable with the fame that accompanies their careers. Faber, however, is not one of them. The 5-foot-5 bruiser is the Derek Jeter of the UFC: a camera-loving playboy who's always ready with a silver-screen smile.
"I've always been in the spotlight," Faber said recently, while shooting a commercial for K-Swiss.
Extra attention was always there, whether it came from wrestling or from being in commercials as a kid, he said.
That's right, childhood TV commercials.
He doesn't just handle the camera well. Like Jeter, Faber has more than his share of female admirers.
"The heartthrob, the ladies man of the UFC? That'd definitely be Urijah," fellow fighter Jon "Bones" Jones said while the two filmed the commercial together.
He's not all Jeter, though. Despite a peaceful demeanor, Faber evokes fury when he talks about UFC 132.
"I want to punch [Cruz] in the face," Faber said.
And that clearly sums up Faber's feelings about Cruz. In Faber's mind, he couldn't be more different from Cruz.
This wouldn't just be a victory for Faber, it'd be a championship in philosophies.
Faber said Cruz runs on negativity, which isn't his style at all.
"[People see] me as someone who represents positivity and hard work, which is the same thing I thought when I saw Randy Couture, [Kazushi] Sakuraba and those guys that represent themselves with class," Faber said. "There's no need to add any more stress to the game. We're already trying to beat each other up."
For most fighters, being friends with someone who's trying to tear your head off isn't easy. But Faber said he actually considers most opponents friends.
Cruz, however, is an exception, and Faber intends to impose his will upon him Saturday night.
Patrick Cain is a Los Angeles-based writer who contributes to Page 2 and ESPN The Magazine.