By Jim Caple
Page 2 columnist
The San Francisco Chronicle reports that federal investigators were given information revealing that seven athletes -- Barry Bonds, Jason Giambi, Gary Sheffield, Bill Romanowski, Benito Santiago, Marvin Benard and Randy Velarde -- received steroids from the Bay Area Laboratory Co-Operative. The testimony, however, does not specify that those athletes actually used the steroids. And all contacted so far have denied they did.
So what did they do with the steroids? Under intense grilling from Page 2 investigative reporters, the BALCO Seven finally came clean.
Randy Velarde: "Oh, please. You've got to be kidding. Me? Use steroids? Right. That's why I hit soooo many home runs during my career. That's why I'm already out of baseball. I mean, c'mon. I was a lifetime .276 hitter with 100 dongs. God, if that's all the better I could do if I was on steroids, imagine what a stiff I must have been on my own.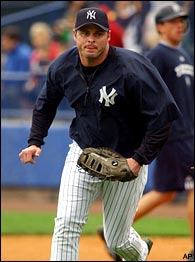 So it wasn't the pinstripes that made Jason Giambi look slimmer.
"So, no. I never used the steroids I received. I was just holding them for a friend. I won't name any names, but he's green and he's so big that he can't wear pants. Yeah, the Philly Phanatic. You didn't think he got that way naturally, did you? And that story about his head being stolen last month? That was just a coverup for the truth -- the steroids made his noggin so big it wouldn't fit anymore."
Benito Santiago: "Yeah, I got the steroids, but it was a mix-up with the pharmacist. What I needed was hemorrhoid cream -- you know, like George Brett -- and they thought I ordered steroid cream. Soon as I saw what it was, I sent them back.
"Hey, don't laugh. You think it's fun squatting behind the plate for nine innings with hemorrhoids?"
Gary Sheffield: "Yeah, I received steroids, but it was just a simple delivery mix-up. I got Bill Romanowki's THG shipment and he got my subscription to FHM magazine. If you think I'm in trouble with this whole steroid misunderstanding, you should have seen how upset Bill's wife was when he had to explain why he was getting skin mags in the mail."
Jason Giambi: Geez, yeah, I received them, but I thought they were part of the Atkins diet that my personal trainer put me on. And as soon as I found out what they really were, I gave them to Romanowski."
Bill Romanowski: "Yes, I received steroids from BALCO. And I received Sheffield's shipment. And I received Giambi's. But I didn't use them. That's because that rat-bastard Marcus Williams stole them out of my locker before I got a chance. I don't know what's become of players in today's NFL. Used to be you could trust a teammate. Well, I taught him a lesson. He won't try that again. And I bet those guys who took the THG out of my locker won't do that again, either.
"Now leave me the #@#&& alone before I spit in your face, rip off your skull and piss down your throat. If you want to bother someone about steroids, go cross-examine Barry. I know he received his shipments. But unlike Giambi and Sheffield, he never wanted to share."
Barry Bonds: "I was trying to do this privately without drawing attention to myself or my mission, but the overzealous, biased and unfair media has forced my hand.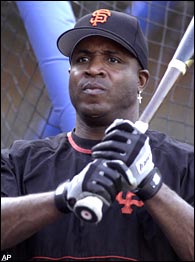 A ha! Barry Bonds, secret agent!
"Yes, I accepted steroids from my personal trainer, Greg Anderson, and I did so on a regular basis for several years. However, these steroids were never for personal use they were part of an expensive undercover operation begun more than two years ago to remove performance-enhancing substances from all sports.
"Shortly after I broke the single-season home run record in 2001, President Bush appointed me as his double-secret federal agent to tackle the steroid problem in sports. My first move was to hire Greg Anderson, my longtime teammate Marvin Benard and CIA agent Valerie Plame as my deputies. Together, we have tirelessly pursued every possible lead to purchase every steroid we could. Through this process, we were able to remove thousands of steroids from the streets, thus greatly reducing their use in football, baseball, track and basketball.
"I did not ask for this responsibility, yet I pursued it with the same dedication I bring to my baseball career. Underfunded by the feds, I have resorted to paying for the steroids myself with no hope of reimbursement. You cannot believe the federal government's requirements for filing expense reports -- and trust me, steroid dealers NEVER give receipts.
"It's bad enough to have my name and performance tarnished by accusations and innuendos that I personally abused these chemicals. But what truly concerns me is the damage these reports did to our covert work. Now that our efforts have been exposed and compromised, I worry that our sources will dry up in the illegal steroid community, hampering our effectiveness.
"Nonetheless, Greg, Melvin, Valerie and I will not give up. We will not surrender. We will redouble our efforts and continue our campaign until we have removed every performance-enhancing chemical from this great nation and ended this plague on sports, so help us God."
Marvin Benard: "By the way, Turk Wendell, you're on our list."
Jim Caple is a senior writer for ESPN.com