By Jim Caple
Page 2 columnist
Forget the Final Four, the Sweet 16, the Elite Eight and any other number officially registered and trademarked by CBS and its affiliates. The best part of the NCAA tournament -- without question -- is the opening two days when 64 teams play 32 games in eight cities, one game after another.
This is when your office bracket remains as pure as Laettner's jumper to beat Kentucky, and as unblemished as a BYU cheerleader. This is when the tournament's possibilities are as wild as Ronny Turiaf's hair and as unlimited as Rick Majerus' waistline. And when everyone in the country hunkers down so deeply into the tournament that we could all be called for jury duty in Bracketville.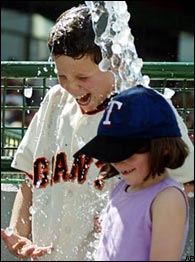 Spring training is more refreshing when doused by the Cooler.
Others look at the bracket and see RPI, seeds and tournament history. I see the map of the United States.
Thirty-two states are represented in this year's tournament, from little old Rhode Island to the big bad boy, Texas. There is a school, Manhattan College, from the largest city in the country, and one from teenie weenie Cheney, population 6,427 and home to Eastern Washington. There are seven Catholic schools (St. Joseph's, Providence, Gonzaga, Manhattan, Boston College, DePaul and Xavier), one Lutheran (Valparaiso), one Mormon (BYU) and one fundamentalist Christian (Liberty University). There is a military academy (Air Force) and a school with such a reputation for liberal thought I'm surprised John Ashcroft hasn't placed it on double-secret probation (Wisconsin).
In short, Valpo didn't need to wear the U.S. flag on its jerseys Thursday -- the tournament already reflects the country.
"It's the best time of the year,'' Gonzaga guard Blake Stepp said after his team whipped Valparaiso in the final of Thursday's four games at the Seattle sub-regional. "You're playing games, you're traveling all over the country and your friends and family are following you. And when you're not playing, then you're home watching the games on TV.
"The tournament has gotten so big, it's kind of begun to bring the entire country together. People are talking about it at the dinner table. They're talking about it in bars. They're talking about it in the office while they go over their pools. The whole country gets into it.
"And if I'm not mistaken, it's the biggest gambling action of the year.''
Hey, ix-nay on the gambling talk. Sheesh, do you want Myles Brand to suspend you for the rest of the tournament?
The long day (four games over 10 hours) began with a pep band offering of -- what else? -- Chicago's "25 or 6 to 4,'' which pep bands have been playing since afros were first in fashion. And let's get to the heart of that issue right away. Who has the best hair in the tournament, Stanford's Josh Childress and his Dr. J classic 'fro or Gonzaga's Turiaf, who sports half a dozen different looks, including a style reminiscent of Marge Simpson?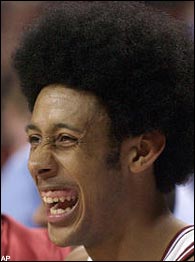 Josh Childress had a hair-raising first-round performance.
"You're talking two very different styles,'' Stanford senior Joe Kirchofer said. "I think there's a big difference between them in the preparation and maintenance. Josh is very concerned about having a clean, round shape. Ronny is more free and wild. The night after Josh gets his cut, he won't lie down in bed -- he'll sleep sitting up in a chair. There's a lot of dedication there.''
Hey, a team doesn't get ranked No. 1 without putting in the work.
As it turns out, Childress is an easy winner in the hair department -- Turiaf took the court against Valparaiso sporting relatively conservative cornrows. "I'm not wearing the 'Marge Simpson' -- I have to look beautiful for the cameras,'' Turiaf said. "I'm really pretty superstitious and I played well with this style the last game.''
The beauty of the tournament is meeting colorful players such as Turiaf. He went to high school in Paris and speaks three languages fluently and three others somewhat. But the sad part is saying good-bye to others so quickly that we don't get to know them at all.
Consider Southern Illinois, which played the opener in Seattle. The Salukis trailed Alabama much of the game before taking a one-point lead in the last minute, only to lose the lead with five seconds left and then the game when Darren Brooks' shot fell short at the buzzer. The tournament was barely four hours old -- I hadn't even finished filling out my bracket -- and it was already over for the Salukis.
They showered, trudged out of the locker room and stood near an exit to sneak in a couple minutes of the Stanford-Texas/San Antonio game (the afternoon's second) before being told to get on the bus for the airport. They were on a plane before the Stanford game was over, and probably home before the Gonzaga game ended.
"The NCAA doesn't want to keep them in the hotel rooms any longer than it has to,'' someone from Southern Illinois said.
It's a shame. These guys play all year, juggling practices and (hopefully) classes, for the right to play in a tournament considered so important that the very announcement of the participating teams is nationally televised. But as soon as they lose, they're sent home with a cheap box lunch so that an organization making $1 billion off the tournament can save a couple thousand dollars on hotels. Talk about harsh.
What mascot wears a top hat???
"Yeah, but it's not that bad,'' Salukis freshman Jamaal Tatum said as he headed to the bus. "We'll be back next year.''
As Tatum said this, the Stanford Tree was making himself comfortable in a nearby chair ... or as comfortable as a man can sit in a chair while wearing a giant tree costume. I don't know if the Tree is the best mascot in college basketball or the worst, but he's definitely the cockiest.
"The Tree is known as the anti-mascot and a symbol of Stanford's irreverence, but at Stanford they think the Tree is cool,'' said the Tree, a Stanford junior named William Rothacker. "It's a cool student who gets picked. It's someone who's known as the biggest partier, that all the girls want to date.''
When I expressed some doubt about chicks digging a guy in a tree costume, he insisted it isn't the costume. It's the mystique that comes with passing a selection process that requires "a lot of nudity and getting yourself in trouble with the law.''
For his part, Rothacker got naked in several classes, bribed the old Trees with a Tree-Mobile, and rigged up a medieval catapult to fling himself into a lake.
He also did some strange things.
"There are a lot of things that involve animals and sexual positions,'' he said. "The only rule is you can't set yourself on fire.''
The Tree is required to make his own costume each year, but Rothacker was wearing the old costume of a past Tree on Thursday because he's had two costumes stolen. He says people at Cal stole both, and "they put one through a wood-chipper.''
I'd like to see someone try that wood-chipper trick with Sparty, the Michigan State mascot. Sparty basically looks like Popeye on steroids -- he's been voted "Most Buffed Mascot,'' an award nearly as prestigious as Mr. Universe. His costume alone weighs 50 pounds and takes 20-to-30 minutes to put on. He had just gotten back from a pep rally and his costume already was soaked with sweat before Michigan State's game with Nevada. When I asked him about the Tree, he just shook his head and rolled his eyes.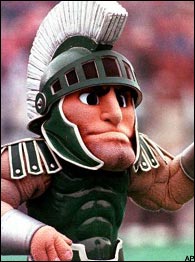 Too bad the Spartans weren't as buff as Sparty down the stretch.
Sparty didn't have a very enjoyable day. First, the straps on his costume broke. Then, Michigan State went out and blew a 16-point lead to Nevada, collapsing in the final five minutes to lose by six. While the Spartans limped to the showers, Sparty began the long process of taking off his costume.
Michigan State was a No. 7 seed, so its loss was a minor upset. But no one expected No. 16 seed Texas-San Antonio to beat Stanford. Nonetheless, the Roadrunners had a small group of fans who traveled a couple thousand miles even though they knew deep down their team was going to get pounded.
"I'm here because of my brother (guard Kurt Attaway), but it's also the chance of being there when the No. 16 seed finally beats a No. 1 seed,'' Matt Attaway said from the stands. "I know it's never happened; but one of these days, it's going to and you want to be there to see it.''
He didn't see it Thursday. San Antonio mounted a brief comeback midway through the second half to close the gap to six points and bring the crowd to its feet, then missed almost every shot after that and lost by 26.
San Antonio did, however, score the game's first bucket to earn lifetime bragging rights.
"Yeah, we led the No. 1-ranked team during the NCAA tournament.''
While Stanford, Gonzaga and Alabama all advanced to the second round, the sweetest victory must have belonged to Nevada coach Trent Johnson. A Seattle native, Johnson played in Key Arena during Christmas tournaments when he was a high school student in Seattle and the arena still was known as the Coliseum. He never played in the state championship here, though.
"Now, did you have to ruin everything and bring up that we got beat in the semi-finals?'' he said after coaching the Wolfpack over Michigan State.
Asked what it meant to coach a team to an NCAA tournament win in his hometown, Johnson replied, "All I know is if we had lost, it would have been disappointing for the players and very disappointing for me because I would have to go home and face my mother ... I'm not a very emotional person, anyway, and I have to separate my personal feelings about being here with friends and family. If the players see me getting excited like that, they'll feed off it and we'll lose focus of what we're here for.
"Whether you're playing at home or away or with family and friends in the tournament, you're just looking forward to the next game.''
He's right about that. This is the NCAA tournament. The bracket connects us all so that we're at home everywhere, whether we're wearing an afro on the court, a tree costume at courtside or just watching from a couch in our homes.
Jim Caple is a senior writer for ESPN.com