By Jim Caple
Page 2 columnist
SURPRISE, Arizona -- Rule 21 (d), the one posted in every major league clubhouse, covers every form of gambling, but it doesn't cover this situation. The major league rulebook covers the infield fly drill, but it doesn't cover this situation. And baseball's unwritten rulebook covers every score for when it's appropriate to steal a base, but it doesn't cover this situation.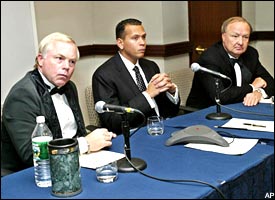 It was a black-tie affair when A-Rod was named team captain of the Texas Rangers.
Nothing does. There simply is no rule that expressly prohibits a player on one team from being the captain of another team.
So can Alex Rodriguez still be the captain of the Texas Rangers even though he was traded to the Yankees?
"That's funny," Texas outfielder Kevin Mench said. "Why don't you ask Buck? He would probably throw you out of his office."
"I don't think so," Texas reliever Jeff Zimmerman said. "I think the C on his uniform was rescinded as soon as he put on the Yankee pinstripes."
The Rangers announced in late January that A-Rod would be their team captain, the second in the club's history. That captaincy proved to be shorter-lived than Roger Clemens' retirement and nearly as short as Britney Spears' marriage. As you may have read in the transactions section of the sports pages ("DEALS: Texas -- Traded SS Alex Rodriguez to NY Yankees for 2B Alfonso Soriano and 30 pieces of silver"), the Rangers traded A-Rod to the Yankees just weeks later.
Glendon Rusch signed with the Rangers in late January and the way he figures it, he and the Rangers' team captain were teammates for "about zero days." And there are no signs of Alex in the Rangers clubhouse this spring. No T-shirts with inspirational slogans ("I'm probably pretty sure everything will work out for the best"). No bulletin board notices announcing team picnics at his condo ("Black-tie only, please" ). No Rodriguez-coordinated NCAA tournament pools ("$25,000 minimum buy-in").
"The only time you hear about it," infielder David Newhan says, "is when you go out in the field and some drunk in the stands yells, 'Where's A-Rod?' "
It's such a shame. The Rangers and Alex seemed so excited when they announced the whole captain thing. Couldn't A-Rod still serve in that role despite playing for New York? After all, the Yankees already have a captain.
Phillies outfielder Doug Glanville, who played with A-Rod in Texas last year, not only says he can, but also knows just the way to make it happen.
"With my engineering background, I see no problem in Alex remaining captain of the Rangers from afar," Glanville suggests. "In this day and age, technology has allowed us to bridge distances like never before.
"My first thought is that they can create either a cardboard image of A-Rod or some sort of bronze-like statue and attach a BlackBerry, laptop, pager and cellphone to this image. For good measure, we can attach one of the rovers that landed on Mars to cover anything we missed. He can then send instructions to the Rangers team via fax, page, Internet, e-mail, wireless, cell phone, however he sees fit."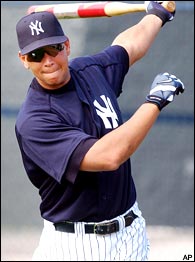 But perhaps there's a way A-Rod can still serve as the Texas captain?
Hmmm. A bronze statue or a wax figure from Madame Tussaud's might be more realistic, but remember, the Rangers are trying to cut costs. The cardboard cutout is probably the way to go, mostly because they're readily available. "It would be easy to find them," Zimmerman says. "Everywhere we played, there would be seven or eight young girls holding up A-Rod cutouts in the stands and asking for autographs."
OK. So we can get the cutouts. On the one hand, they won't have the range, power, arm or speed of A-Rod. On the other hand, they won't cost $252 million.
"I would suggest that they put this in the dugout during games and he can pump up the troops through any media he likes," Glanville goes on. "He can wear a pager during his games, and maybe in between innings check the away scoreboard and send an appropriate motivational response to the Rangers when necessary. The technology is there for him to even send a recipe for his wife's brownies, if he deems it necessary, to get his former teammates in the right frame of mind."
So, it can work, even if there are some thorny issues to sort out. Who is responsible for carrying the cutout to the baseline for team introductions on Opening Day? Does the cutout get a separate room on road trips? If the Rangers reach the postseason, would A-Rod be eligible for a full World Series share?
And most importantly, what happens when the Rangers play the Yankees?
"There may be some conflict of interest issues," Glanville acknowledges. "Maybe the Rangers have a former Yankee on their team and they can designate him temporary Yankee team captain during the series. He can have the same privileges as A-Rod. That may make both sides happy."
Jim Caple is a senior writer for ESPN.com