By Jim Caple
Page 2
Brace yourself. Jim Bouton is on his way to becoming a baseball owner.
"I'm already shopping for turtleneck sweaters and cigars," says the man who has spent a lifetime tilting at baseball's windmills. "I won't abuse the players -- I'll just tell them how overpaid and greedy they are. And then I'll remind them how lucky they are to have me as an owner."
Of course, he must wait awhile on that. He doesn't have a team yet, though he says he's confident he'll have an independent minor league club by next season. Bouton has more important matters to focus on right now. He has to get Wahconah Park ready for the team.
Located in Pittsfield, Mass., Wahconah Park is the oldest pro ballpark in America, dating back to 1892. Lou Gehrig hit a home run there; and for generations, the park has been home to the only "sun delays" in baseball. The field was laid out in such a way that the sun sets in the batters' eyes, forcing the games to be delayed every night until the glare disappears.
Bouton wrote about all this in his book, "Foul Ball," which was awarded the Dave Moore Award (presented by Elysian Fields Quarterly) as the best baseball book of 2003. The book tells the occasionally-humorous, often-infuriating and always-interesting story of Bouton's attempt to save Wahconah Park in the face of politicians and investors who were just as determined to use the community in the time-tested stadium game. While Bouton and partner Chip Elitzer wanted to restore the classic park and bring a team to the town, opponents mounted campaigns to build a publicly-funded $18.5 million replacement.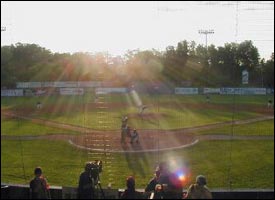 Imagine trying to hit while looking into that sun.
Bouton's first book, "Ball Four," is a classic that was named one of the 100 most important books of the 20th century by the New York Public Library. "Foul Ball," meanwhile, has been influential in its own right. After its publication, the city elected a new mayor, James Ruberto, who asked Bouton and Elitzer if they would be interested in reviving their ballpark plan.
In other words, they beat city hall.
"I never imagined this. It was the furthest thing from our minds," Bouton says. "It's being called the book that changed the city. But it's all about Wahconah Park. It was clear the park was the emotional center of the town. The citizens may not have been able to understand the budget problems with the hospital and the police, but they could understand the park. They voted down three plans to replace the ballpark.
"We came up with the idea to turn the whole system upside down. Instead of being at the mercy of an itinerate team and its owner, we said we'll make an investment in the park and get our own team. Usually, it's the team that holds the city hostage, but we've turned that around. This is going to be a privately-restored ballpark with a publicly-owned team."
Bouton plans to raise $4 million -- $2.5 million for the renovation and $1.5 million for the team and operating costs -- through a limited public stock offering. There is a limit of 400 investors; and if you want to join in, you can email the group at Wahconahpark@aol.com.
"We're not doing this because we're do-gooders," Bouton says. "We think it's a good investment. We're marketing history. We're taking people back in time."
There is no team for the park this summer, but Bouton has lined up a Fourth of July weekend vintage game between the Hartford Senators and the Pittsfield Hillies. Bouton say they're bringing in extra bleachers to hold an expected crowd of 4,500 (more than twice the capacity), and ESPN Classic plans to televise the game.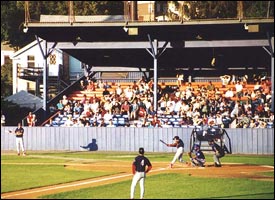 Jim Bouton has big plans to spruce up Wahconah Park.
"Will I play? Let me put it this way. I'm working out," Bouton says. "My wife asked me whether I plan to pitch. I told her I'll pitch to one batter; and if I get him out, I'll pitch to two."
The restoration plan is just that -- a restoration, not a rebuilding. Bouton says the fixes and additions will be made with materials and styles that match the original wood structure. There's just one small detail he may have to deal with.
"I suppose I'll have to have an owners box," he jokes. "Probably something within screaming distance of the players."
BOXSCORE LINE OF THE WEEK
Almost every stat in baseball runs into problems at the extremes. A pitcher can get a quality start for allowing six runs in six innings, as long as only three of the runs were earned. A starter can get a victory for allowing 10 runs as long as he goes five innings and leaves with the lead. A closer can get a save for protecting a five-run lead in the ninth.
And don't get us started on the sacrifice fly.
Perhaps the most confusing statistic, though, is the hold, which is not an official stat but is sufficiently accepted that many media outlets (including this one) include it in their boxscores. When can a reliever get one? According to SportsTicker (but not STATS, Inc.) he gets one as long as he enters in a save situation and leaves the game with a lead (STATS, Inc. requires that he also retire at least one batter). Leaving with the lead is not the same thing as successfully protecting a lead -- as was demonstrated by Seattle reliever Shigetoshi Hasegawa's performance Sunday against the Red Sox.
Shiggy entered the game in the bottom of the eighth after the Mariners had rallied for six runs to take a 7-5 lead. He faced two batters, allowed a single to Jason Varitek and a double to David McCarty, then left the game with nobody out and runners at second and third. He didn't retire anybody, and both runners came around to score to tie the game. And yet, he received a hold in the boxscore because the Mariners still had the lead when he left the game.
His line:
0 IP, 2 H, 2 R, 2 ER, 0 BB, 0 K, 1 hold
FROM LEFT FIELD
Washington Senator pitcher Bert Shepard allowed one run and three hits and struck out two batters in 5 1/3 innings of relief one day in August 1945 -- which isn't that amazing until you realize that he did it without a foot. He lost one after getting shot down in World War II.
America observed Memorial Day last weekend, and the 60th anniversary of D-Day is this weekend. Here's an All-Star team of players/soldiers who made enormous sacrifices during time of war:
Fabulous performances at 40+
Position
Player
The Skinny
C
Yogi Berra
Was part of D-Day invasion
1B
Hank Greenberg
Drafted months before WWII, re-enlisted after
2B
Wayne Terwilliger
Marine in Iwo Jima, Saipan invasions
3B
Jackie Robinson
Fought for integration while in Army
SS
Cecil Travis
Suffered frozen feet at Battle of Bulge
OF
Ted Williams
.Marine pilot in WWII and Korea
OF
Elmer Gedeon
Shot down and killed in WWII
OF
Joe Gallagher
Drafted early 1941, served five seasons
SP
Warren Spahn
Purple heart in Battle of Bulge
RP
Hoyt Wilhelm
Purple heart in Battle of Bulge
WIN BLAKE STEIN'S MONEY
This week's category: One Charged $10,000 Stud Fees, The Other Provided Them Pro Bono.
Q: When was the last year there was a triple crown winner in baseball and horse racing?
A: 1937. Ducky Medwick and War Admiral. Lefty Gomez, by the way, won the pitching triple crown that year as well.
Jim Caple is a senior writer for ESPN.com