By Jim Caple
Page 2
"Bull Durham" was on Showtime last night at the same time the All-Star Game was on Fox. And when the American League was teeing off against Roger Clemens in the first inning, I wasn't sure which channel I was watching. I kept waiting for the Fox field microphones to bring me these "Sounds of the Game":
[With ALFONSO SORIANO at bat, MIKE PIAZZA flashes a sign for a curveball low and away several times, only to have ROGER CLEMENS shake him off each time.]
PIAZZA: This SOB has already given up three runs, a home run, a triple, a double and a single, and he's shaking me off? Can you believe that crap? Alfie, here comes the high cheese; and when you speak of me, make sure you tell people I'm not gay, because I'm not.
[SORIANO slams the next pitch over the fence. PIAZZA calls time and goes to the mound.]
PIAZZA: Soriano really hit the crap out of that one, didn't he, Meat? He hit the friggin' "Baseball Tonight" set -- he gets a free dinner with Peter Gammons. I don't know whether his teammates should have greeted him at home plate, or the BALCO investigators. Anything that gets out of here that fast ought to have Milton Bradley driving it, don't you think?
CLEMENS: God, that sucker teed off on that like he knew I was going to throw a fastball.
ALL-STAR STYLINGS
The Rocket? Walk Bonds? Puerto Rico?

As Ken Levine shows us, there's more than one way to look at the All-Star Game.
PIAZZA:
He did know.
CLEMENS: How?
PIAZZA: I told him, Meat.
CLEMENS: You told him? Why would you tell him that? Don't you watch the Fox commercials? 'This time it counts.'
[COMMISSIONER BUD SELIG suddenly walks to the mound with MUHAMMAD ALI, ROGER MARIS' children and a set of candlesticks.]
PIAZZA: What are you doing out here?
SELIG: This is the traditional time when I'm supposed to bring an otherwise great evening to a complete halt and suck out all the air by violating baseball etiquette and holding a formal ceremony in the middle of the game. Roger, please accept these candlesticks as baseball's appreciation for your career.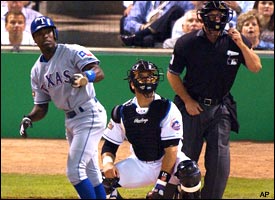 Did Soriano really know what pitch was coming? Perhaps.
[CLEMENS recoils at the sight of the candles' flames.]
CLEMENS: Arrrghhhh! Fire bad! FIRE BAD!!!
PIAZZA: What's Ali doing here? And the Maris kids?
SELIG: Well, ever since I got ripped over the whole contraction thing, I always walk around with Ali so people don't boo me. And I was going to have Roger hug the Maris kids.
[ALEX RODRIGUEZ runs out to the mound to join in the conversation.]
A-ROD: Any of you guys get to the Houston Museum of Fine Arts today? I spent the whole afternoon at their Beck collection of more than 70 Impressionist paintings, including "Susan Comforting the Baby" by Mary Cassatt. As we all know, she was one of just two female Impressionists. Of course, Houston's collection is not as good as the Metropolitan in New York. Man, I just love dropping by there before batting practice and looking at all those Monets and Van Goghs. It's the reason I wanted to be traded to New York.
PIAZZA: Yeah, whatever. By the way -- nice shoes. Where did you get those? Billy "White Shoes" Johnson's closet?
[National League manager JACK MCKEON comes out to the mound.]
MCKEON: What the hell is going on out here?
PIAZZA: Well, the commissioner still can't find a place to move the Expos, the BALCO investigation has implicated some of the game's biggest names, the Home Run Derby has completely overshadowed the actual All-Star Game and Clemens keeps shaking me off. We're dealing with a lot of stuff.
MCKEON: The commissioner could try sacrificing a rooster and reading the signs, the players under subpoena can always plead the Fifth Amendment, the Derby had great ratings and candlesticks are always a nice gift, so Roger should just say thanks and stop shaking you off. OK, now, let's go get them.
[McKEON returns to the dugout, but CLEMENS simply glares at PIAZZA.]
CLEMENS: I'm still not going to pay attention to your signs -- why should I? I've got 300 career victories. I've got more than 4,000 strikeouts. I've got six Cy Young awards. I was on the All-Century team. And I've got five Hummers with a quadrophonic Blaupunkt in each one.
PIAZZA: You don't need five Hummers with quadraphonic Blaupunkts -- God, you must be personally responsible for the ozone hole. You just need to listen to your catcher. So start throwing the pitches I call for.
CLEMENS: Go ahead and make me. You think you're man enough just because you have a beard?
PIAZZA: If you're so tough, hit me in the chest with this baseball.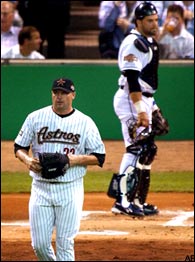 The battery of Clemens and Piazza didn't work out so well.
CLEMENS: No way, man. I'd kill you.
PIAZZA: Yeah? From what I hear, you couldn't hit the broad side of John Kruk. Throw it. Throw it. C'mon. Right in the chest. C'mon, Meat. You're not going to hit me because you're starting to think about it already. Thinking about how embarrassing it would be if you missed in front of all these people in your hometown, and how Andy Pettitte might laugh. C'mon, Meat. Throw it. Show us that $10 million dollar arm, because I've got a good idea about that five-cent head.
[CLEMENS winds up and fires 95-mile-per-hour gas, hitting PIAZZA directly between the eyes, shattering his skull. Then he picks up pieces of a broken bat and fires them at TOMMY LASORDA, knocking the former Dodgers manager on his rear.
[While PIAZZA is carried from the field, the Fox cameras return to the announcing crew.]
JOE BUCK: Well, it certainly doesn't seem as if Clemens has lost any velocity. What do you think his problem has been tonight, Tim?
TIM MCCARVER: He isn't breathing through his eyelids and he isn't wearing Annie Savoy's garter belt correctly. Everyone knows the rose goes in front.
BOX SCORE LINE OF THE WEEK
The Rocket's second All-Star start in Houston went a little differently than his first one, 18 years ago. In 1986, Clemens pitched three scoreless innings, retired all nine batters he faced and was named the game's MVP. This time, he allowed a double to the very first batter he faced and put his team behind 6-0 before the first inning was over.
His line:
1 IP, 5 H, 6 R, 3 ER, 0 BB, 1 K
LIES, DAMN LIES AND STATISTICS
Cleveland, which is three games under .500 and tied for third place, somehow had more than twice as many All-Stars (five) as the two teams ahead of them in the American League Central, combined. (The White Sox and Twins had one All-Star each.)
INFIELD CHATTER
"Now I've gotta go on eBay to buy the ball back."
-- Ken Griffey Jr., reading off his Top 10 thoughts while hitting his 500th home run on David Letterman.
Jim Caple is a senior writer for ESPN.com