By Jim Caple
Page 2
ATHENS, Greece -- It might be a stretch to call Tom Mazarakis the Abner Doubleday of Greek baseball. But given the murky claims of the game's alleged inventor, it's also a stretch to call Abner Doubleday the Abner Doubleday of baseball.
Mazarakis, 49, a Bronx native who's been living in Greece the past 25 years, formed the first organized baseball leagues here a decade ago by posting flyers in grocery stores in a search for players; and he has been instrumental in keeping the game of homers alive in the land of Homer ever since. So when Greek television needed assistance with its coverage of Olympic baseball, Mazarakis was the natural choice.
"Their broadcaster is a former pro basketball player, which is great, but that didn't mean he knew anything about baseball,'' Mazarakis said. "He really studied, though. He read a huge pile of books and really learned a lot about the game. But he asked me if I could help him out with some of the finer concepts of baseball.
"Like he asked me, 'What do they mean when they say the stolen base? Does he take it home with him? Do they have replacements? And how many?'
EXCHANGE RATE
When you buy tickets from a scalper in Athens you have to become friends -- to avoid the prying eyes of Olympic security of course.

And with friends like these, Jim Caple doesn't even want to think about how his enemies would treat him.
"He also wanted to know, 'What is this ERA and why is it so important?' ''
Funny, that's the same question Kyle Lohse keeps asking the Twins.
The Greek Olympic baseball team began with comedy -- because the game is barely played here, North Americans of Greek descent were recruited, plucked from minor league rosters, investment firms, construction sites and mortgage offices. Next was tragedy -- manager Rob Derksen died of a sudden heart attack two months before the Olympics.
Then came scandal -- two players were banned from the Games when they tested positive during mandatory drug testing. And here and there, some controversy -- a few Greek natives are upset that the team is almost entirely North American.
Comedy, tragedy and scandal. The only thing missing is the all-elusive Triumph.
Decimated by injury and the positive drug tests, the Greek team is absolutely desperate for pitchers. The ace is Clint Zavaras. He made his major league debut against Nolan Ryan 15 years ago, pitched his final game as a professional a decade ago and had to leave his tryout with the Greek team last November when he pulled his groin on the seventh pitch.
"Zavaras is our Roger Clemens. Not in velocity. In age,'' Greece coach John Kazanas joked. "I'm trying to figure out how we'll bring in Jennie Finch to pitch.''
Zavaras was on the mound for its Olympic opener Sunday against the Netherlands. Throwing in the mid-80s, he pitched three scoreless innings and struck out four before he tired quickly amid some shaky defense. Zavaras and reliever Sean Spencer allowed six runs in the fourth, and 35-year-old mortgage broker Larry Heisler gave up five more in the ninth.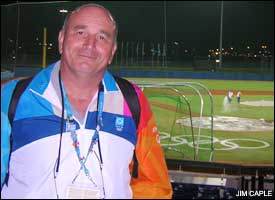 He may not have invented the game, but he did as far as Greece is concerned.
Orioles prospect Nick Markakis managed the team's only two hits, both singles.
The Greeks lost 11-0.
"A lot of people were disappointed and making ironic statements after that game,'' Mazarakis said. "They were complaining that we had imported all these guys from the United States and they still couldn't play in the same league with the Dutch. I told them you can't judge a team by one game, and that the Dutch aren't corn farmers. They're one of the few teams to ever beat Cuba.''
Greece attempted to join that exclusive club Monday when it played Cuba at nearly sold-out Helleniko Baseball Centre, with the Aegean Sea and its islands visible just behind the field. The partisan crowd was into it. The fans chanted "Hellas!'' (the Greek word for Greece), waved flags and cheered "Bravo! Bravo!!!''
And that was just for the announcement that they could keep any foul balls hit into the stands.
Seriously. The Greeks love foul balls, cheering lustily whenever one is hit. Of course, they also cheer lustily for lazy fly balls, infield popups and weak rollers to the pitchers. They cheer every batted ball.
"They think that if you hit the ball, it must be a good thing no matter where the ball goes," Mazarakis explained. It's almost frightening to imagine how they would react to the Chicken.
"They pay more attention to the game here than back home," pitcher Alex Cremidans said. "Back home, they get into it at times; but here, they're always cheering.''
PRESENT POM POMS!
The hourly changing of the guard at the Greek Parliament is full of history and pageantry.

Well, that's what the Greeks want you to think. Jim Caple has another take on the least intimidating security in Athens.
They just don't always know why. At one point, a Greek batter had an 0-2 count on him, and the crowd began shouting excitedly in anticipation.
Then again, there weren't a lot of opportunities to cheer good things against Cuba. Greece managed only a single hit through the first eight innings, and trailed 5-1 in the ninth.
And then they mounted a stunning comeback.
Second baseman Chris Demetral, who spent seven years in Triple-A ball and now is a financial planner outside Detroit, led off with a walk. Former Yankee Clay Bellinger walked to put runners at first and second. Markakis, Baltimore's first-round pick in 2003, tripled with two out to cut the deficit to 5-3. Shortstop Nick Theodorou singled home Markakis to make it a one-run game, which brought Marlins farmhand Jim Kavourias to the plate as the potential go-ahead run.
The Cubans clearly had lost their poise. Manager Higidio Velez was forced to use three pitchers. Reliever Pedro Lazo lost track of the count and began yelling at the umpire, and then his teammates.
The crowd was on its feet, waving so many flags and cheering so loudly it was as if someone had just announced that in addition to foul balls, fans could keep home runs hit over the fence, too.
It was an exciting moment. This Greek team assembled over several years from both the highest levels of baseball Bellinger played in the 2000 World Series) and the lowest (Mel Melehes pitches with the independent minor league London Werewolves) . . . this team with names so long (Koutsantonakis) that they stretch from under one armpit to under the other on the back of their jerseys . . . this team that lost its manager in June . . . this team was a home run away from beating mighty Cuba.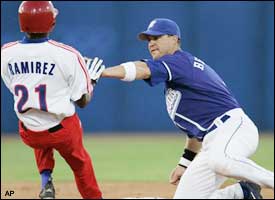 Clay Bellinger is a long way from the 2000 World Series.
And then Lazo struck out Kavourias on a 3-2 pitch to end the game.
Nevertheless, the fans went home delighted. Greece's team has only two actual Greeks (who don't play), but it didn't seem to matter to the fans. Their country went up against the world's elite and very nearly won.
Greece lost its next game to Taipei, 7-1, which pretty much ends its medal hopes. But you never know. Maybe some of these fans, excited now, will be tempted to buy a glove and a bat. Or at least keep the Olympic baseball field, perhaps the best in Europe, from being converted to a soccer pitch.
"After this experience, it will get some interest in baseball going; and now maybe we'll get some fans at our games," Mazarakis said. "The level of Greek baseball is pretty low right now. Right now, we have three, maybe four teams that could play at a high school level, even though there are players who are grown men. The Greek kids have learned a lot; but when you start playing at 19, there's a lot to learn.
"But they're coming along and they understand the concept of ERA and the force play and the necessity of tagging runners when there isn't a force."
Hey, that puts them ahead the Diamondbacks.
Jim Caple is a senior writer for ESPN.com