By Jim Caple
Page 2
Things haven't been this gloomy in Seattle since Kenny G announced he was adding a second show to his concert schedule.
The Mariners are on the verge of becoming the third team in history to go from 90-plus wins one year to 100 losses the next. Jamie Moyer leads the team in victories with six. Bret Boone leads the team in RBIs with 74. And for fans hoping next season might be better, consider this discouraging stat: No Mariner below the age of 30 has as many as 30 RBIs, a truly dreary under-30/under-30 club.
But at least there is Ichiro, as needed and welcome a diversion in Seattle this season of discontent as free refills at Starbucks.
Despite batting just .255 at the end of April, he's en route to his second batting American League batting title and is on pace to break George Sisler's 84-year-old record for hits in a season (257). He's had at least 50 hits in three consecutive months. He's hitting .450 since the All-Star break. He's had three five-hit games (all in the second half), five four-hit games and 23 three-hit games.
No one in Seattle has accounted for this many hits since Kurt Cobain.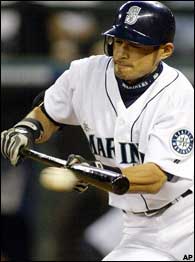 When Ichiro lays down the bunt, you know he's thinking about the record.
"I've seen him get on rolls before but nothing like this,'' second baseman Bret Boone said. "The important thing is he's keeping the ball on the ground. When he gets the ball in the air, that's when his average suffers. When he hits it on the ground, he has a 50-50 chance of getting on base and he knows that.''
Sorry. I must interrupt this column to announce that Ichiro just doubled off the wall for hit No. 232. Now back to your regularly scheduled quote.
"He can get a hit on a routine grounder to short, so he can keep getting hits even when his swing is off a bit,'' Boone said. "He had four infield hits in a game -- I've had six all year. He won't get a ball out of the infield and he'll get three hits. And the next day he'll hit bullets and get five hits. He can get hits so many ways.''
Wee Willie Keeler hit 'em where they ain't. Ichiro hits 'em where they are and it doesn't matter because he gets out of the box and to first base so quickly. Slow rollers to short, high choppers to third, hard grounders off the pitcher's glove -- they all become hits. And then he slaps pitches right through the infield holes and just beyond the fielders' gloves -- and they're hits, too.
As usual, Ichiro deflects the attention but the record is clearly very important to him. In consecutive games last week, Ichiro bunted with two outs and a runner on second base. Seattle manager Bob Melvin tried to cover for his player the second night by blaming himself for poor communication but not even Ichiro was buying that excuse.
"Maybe the manager said that but that was definitely my mistake,'' Ichiro said, adding that he saw the third baseman playing back and decided to bunt. "In that situation, I do it a lot. But you have to get the bunt down and be safe. You can't get out or you're going to hear about it.''
"He sometimes tells the media, 'I'm surprised by all this' but he's not surprised at all,'' Seattle reliever Shigetoshi Hasegawa said. "That's because he's in the batting cage during the offseason more than anyone else. I'm pretty focused, but he's so focused on baseball he may be two or three times more focused than me.''
Seattlites aren't the only ones paying attention. White Sox fans gave him a standing ovation after a five-hit game in Chicago two weeks ago. That was really remarkable because by the end of a game, Chicago fans are rarely sober enough to stand, period.
"I think it impressed him a bit and showed where this thing is going,'' Melvin said. "He's had other five-hit games on the road and they weren't giving him any ovations in those other cities.''
Of course, the problem is, none of this has helped the Mariners stay out of last place. Because Ichiro's hits are overwhelmingly singles and because his teammates have been so bad behind him, he has only 90 runs (36 players have more). It's not his fault but far too often Ichiro never gets farther than second base. He's done his job but it hasn't been close to enough. Which is why it's nonsense to talk of him being an MVP candidate.
But the hit record would be a major accomplishment, one of the great achievements of recent years. And at least he's given Seattle fans one reason to anticipate reading the morning paper -- "How many hits did Ichiro get last night?'' -- before looking to the business section to find out that Microsoft stock still hasn't gone up.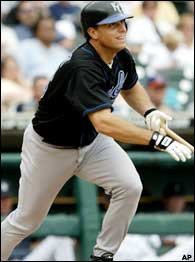 At the end of the day, Joe is still on the Royals and still 32 games out.
BOX SCORE LINE OF THE WEEK
You just never know in the best game there is. Consider the Kansas City Royals. In the first game of a doubleheader, they put 13 consecutive runners on base en route to an 11-run inning and a 26-5 victory over the Tigers last Thursday. It matched the KC record for runs in a game and was the fifth-highest run total in modern major league history.
And then they got shut out in the second game of the twinbill. Any more questions why the Royals are in last place?
Despite the shutout, it still was a huge day for Joe Randa. The Kansas City third baseman tied a major league record by scoring six runs in the first game and became the first American Leaguer to ever score six runs and have six hits in the same game. His line:
7 AB, 6 R, 6 H, 2 RBIs
Randa not only scored as many runs in one game as he scored in all of May (while missing only two games), he scored as many as Florida's Lenny Harris has scored all season.
LIES, DAMN LIES AND STATISTICS
Amazing Barry Bonds Notes of the Week. Barry is one home run shy of 700. Assuming he hits it, he'll have reached the 500 mark in 2001, the 600 mark in 2002 and the 700 mark in 2004. And as Jayson Stark points out, Barry Bonds has a higher batting average than Ichiro with 100 fewer hits. ... Let's pause a moment to pay tribute to George Sisler, who surely had one of the more interesting careers in baseball history. For one thing, he spent almost his entire career with the St. Louis Browns, a team that spent most every season under .500 and in the second division. Then he played a season with the Washington Senators. And then he closed out his career with the Boston Braves. And people think Ernie Banks suffered with the Cubs? Sisler also pitched 24 games, starting 12 and finishing with a 5-6 career record and a 2.35 ERA. But the most amazing stat of all is not that he once had 257 hits in a 154-game season but that he had 246 hits while playing only 142 games in 1922 (while hitting .420). And one more note of interest: Sisler got his 257th hit on the final day of the 1920 season against the White Sox, who had just suspended Joe Jackson, Chick Gandil and the rest of the Black Sox earlier in the week. ... As Around the Horn's Jay Marriotti notes, when the Marlins played their re-located games at "I Still Call It Comiskey'' this week, it marked the first time the defending World Series champ had played a home game in Chicago since 1918, the year after the White Sox won the series. Josh Beckett's single was also the first hit by a pitcher at Comiskey since it opened in 1991. The announced crowd of 4,003 may have been small but it was not the smallest crowd the Expos have played in front of this season. They played back-to-back games against the Rockies in Montreal that drew 4,001 and 3,609, respectively, and a game against Minnesota in June that drew 3,763. ... There has been one other bright spot for the Mariners -- former independent leaguer Bobby Madritsch. He threw eight scoreless innings against the Red Sox last week and followed it up with eight more scoreless innings against the Angels before giving up two runs in the ninth in Tuesday's win.
FROM LEFT FIELD
How does Ichiro's season compare to those who also reached the rarefied air of 240-plus hits? Not that well. Because so many of Ichiro's hits are singles and because there are so few batters on base ahead of him and so few batters behind him driving him in, he figures to score and drive in far fewer runs than anyone before him in the 240-hit club. The top 10 leaders in hits in a season and the runs and RBIs they accounted for:
| | | | | | |
| --- | --- | --- | --- | --- | --- |
| Year | Player | Hits | Runs | RBIs | RP |
| 1920 | George Sisler | 257 | 137 | 122 | 259 |
| 1929 | Lefty O'Doul | 254 | 152 | 122 | 274 |
| 1930 | Bill Terry | 254 | 139 | 129 | 268 |
| 1925 | Al Simmons | 253 | 122 | 129 | 268 |
| 1922 | Rogers Hornsby | 250 | 141 | 152 | 293 |
| 1930 | Chuck Klein | 250 | 158 | 179 | 337 |
| 1911 | Ty Cobb | 248 | 147 | 122 | 274 |
| 1922 | George Sisler | 246 | 134 | 105 | 239 |
| 2001 | Ichiro | 242 | 127 | 69 | 196 |
| 1928 | Heinie Manush | 241 | 104 | 108 | 212 |
| 1930 | Babe Herman | 241 | 143 | 130 | 273 |
| 2004* | Ichiro | 261 | 101 | 62 | 163 |
*PROJECTED
Jim Caple is a senior writer for ESPN.com