By Jim Caple
Page 2
In case you missed it, investment banker Michael Mahan invested roughly $25,000 by purchasing almost 6,500 tickets in the right field pavilion at Dodger Stadium for two games in the team's season-ending series against Barry Bonds and the Giants. Mahan bought the tickets at the start of the season, gambling that Bonds would hit his 700th career home run into those bleachers during those games, thereby giving him a chance to auction off the ball and turn a fabulous profit.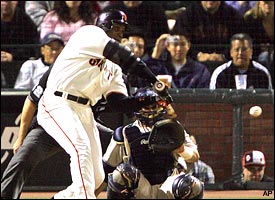 Bonds' historic swing came a little too early for Michael Mahan.
When I first read the story, I had two thoughts. First, this may be the most egregious example of fan greed yet. Second, what did Mahan's clients think when they learned about this investment?
"Umm, honey ... Are you sure we should have taken Mahan's advice to put our entire 401k in Enron, Worldcom and Pets.com?"
Fortunately, this strategy worked out no better than the time Charlie Sheen paid an estimated $7,000 for every seat in left field at an Angels game so that he could catch a home run ball -- any home run ball -- only to have none hit that night. Bonds thwarted Mahan as well by hitting his 700th home run last Friday in San Francisco, two weeks earlier than the date on which Mahan wagered.
Mahan plans to salvage his investment, though. He's selling the tickets -- purchased at a group-rate of $3.50 apiece -- for as much as $15 each online. Anyone who buys a ticket is also required to sign an eight-page document that compels them to hand over any Bonds home run ball they catch. (A.J. Pierzynski home runs, apparently, are yours to keep.)
Mahan may have made a risky investment with Bonds, but he isn't foolish enough to place all his eggs in one basket. Page 2 has learned that he's used his keen sports savvy and calculated projections to buy up large blocks of advance tickets to other eagerly awaited events, too -- and he made many available to other fans in his recent newsletter to clients.
Mahan's Red-Hot Investment Tips:
Missed out on last month's tip to invest in U.S. Air stock? Don't worry -- I'm giving you a second chance with these fabulous opportunities!
Be-Devil Rayed! -- Those tickets for Bonds' 700th home run have all been gobbled up, but I've got another chance for you to get your glove on a historic blast. Anticipating Fred McGriff's 500th career home run, I bought 400 bleacher tickets for the Devil Rays' season-ending series in Detroit. Price: I'm letting these babies go for just $15 each. Note: Fans must also sign a four-page waiver promising to purchase two Tom Emansky fundamental videos.
Up in Smoke! -- Looking ahead to Ricky Williams breaking the single-season rushing record, I bought 40 seats in the end zone for Miami's season-ending game Jan. 2 at Baltimore. Price: I'm gonna take a bath on this, but I'm willing to let them go for just $50 each -- though fans must also sign a 10-page waiver promising to share any weed Williams gives them.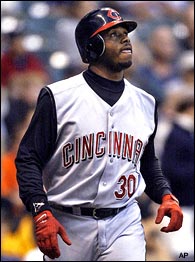 Think The Kid still has any shot at 756?
A Junior Mint! -- Calculating what could be the biggest home run in baseball history, four years ago I bought every ticket available for the Reds' 2006 and 2007 seasons. Just $3,000 per season ticket gives you the chance to catch Ken Griffey's 756th career home run!
Make Me an Offer! -- I've got 20 11-game strips for all the Seattle Mariners' postseason games next month. Don't miss out on all the fun!
Not Too Late! -- Hey, I've got 80 loge tickets burning up my pockets for the Sept. 6 hurricane doubleheader between the Yankees and Devil Rays at Yankee Stadium. It kills me to let them go so cheap, but you can have both games for just $50 a ticket. Don't be late!
Golden Opportunity! -- I've still got 300 tickets to the U.S. men's basketball team's gold medal game at the 2004 Olympics. Hurry, these won't last long, not at 300 Euros each.
Dream Series! -- How much would you pay to see a Cubs-Red Sox World Series? Well, now you can have them. It took all my connections, but I have two dozen tickets to Game 5 of the 2003 World Series at Wrigley Field and seven standing room tickets to Game 7 at Fenway Park. Price: $300 each. Sorry, but at this price I have to insist that fans sign a 12-page release compelling them to share the profits from any foul balls they catch.
You Deserve a Vacation! -- And I've got just the place! A luxury time-share right on the beach in Gulf Shores, Alabama, the week of Sept. 13-19. Treat yourself -- just $3,000 and it's yours!
Oscar Buzz! -- And finally, I've still got 20 tickets remaining for the 9:45 p.m. showing on May 23 of "Jersey Girl" at the Century City multiplex. Price: $9 each. Note: You have to promise to give me the coupon for a free small soda when you buy a large popcorn and a large soda.
Jim Caple is a senior writer for ESPN.com