By Jim Caple
Page 2
Mel Carnahan beat John Ashcroft in the 2000 Missouri Senate race even though he'd been dead three weeks. Laurence Olivier appears in the just-released movie, "Sky Captain and the World of Tomorrow,'' even though he died 15 years ago. Ernest Hemingway's final book, "True at First Light,'' was published in 1999, even though Papa committed suicide 38 years earlier.
And amazingly, Hanson has just released a new compact disc, even though the group's career died five years ago.
Roger Clemens, however, has them all whipped. In the most remarkable comeback of all, he is about to win the Cy Young Award 11 months after he retired.
Clemens was supposed to spend this season talking about the weather -- remember that dry spell, oh, 'bout six year ago? -- and bitching about how today's players are overpaid and don't respect the game. And had the U.S. been able to score a runner from third base in the ninth inning last fall against Mexico, he might have. Had the U.S. beat Mexico to qualify for the Olympics, Clemens might have pitched this summer in Greece for his country instead of in Houston for his hometown team. But when the U.S. lost in the qualifier and Andy Pettitte signed with the Astros, Clemens changed his mind about retirement and joined Pettitte in Houston.
We all knew he would. No matter how many times he insisted last fall he was going to retire so he could spend more time with his kids, we all looked at his fastball and knew that this retirement would be shorter than any of Michael Jordan's. Athletes simply don't stay retired when they still have the goods. Most don't even stay retired after they've lost the goods.
But while we expected Clemens to come back, no one expected him to come back like this.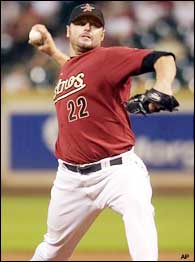 Roger Clemens is 42, but don't tell him that -- he doesn't care.
With eight scoreless innings Sunday, Clemens improved to 18-4 with a 3.00 ERA and nearly 200 strikeouts, which makes him the probable Cy Young winner in the National League. Think about that. He could win the Cy Young after he retired. He could win his seventh Cy Young 18 years after his first. He could win a Cy Young in both leagues. He could win a Cy Young with a fourth team. At age 42, he could be the oldest Cy Young winner in history, beating Gaylord Perry, who won the award at age 40 in 1978.
No one in the National League has more wins. Only three NL starters have a lower ERA. Only four have more strikeouts. He's won eight of nine decisions in the second half. He's been the man most responsible for keeping the Astros in the race. He could win 20 games for the seventh time in his career.
And think about this. The National League's most valuable player and its Cy Young winner both could be in their forties. What's really amazing is that both the Clemens and Barry Bonds models are still operating on Windows '95.
I've taken some shots at Clemens over the years. It was easy to do when he was taking the mound with war paint or demanding trades to the Yankees or tossing shattered bats at opponents or filling his garage with four Hummers. But he's entered a new phase in his career. By pitching so well in his forties, Clemens is now on the doorstep of a zone once occupied by Nolan Ryan, where he takes the step from being a great pitcher to becoming a legendary pitcher. Where we admire him as much for his age as for his performance. Where every fastball he throws makes us feel young enough to dance in a Gap commercial.
And I don't care what he says about retiring anymore. After this season, I'm convinced that Clemens is just going to go on and on and on, and that he'll still be going strong even after Mike Piazza's head finally stops aching.
BOXSCORE LINE OF THE WEEK
Not surprisingly, this Clemens-fest includes our weekly award for his masterful performance on Sunday against the Brewers, when he shut out Milwaukee for eight innings to win his 328th game and move into the top 10 in that department, one behind Steve Carlton. His line:
8 IP, 2 H, 0 R, 0 ER, 2 BB, 10 K
He retired the final 13 batters he faced, striking out his final batter and pumping his fist excitedly.
"He was phenomenal. He was just fantastic tonight," Houston manager Phil Garner said. "You wish you could just take a little bit of this and give it to the younger guys just to show them how it's done.''
LIES, DAMN LIES AND STATISTICS
While Clemens closes in on his seventh Cy Young, Minnesota's Johan Santana continues his candidacy for the AL award. The amazing Santana hasn't lost a game since the All-Star break -- Kansas City's Darrell May has lost nine games in that span -- and is 12-0 with a 1.26 ERA and 109 strikeouts (and only 48 hits) in 86 innings in the second half. At last glance, Tim Wakefield had allowed 20 runs since Santana last allowed a run. And remember, he can pitch twice in the first round of the playoffs ... Ichiro had 157 hits between Jason Giambi hits. And to give you an idea of how old the record he's chasing is: The Yankees had yet to play in a World Series when George Sisler had 247 hits in 1920 ... Greg Maddux goes for his 15th win in his next start. The last time Maddux didn't win 15 games in a season, Frank Tanana did ... Meanwhile, Maddux's old team is just games away from clinching its 13th consecutive playoff spot and 13th title in the past 14 seasons (remember, Montreal was in first place when the strike ended the 1994 season, making the Expos the unofficial NL East champs that year). The last time Atlanta wasn't in the postseason, Marty Barrett was ... Prior to Sunday, the last time Jerry Rice didn't catch a touchdown pass was in the fall of 1987 during the players strike (unlike the miserable NFL, we here at Off-Base count those games that the NFL played and charged money for and used to bust the union; we count them as breaking Rice's streak). How long ago was that? Reggie Jackson played 20 games in the outfield in Rice's current home stadium that year, and Chris Speier played shortstop in his old home stadium ...
FROM LEFT FIELD
"How old would you be,'' Satchel Paige once asked, "if you didn't know how old you were?'' That's a good question, especially since for so long, no one knew just exactly how old Satchel was. But as the following list proves, it doesn't matter what it says on your birth certificate; you're only as old as your fastball.
Our nominees for the best seasons by a pitcher, ages 40-50:
| | | |
| --- | --- | --- |
| Age | Pitcher | The skinny |
| 40 | Gaylord Perry | 21-6, 2.73 ERA, Cy Young |
| 41 | Cy Young | 21-11, 1.26 ERA, 150 K |
| 42 | Warren Spahn | 23-7, 2.60 ERA |
| 43 | Phil Niekro | 17-4, 3.61 ERA, 144 K |
| 44 | Nolan Ryan | 12-6, 2.91 ERA, 203 K, no-hitter |
| 45 | Jack Quinn | 18-7, 2.90 ERA |
| 46 | Satchel Paige | 12-10, 3.07 ERA, All-Star selection |
| 47 | Phil Niekro | 11-11, 4.32 ERA |
| 48 | Hoyt Wilhelm | 6-5, 3.40 ERA, 13 saves |
| 49 | Hoyt Wilhelm | 0-1, 2.70 ERA, three saves |
| 50 | Jack Quinn | 0-1, 4.02 ERA, one save |
(For the purpose of this chart, a pitchers' age was determined by whatever age he turned at any point in the season.)
WIN BLAKE STEIN'S MONEY
This week's category: Players Who Wore Swooshes On Their Depends.
Question: What is the oldest anyone has pitched in a major league game?
Answer: Satchell Paige, who threw three scoreless innings and allowed only one hit to the Red Sox at age 59 in 1965. Paige pitched the three innings to qualify for the pension.
INFIELD CHATTER
"No. 5: Texas Rangers can take a business loss for trading Sammy Sosa''
-- John Kerry reading the Top 10 List of President Bush's tax proposals on David Letterman
Jim Caple is a senior writer for ESPN.com