By Jim Caple
Page 2
Sure, the Yankees and Red Sox have a famously bitter rivalry. But at least Joe Torre doesn't have to drive by Terry Francona's house every night. R.A. Long High School's basketball coach, Kyle Fowler, lives on the same street in the southwest Washington town of Longview as Mark Morris High School's coach, Bill Bakamus.
"When I lose a game and I see him coming, I duck inside," Bakamus says.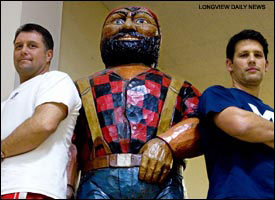 The coaches, Kyle Fowler & Bill Bakamus, pose with the lumberjack.
Ahhh, crosstown rivals. We might forget our high school locker combination, but we always remember those high school rivalries.
Decades pass, wrinkles crease our faces and our hair fades like a graduation tassel dangling from the rearview mirror, but our voices can still bellow out a chorus of "We've Got Spirit, Yes We Do, We've Got Spirit, How 'Bout You?" And no matter how much responsibility is driven into us through career, mortgage, marriage and parenthood, we still smile at the thought of the rival's building splattered with eggs.
Last Friday marked the 100th meeting between the R.A. Long Lumberjacks and the Mark Morris Monarchs, the hated crosstown rivals, prompting me to return to the gymnasium for the first time since my graduation. That commencement was longer ago than I care to acknowledge, but so little had changed since my high school days that when I walked in, I expected my face to break out. The only difference I noticed was a sign announcing the R.A. Long gym as the "Lumberdome."
This is a slight misnomer. 1.) The gym isn't made of lumber; 2.) It isn't a dome.
The Lumberdome is just an old gym with lighting dim enough to grow mushrooms and a ceiling so low that centers and power forwards must crouch. A mere 43 inches separates either baseline from the walls (broken ribs are as much a hazard of line drills as floor burns) and a balcony overlooks the court from above one basket. Other schools worry about their players getting swelled heads; my old school worries about its players developing claustrophobia.
"It's small and compact and the noise just echoes," R.A. Long senior Will Hillebrand says. "It's just like you're in a little room in an asylum."
The gym is a refreshing step back into the yesteryear of high school basketball, a court where you expect to find Jimmy Chitwood shooting jumpers from the top of the key and Dennis Hopper passed out drunk underneath the foldout bleachers.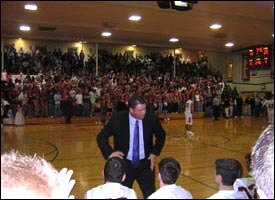 Here's a peek at The Lumberdome, mid-game.
There are gyms like this in towns and cities throughout the country. These are stubbornly dependable places where math teachers tear tickets at the door, pep bands play all the latest hits from 30 years ago and the DECA club sells licorice in red ropes long enough to hang the crosstown rival's mascot in effigy.
Most of us grow up dealing with a rival like Mark Morris, which is the sort of program where every player wears the same sweet model of Nikes and you wouldn't be surprised to find out that LeBron James mysteriously "moved into their district" for his senior year. The Monarchs have played in the state tournament 17 times, have won it three times and finished second twice -- and they aren't shy about letting you know this.
R.A. Long, meanwhile, has been to states just twice and has never won a game there.
Mark Morris also has an edge in the city series, taking a 70-29 record against R.A. Long into Friday's centennial game. That includes a 50-8 record since 1978 and a 65-43 rout at Mark Morris earlier this season. The Monarchs would claim this slight disparity is due to a superior program. I prefer to think it is evidence of consistently poor officiating.
"I was just walking home from school, and someone just told me how I was going to lose and how we were going to get beat bad," Hillebrand says. "I don't know if it was a parent, but it was an adult. It was a weird situation.
"When I first moved here last year, I didn't know how things worked. I just went here because it was where my dad went. R.A. Long is thought of as the slums, and Mark Morris is thought of as the elite. It's a stereotype put on the school. It's not true at all, but it's just the way some people look at it."
"I talked to the kids a little bit about that," says Fowler, who attended R.A. Long with me a quarter century ago. "It is a division of Longview. It's sad."
Thus, the schools' 100th meeting was a big deal in a mill town of roughly 31,000, where one of the biggest recent controversies was over a building permit requested by the Lowe's hardware chain. The local paper, The Daily News, devoted the entire sports front to the game two days in a row. My brother, John, and my nephew, Christian, e-mailed a week ahead of time to warn me that I wouldn't be able to buy tickets at the door. My parents went to the school to stand in line for tickets. And all sorts of alumni contacted Fowler to wish him the best, including former players serving in Afghanistan and Iraq.
When R.A. Long hosts Mark Morris, attendance normally swells to many hundreds beyond official capacity, with fans packed together so tightly you can smell the brand of anti-perspirant being used 10 people away. "Last year," Bakamus says, "it was so crowded that I walked in and went 'Whooahhh.' You couldn't breathe."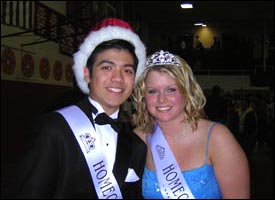 Another thing that never changes about high school -- homecoming kings and queens.
Breathing was not a problem for the centennial game, thanks to the killjoys at the fire department, who in the interest of "safety" strictly limited ticket sales to 1,388, all of which were sold out two days before the game. The 1,388 figure proved to be an underestimate of the gym's true capacity, which we all know isn't reached until people pass out but can't fall down because they're wedged in too tightly. Those who did manage to get in, however, saw a good game.
Mark Morris scored the first eight points and threatened to blow open the game on several occasions; but each time, the underdog Lumberjacks fought back. They tied the game twice in the second half, the last time when Hillebrand drained a three-pointer with six minutes left; but they could never get over the final hump to take a lead. The Monarchs gradually stretched their lead to seven points with a minute left, and R.A. Long finally fell four points short, losing 58-54.
"I've always approached it as just a basketball game, but I looked at this one differently," a victorious Bakamus says. "In time, people will ask 'Were you at the 100th game?' and then they'll ask, 'Who won?'"
Well, as usual, Mark Morris won this one, running its record to 14-1. But at 11-4, the Lumberjacks remain a good bet to make the district playoffs, where they might get an opportunity at revenge.
"Although we lost, from a team standpoint, we came together," Fowler says. "That's exciting. I'm depressed that we lost, but I can see the whole picture. This is the best team I've ever had in the sense of leaders ... If I always had a team like this, I'd never leave."
The beauty of high school rivalries is that they never end. Players come and go, students graduate and move on, the children of alumni fill the classrooms; but the rivalry lives on, always ready to welcome us back, as permanent a part of high school life as the meat loaf served in the school cafeteria.
Jim Caple is a senior writer for ESPN.com