By Jim Caple
Page 2
CHAMPAIGN-URBANA, Ill. – You know the movie "Apollo 13," when Kevin Bacon writes a note to remind himself not to flip a critical switch in case he becomes light-headed from oxygen deprivation? I did the same thing Thursday when I finally met up with the four University of Illinois women who invited me to stay at their apartment, making mental and written notes to constantly remind myself to behave.
"Phone home."
"Remember that you are old enough to be their father."
"Don't let them talk you into a keg stand."
"Do not get your body pierced at New Life Tattoo."
"Phone home."
"Phone home again."
"Don't forget to phone home."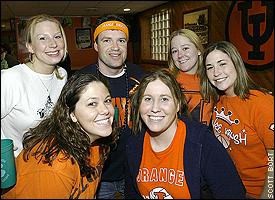 We're sure the girls were impressed with Jim's headband.
And most importantly, "Remember what happened to Larry Eustachy."
How cool are these girls? They're smart. They're good-looking. They're friendly. They can cook. They could drink Keith Richards under the table. They know college basketball so well and care so passionately about the tournament that they were peppering me with questions about UConn's backup point guard. "I'm not gonna to lie to you, that loss really hurt my bracket" and "I'm not gonna lie to you, I didn't pick Washington to make the Sweet 16" were typical comments.
And now consider this: They also subscribe to Maxim.
In fact, Jen Mozwecz, a wicked hot computer engineer who was just accepted to DePaul law school, is submitting photos to Maxim for a feature on "hometown hotties." I saw the photos, and let me suggest that you renew your subscription now.
I'm not gonna lie to you. After Thursday, I don't know what the hell I was thinking when I spent the first three nights of my week on campus living in a fraternity and a dorm instead of hanging with these girls the entire week. I should have known it would be cool when Liz Peterman wrote in her e-mail that I could leave the toilet seat up.
Actually, the four girls are five seniors and juniors. Jen, Liz, Danielle Bartelstein and Lindsay Anderson all live in the apartment and Ashley Wagner is sort of the fifth Beatle of the group. "This is my experience from living with them," joked their friend, Caroline Manley. "They are five crazy bitches."
Trust me, she meant that in a good way. Having these chicks escort me around town Thursday was like being Johnny Depp for a day. And I'm happy to report that I did nothing that would have concerned the most wonderful (and understanding) wife in the world (I miss you, Sweets, and will be home soon).
I still had one of the most interesting days of my career, though.
In addition to being the first day of the tournament (or what they call St. Boozeketball Day around the campus), Thursday was St. Patrick's Day, so everybody was in a festive mood. The students also are very excited that someone from the company that employs Dick Vitale cared enough about their school to spend a week living on campus. All day long, people kept shouting my name and "Hey, ESPN Man!" and coming up to shake my hand. I walked into bars and people kept trying to hand me free drinks. Guys asked for my autograph and invited me to parties. Women asked me to dance and hop on top of the bar. And everyone wanted me to pose with them for photos.
I cannot tell you how weird all this was. I mean, I never, ever get recognized, but here I was such a celebrity I should have adopted a chimpanzee named Bubbles and slept in a hyperbaric chamber. It was all rather uncomfortable.
I have newfound sympathy for Eustachy.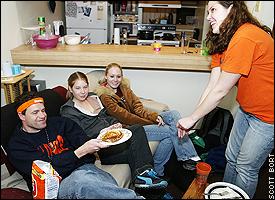 After a few shots, a grilled cheese sandwich hits the spot.
Liz watched people swarm around us and offer us free drinks at a bar called Station and astutely observed, "This is what it must be like for the basketball players."
Exactly. If this is the attention someone gets just for writing about the school for ESPN, I can't imagine what it's like for the guys whom we write about. It's a wonder they all don't wind up in rehab.
We went over to a party to watch Illinois play Fairleigh Dickinson in its first-round game and everyone there got pretty nervous when the Illini led by only a point at halftime. Illinois pulled away in the end, but not quickly or substantially enough to completely satisfy the fans. They all still loyally stand by their team to win the whole thing but a healthier margin of victory would have made them feel a little better. People kept asking what I thought of Illinois' performance, but what do I know? No. 1 seeds often look a little shaky in the opening round and then gain their form in the ensuing games. Illinois will be just fine.
(At least, it will be until it loses to Washington in the Final Four.)
By the time the bars closed, I was thoroughly exhausted, both from the day and from a week experiencing as much college life as possible without being placed on double-secret probation. I lived in a fraternity. I sat in on classes. I ate dorm food. I took a midterm (and I think I also passed). I wrote a column for the school paper. I debated politics and religion. I explored the musty stacks of one of the largest libraries in the world. I learned how to tap dance the time-step (well, sort of). I drank enough to pickle a rock band and all their groupies. I battled medieval re-enactors wielding Styrofoam swords on the south campus lawn (it's a long story). I stood in the Pentagon of Shame (it's a longer story). I sat up discussing school, careers and life until the sun rose (note to everyone: there's no need to rush – you've got plenty of life to live).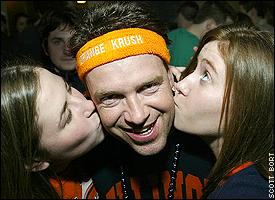 Jim's wife can keep this photo for later use in their divorce proceedings.
But most importantly, I made some new friends.
Liz, Danielle, Jen, Ashley and Lyndsay; Phil, John, Randy and all the members of the Sigma Phi Epsilon house; John, Julian and the guys on Blaisdell 2 – I'm not gonna lie to you. You provided the perfect Wayback Machine to let a 43-year-old man feel like a college student again.
Just do me one favor. Next time, could we mix in a couple more hours of sleep and a few less shots of tequila?
I fly home from Illinois this afternoon for a needed weekend of rest before heading back on the road to North Carolina for week two of my personal March Madness. After this week, the schools along Tobacco Road have clown-size shoes to fill. In fact, if they can match the hospitality shown by Illinois, I'm in serious trouble.
Jim Caple is a senior writer at ESPN.com. His first book, "The Devil Wears Pinstripes," is being published by Plume. It can be ordered through his Web site, Jimcaple.com.