By Jim Caple
Page 2
My March Madness installment on staying with the five women at the University of Illinois had been posted for about two hours when I received this e-mail from my wife: "Will be flying with you to North Carolina next week."
Officially, she will be visiting an old friend in Greensboro. Unofficially, of course, she will be staying close to keep an eye on me.
She doesn't need to worry -- I'm in no shape to drink anything stronger than Snapple. I woke up Friday morning with a monster cold and almost no voice. After flying home, I spent almost the entire weekend flat on my back or blowing my nose. And now, it's time to get back on the road for a visit to the college basketball powers on Tobacco Road, North Carolina, Duke and North Carolina State.
Once again, I heard from more than 100 students offering me a place to crash. Among the more interesting ...
"OK, Jim ... the word has been put out to some of the girls who frequent our fraternity. I'd say there is a good 70 percent of them who are offering their rooms for your 'sleeping' needs, and I assure you that the longer you stay the more appealing they will look. Our 17 pledges are ready to wait on you hand and foot and 14 kegs for this weekend's party have your name on 'em. Avoid the state schools and the damn Dukies and come over and stay with the members of Delta Kappa Epsilon at Wake Forest."
Why, oh why, did Wake have to lose to West Virginia?
"I'm writing from UNC-Chapel Hill not to invite you to stay with me, as I'm older, married, and a grad student (you'd have a pretty lame column on your hands -- "Jeopardy" at 7; dogs out at 8; in bed by 8:30). Instead, I am writing to encourage you NOT to visit Duke on your trip to Tobacco Road. If you do, you will encounter a bunch of homogeneous, self-important kids whose parents are lucky enough to have a bunch of money but not lucky enough to have offspring intelligent or creative enough to get into a truly outstanding educational institution. Most, if not all, you'd encounter in such a visit will never have done anything all that interesting, except maybe having visited a different mall in a different New Jersey town some night in high school or maxing out daddy's credit card on a shopping spree. The campus is a late-model recreation of an Ivy League school, but don't be fooled ... it's not that nice. Heck, even N.C. State would be more authentic and more interesting. Hope this helps.
So, what do you really think of Duke?
"As president of Delta Gamma sorority at Duke University, it is my honor to invite you to be our guest during your stay in the Triangle area during March Madness."
My wife says only if she can stay there as well.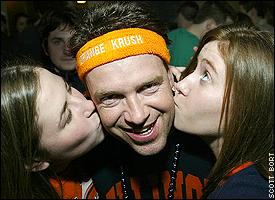 This is why Jim's wife will be heading to North Carolina with him.
"Greetings, @#$%. No, I don't live with gangs of pampered @#$%&*$! I was robbing those @#$%& in high school for the extra cash ... easy money. Breaking into the frat houses at the local university was so damn easy my little sister could have managed the caper. Now you have some old man trying to relive his glory days and compare himself to Hunter S. Thompson. What the @#$%? I understand it is fun for men over the age of 30 years old to read this trash, or idiots from the 'houses,' but unless Jim Caple drops some acid, robs a liquor store, and then has to explain himself to the local authorities with alcohol raging through his internal systems, I don't care. Anyway, good luck on your assignment!"
It's good to know Dean Smith is keeping himself busy.
From Kyle in Durham:
"We have ample couch space for you to spend the week in our house. The toilet on the second floor tends to overflow during parties and drip through to the first floor, often giving people an unwanted shower."
Why, oh why did Wake have to lose to West Virginia?
"I am president of Chi Psi Fraternity at UNC-Chapel Hill, the largest fraternity on campus with 75 members. ... Food will be provided by our chef Theresa, a veteran cook with deep Southern roots, and we'll take you to the best bars in Chapel Hill for refreshments. ... If you behave, I foresee no problems with initiating you, and I can pull some strings as president to give you an official lifetime title. I can see it now: Jim Caple, Special Advisor to the President for Athletic Affairs. P.S. I guarantee that you will have more fun with us than anyone at Dook. In fact, I hear the water in Durham might even make you sick."
I feel like I already drank it.
"I am an Alpha Tau Omega brother at Duke University. Next week will be our first week back from spring break, and the brothers of ATO would love to host you. One of our brothers is a student manager for the men's team here, so I am sure he would have no problem giving you a backstage tour of the greatest venue in sports! P.S. You don't want to stay anywhere in Chapel Hill right now. I hear there is something spreading in the water over there that is giving many people intestinal problems."
Well, there's always Raleigh ...
From Patty in Durham ...
"Dear Jim, After I saw you in that Tigger costume I just had to write you (you see, my husband and I love costumes!!)."
Why, oh why did Wake have to lose to West Virginia?
Jim Caple is a senior writer at ESPN.com. His first book, "The Devil Wears Pinstripes," was recently published by Plume. It can be ordered through his Web site, Jimcaple.com.