By Jim Caple
Page 2
EAST LANSING, Mich. – I'm spending the night at the apartment of State News basketball editor/columnist J. Ryan Mulcrone, where I will soon crash on his couch. It's a decent place and there is a great selection of DVDs (including the complete "Sports Night" and the British version of "The Office"). The one downside is this incredible, very loud and persistent moan emanating from the plumbing system. I think a University of Michigan student may be trapped in the pipes somewhere.
At least I hope so.
This is Week 3 of Middle-Aged White Man Gone Wild and my latest stop has ended in disappointment. During my three-week March Madness tour of NCAA tournament schools, I have lived in fraternities and sororities across the country, sleeping in dorms, houses and apartments that should have been condemned when I was a student. I've attended classes and taken midterm exams. I've gained at least 10 pounds on a strict college diet of pizza and beer.
But I failed in my goal Thursday when I visited the State News, the Michigan State University student newspaper, and could not convince the editors that it was their civic duty to run an April Fool's Day story in today's editions announcing that all the student tickets to the Final Four are being reallocated to alumni boosters.
But students will believe it, they complained. We'll get confused, angry phone calls all day long.
Exactly, I replied. And that's precisely why you should do it.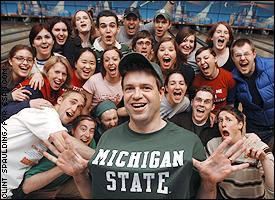 No confirmation on reports that Jim wasn't wearing pants in this picture.
I argued that it was April Fool's Day, the socially approved day for pranks of all kind. That this marked the last chance almost all of these aspiring journalists would have to completely make up a story. That, unless they somehow had the good fortune of working for The Onion, the Daily Show or talk radio, the rest of their careers will be spent dispensing nothing but dry, boring facts.
My arguments were to no avail. The staff, blinded by "facts," journalistic "integrity" and a code of "ethics" would not listen to me. Eventually I gave up and crawled off to a corner to write a guest column for the paper. Oh, well. It's their loss. They will regret their decision, maybe not now, but soon, and certainly 10 years from now when they are covering county commission meetings on sewage treatment.
This never would have been an issue when I was a reporter at The Daily, my student paper at the University of Washington. In those days, back when our paper proudly boasted that "Accuracy is a Slogan," if we thought of a fun idea, we ran with it. I still fondly remember the Welcome Back edition we ran the first day of fall quarter one year when we ran a handy campus map on the cover for all incoming freshmen. Naturally, it was wildly inaccurate, with all buildings incorrectly labeled (except for the dorms, Husky Stadium and the student union building). I think the paper is still taking angry phone calls about that cover.
This "have fun first, worry later" policy didn't exactly hurt our careers. I've done all right for myself and my former colleagues are more successful. Our small staff has produced Pulitzer Prize nominees, nationally renowned cartoonists, magazine publishers, a Wall Street Journal bureau chief, a state senator and assorted other prize-winning reporters.
Still, aside from the MSU staff's stubborn insistence on printing only the truth, I had a great day with the State News. It really is a very impressive paper and they're doing a spectacular job covering both the men's and women's tournaments (their EU-FOUR-IA headline after the Kentucky game was inspired).
The school newspaper is where I spent the most important, the most formative and, well, the most hours of my collegiate life. And given that Washington's loss to Louisville prevented me from my dream of reuniting with my old dorm roommate, this was as close as I was going to get to truly reliving my college days.
Indeed, I woke up Thursday in the sorority house (and no, the much promised pillow fight in our underwear never occurred) to find that I was the main story on the front page of the paper. This, I assure you, is another first in my life, as well as a prime example of what we in the media like to term a "slow news day."
Thursday, however, was my turn to work. I wrote a short column for the sports section and then joined the staff for a party at a local bowling alley where – despite drinking an entire pitcher – I led my team to victory. We then repaired to a local bar where we discussed the sort of pressing real world issues and questions that never get brought up in journalism school.
Specifically, should you order your scotch straight up or on the rocks.
As all good journalists do, we drank until the bar kicked us into the gutter. And now it's time for me to finish up and get some sleep. My campus tour is rapidly reaching its end but I have a big weekend ahead of me.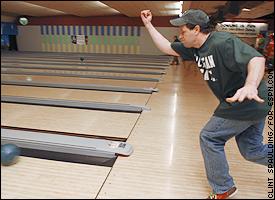 The PBA and the State News are safe with Jim as their competition.
The Spartans men's team plays North Carolina on Saturday night and the women's team plays Tennessee on Sunday. More importantly, however, is the traditional East Lansing riot that is scheduled to break out should the men lose.
I'm not sure which students are more excited about, but the games and the possible riot are about the only thing students are talking about here. The professor in a class I attended even postponed a paper until Wednesday because he wisely realized that no one would be able to focus on it over the weekend.
Fortunately, a reader wrote in to inform me that "the liver is the only organ in the body that regenerates itself." I don't know if this is true – I've studiously avoided all biology classes – but it's a nice thought at this point.
Jim Caple is a senior writer at ESPN.com. His first book, "The Devil Wears Pinstripes," was recently published by Plume. It can be ordered through his Web site, Jimcaple.com.