Single page view
By Jim Caple
Page 2
Stephen King hasn't written any best sellers about their angst and Jimmy Fallon hasn't filmed any movies about their pain, but the White Sox have gone longer without a world championship (88 long years and counting) than the Red Sox did. As season-ticket holder and former old Comiskey Park beer vendor Steve Fischer says, "We've thrown a World Series more recently than we've won one."
A LONG TIME WAITING
Team
Last
WS
Last
title
Yrs
Skinny
Cubs
1945
1908
97
Lost WS in '10, '18, '29, '32, '35, '38, '45
White Sox
1959
1917
88
Won Game 1 in 1959, but lost Series in 6
Indians
1997
1948
57
Led 2-1 in 9th inning of Game 7 in '97, but lost in 11 innings
Giants
2002
1954
51
Have made playoffs eight times since move to S.F. in 1958
Rangers
none
none
44
Have won just one playoff game in franchise history
Astros
none
none
43
Lost final two games of '80 NLCS in extra innings after leading both in 8th inning
Expos
none
none
36
Lost Games 4 and 5 of '81 NLCS; Game 5 on Rick Monday's HR in 9th
Padres
1998
none
36
Beat 100-win Astros and Braves in '98 playoffs, but not 114-win Yankees
Brewers
1982
none
36
Haven't even had a winning season since 1992
Mariners
none
none
28
Griffey, A-Rod, Edgar, Big Unit, Buhner ... and no World Series
The Cubs haven't won a World Series since the final year of Teddy Roosevelt's administration and haven't played in one since the last year of Franklin Roosevelt's administration. Cleveland hasn't won since 1948 (curse you, Jose Mesa!). The Giants haven't won since 1954 (damn you, Scott Spiezio!). The Brewers and Padres have never won a World Series. The Astros have never reached the World Series, despite having late-inning leads in NLCS clinching games with Nolan Ryan and Roger Clemens on the mound. The Rangers have never been to the World Series, either. Neither have the Mariners.
Doesn't every fan deserve some joy, some reward for his or her perseverance? Well, Montreal fans rooted for their team to reach the World Series for 36 years ... and we know how that turned out for them.
In other words, those Boston fans weren't so special in their suffering, just louder. Given the average age of fans, roughly one-third of us have never known the thrill of watching our favorite team win the World Series.
So as New Englanders watch their precious Red Sox finally receive their championship rings today, the rest of us – all just as passionate, each just as success-starved as any fan in Boston – can only wonder, "When is it our turn?"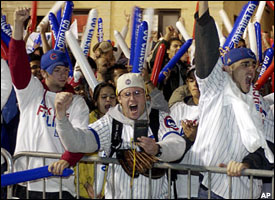 Cubs fans keep hoping for a World Series, despite the pain of 2003.
I Broke My Heart in San Francisco ...
The Giants haven't won the World Series since moving to San Francisco in 1958. They lost the Series in 2002 despite leading by five runs and being just eight outs from winning it all. They lost the 1989 Series when the city's worst earthquake in 83 years struck just before Game 3. They lost the 1962 Series when Willie McCovey lined out with the winning runs on second and third base in the bottom of the ninth of Game 7.
Felipe Alou has been in the game for half a century as player and manager, and is part of perhaps the greatest family in baseball history. Yet he still kicks himself for failing to properly lay down a bunt in the final inning of the 1962 World Series that would have moved his brother, Matty, from first base into scoring position as the potential tying run.
"It still hurts," Alou said in spring training.
With Yankees third baseman Clete Boyer and first baseman Moose Skowron charging the plate for the bunt ("Boyer was as close to me as you are now"), Alou attempted to lay one down on the first pitch. It bounced down the first-base line and rolled foul. The Giants changed the sign, calling a hit and run for the next pitch. He barely got his bat on that pitch and fouled it off for strike two. Swinging away on the next pitch, he struck out.
"It bothered me because I didn't get the job done," Alou said. "It bothered me the rest of my playing career and then after I became a manager in the minor leagues, I decided to talk to young guys about the importance of bunting, the importance of the sacrifice. ...