Single page view
By Jim Caple
Page 2
VICTORIA, British Columbia – This is a city you would expect to produce a really good scone, not the NBA's most valuable player.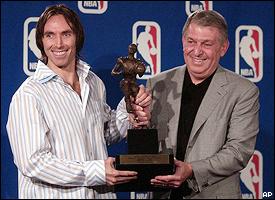 The people of Victoria are proud of the NBA MVP, even if they generally prefer hockey.
Located at the southern tip of Vancouver Island, Victoria is a sublime city of bays and inlets, soaring fir trees, towering totem poles and spectacular sea and mountain views, where seaplanes fly overhead and whale watch cruises sail from the inner harbor. Despite all this natural beauty and despite being geographically closer to the United States than it is to mainland Canada, Victoria is spiritually closer to England.
Victoria is named for the former queen, and taking the ferry here from Seattle is a bit like going to London without the jet lag or the grime. Putting the British back in British Columbia, the city of some 300,000 people boasts the greatest collection of tea rooms, gardens and welcoming old pubs this side of Hugh Grant. The streets and businesses carry names such as Shakespeare, Dickens and the Sticky Wicket. Tourists stand in line to pay $40 for high tea at the grand, ivy-covered Empress Hotel. Guys in Beefeater costumes hand out brochures by the harbor. Steve Nash's old high school fields a cricket team.
It's a town so polite, friendly and helpful that even the message boards on its double-decker buses read "Sorry, I'm out of service" when their drivers finish their routes.
(But before you suspect that I'm being paid off by the Victoria office of tourism, I should note this city's dirty secret is that it stubbornly continues to dump untreated sewage into the Strait of Juan de Fuca, the body of water separating Vancouver Island from Washington state. Whether exporting Nash to the NBA is adequate compensation for this pollution depends, I suppose, on whether you A) root for the Suns; or B) eat fish from these waters.)
In other words, the only games of one-on-one you'd think to find here would be between Prince Charles and Camilla in a very nice B&B.
Back in high school, playing for coach Ian Hyde-Lay (at left), who would have dreamed Nash would be the MVP?
"For Steve to go to the NBA from here is like going to the moon," Nick Greengoe said. "It's like going to Mars."
Greengoe said this just before officiating an intramural game at the University of Victoria, where Nash used to play pickup games as a teenager (and where he still plays occasionally each summer). While the U-Victoria coaches were happy to let him play in the gym, the caretakers were not so accommodating – Nash had to tape the locks down so he could sneak in at night.
When Nash wasn't sneaking into the U-Victoria gym, he was playing basketball somewhere else on the island. He played at his high school, he played at Gordon Head elementary and he played on the cement court playground at Hillcrest elementary, just 100 paces beyond his parents' backyard.
"Steve came in from the court one day," his father, John Nash, said, "and he told me, 'I shot 69 percent from the free-throw line.' I said, 'How did you work that out?' And he said, 'Well, I took 100 shots and I made 69 of them.' That's the way he was. And if he thought he wasn't shooting well, he would triple the shots. Instead of 100 shots, he'd take 300."