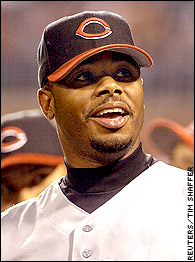 Crazy things continue to happen in Ohio ...
Why are so many people surprised that Ken Griffey Jr. is third among outfielders in the first batch of All-Star ballots even though the outfielder has only five home runs? What, do you need The Washington Post to launch an investigation to show that more than 80,000 of Junior's votes were cast in Ohio by electronic voting machines that leave no paper trail? Wake up, people. These are the same machines the Republicans used to steal the Ohio vote in November. And that was strictly off the record ...
It's no fluke – the Orioles and Brian Roberts are for real this season. No one in Baltimore's lineup has shown this kind of punch since Selig ordered Chan Ho Park to groove Cal Ripken Jr. a fastball so he could homer in his final All-Star Game and direct attention away from how big the players were getting on steroids. It would have worked, too, if Ken Caminiti hadn't spilled his guts to a reporter. But Caminiti learned what happens when you cross one of the Big Three sports. That's why I'm only telling you this on deep background ...
Speaking of the steroids controversy, why is it that Paul Tagliabue and the NFL got off so easy during the congressional hearings? I'll tell you why, but this is strictly between us boys. Everyone knows the NFL is full of juicers, but members of Congress won't mess with Tagliabue because they're afraid he will cut off their free season tickets to the Redskins. It doesn't really matter, anyway. The hearings were just designed to divert public attention from the war in Iraq and rising gas prices ...
I think I saw someone in the shadows. Yeah, I'm sure of it. Look, do you have enough? I'm getting out of here before I'm seen with you. I'll slip a note inside your newspaper telling you where to meet me when I have some more information. But before I go, here's my Tip of the Day: Take the Heat and the points in Game 6. Just don't ask me how I know.
Jim Caple is a senior writer at ESPN.com. His first book, "The Devil Wears Pinstripes," is on sale now at bookstores nationwide. It can also be ordered through his Web site, Jimcaple.com.