Larry King is celebrating his 50th anniversary in broadcasting this week. In honor of that, we present the transcript from his very first show in 1957 …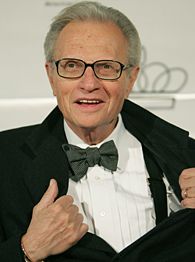 Kathy Willens/AP Photo
Old Larry's always good -- for a laugh.
KING:
My first guest is Walter O'Malley, the great, beloved owner of the Brooklyn Dodgers. Walter, did I ever tell you my story about the time Sandy Koufax bet me you could get three scoops of ice cream for 15 cents at the Carvel stand in West Haven? And we went there and wound up introducing the mayor at an election rally?
O'MALLEY: Yes, Larry, I've heard the story. We've all heard it. Many times. And I asked Sandy about that story and he says he's never been to West Haven in his life. Frankly, he says you and him were never friends. He says …
KING: Have you ever had Anna Nicole Simpson as a guest in your owner's suite?
O'MALLEY: Who? I don't think I know that person. And I don't have an owner's suite at Ebbets Field. That's one of the things I wanted to talk about tonight.
KING: Great place, Ebbets Field.
O'MALLEY: Well, it had its day. But that's what I wanted to tell you …
KING: Were you surprised Jackie Robinson retired over the winter?
O'MALLEY: Not really. He knew we weren't staying in Brooklyn and …
KING: Do you think any part of Jackie missed the Negro Leagues? The color line was a terrible thing but there was some great ball in those leagues.
O'MALLEY: Errr …
KING: I like the Yankees in the American League this season. Great fans in New York. Brooklyn fans are the best in baseball, right Walter?
O'MALLEY: Well, not so much recently. Even with a world championship, attendance is falling and the city's demographics are changing. Which is why …
KING: Speaking of New York and the Yankees, I was talking with a brilliant young comic last week, Joan Rivers. She roots for the Yankees but she's a very funny woman. She'll be my guest next week along with Queen Noor of Jordan, Connie Francis and Rosemary Clooney. Rosemary was great in "White Christmas." Great movie. Terrific song, too.
O'MALLEY: I suppose …
KING: Danny Kaye was in "White Christmas." Very talented, funny man. Good dancer. Great baseball fan, too. I'm told Jackie Gleason attends a lot of games at Ebbets Field. Great ballpark, Ebbets Field.
O'MALLEY: You said that already. But …
KING: What about this young left-hander you have, Tommy Lasorda? Funny young man. And very humble, too. I predict big things for him in Brooklyn.
O'MALLEY: That's what I'm trying to tell you. We're going to move …
KING: Thank you, Walter. Good luck for this season and for many, many more in Brooklyn. My next guest is Wisconsin senator Joe McCarthy. Welcome, Senator.
McCARTHY: It's good to be here, Larry.
KING: Senator, you've been called a demagogue, mean-spirited, and a publicity seeker. They say your search for Communists was nothing but a witch hunt. That you make unfounded, baseless accusations without regard to the truth. That you ruined lives without any care whatsoever to the damage. My first question for you is this: Were you surprised by the Braves' terrific attendance after moving to Milwaukee?
McCARTHY: No, Larry. The great state of Wisconsin is filled with loyal, freedom-loving, Communist-fearing baseball fans. But I have a list here of …
KING: Great beer in Milwaukee.
McCARTHY: Yes, thank God the Commies haven't taken that from us. Which brings me to my list …
KING: Is the beer as good as in St. Louis?
McCARTHY: We like to think so. But getting to my list …
KING: Great brats, too.
McCARTHY: Yes. Now, as I was saying …
KING: The kosher ones, I mean.
McCARTHY: Would you please let me read off my list of Communists?
KING: Speaking of which -- what about the president? Beltway insiders say he was disgusted by your smear of General Marshall and attacks on the military, but he withheld a public response for a very long time. My question is this: What do you think of Ike's golf game?
McCARTHY: I don't know, but I find golf a sport overrun with Communists. Now, getting back to my list …
KING: Ike was a great general, though, you have to agree. Can't say enough about his role on D-Day. Anyway, thank you for coming by, Senator, and good luck with your liver. My final guest is the Yankee Clipper himself, the great Joe DiMaggio. Welcome to the show, Joe.
DIMAGGIO: My pleasure, Larry.
KING: Joe, you won nine World Series. Three MVP awards. You hit safely in 56 consecutive games. You hit .325 for your career. You're in the Hall of Fame. Tell me -- what surprised you about Marilyn Monroe?
DIMAGGIO: Ummm, I'd rather not discuss our personal lives.
KING: Great legs though, right? And a terrific caboose. Even when she packs on a little extra weight. Very zaftig. Which reminds me. Kirstie Alley will be my guest next week.
DIMAGGIO: Who?
KING: Joe, were you surprised by the verdict in the Scott Peterson trial?
DIMAGGIO: What trial?
KING: Well then, let me ask you -- is there anything better than a good orange?
DIMAGGIO: Uhhhh, I guess not. But I'm partial to apples myself.
KING: Great fruit, the orange. And very appropriately named, I might add.
DIMAGGIO: Are you drunk or just stupid?
KING: I'm afraid that's all the time we have tonight. Join me tomorrow when my guests are Judy Garland and her very talented and very pretty daughter, Liza Minelli.
Jim Caple is a senior writer for ESPN.com. He can be reached here. His Web site is at jimcaple.net, with more installments of "24 College Avenue." His new book with Steve Buckley, "The Best Boston Sports Arguments: The 100 Most Controversial, Debatable Questions for Die-Hard Boston Fans" is on sale now.