While I was as surprised as anyone when Bud Selig suddenly stepped down as commissioner last week and appointed me his successor, I didn't waste any time taking on the role.

My first job was to remove all ambiguity over how the commissioner's office regarded Barry Bonds' pursuit of Hank Aaron's home run record. I appreciated how Selig considered this a no-win situation and sympathized with his distress. But for the sake of the game, I also felt it important for the commissioner to take a stand one way or the other. That's why I used Jackie Robinson Day to announce my decision.
"From now on," I told the sellout crowd at Dodger Stadium, "any performance that was achieved at an unfair advantage, any record that is tainted and any statistic that is suspect will be clearly labeled as such. I am therefore ordering that asterisks be placed next to all records, statistics and other performances prior to 1947. Joe DiMaggio's 56-game hitting streak, Ted Williams' .406 season, Jack Chesbro's 41-win year -- all these marks and more were reached when African-Americans and other minorities were banned from the game and are therefore tarnished."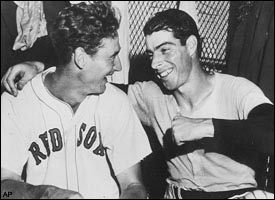 Fellas, welcome to the wonderful world of asterisks.
I could still hear the fans arguing about this decision when I left Dodger Stadium in the top of the seventh inning, which was no surprise given that I was stuck in traffic leaving the parking lot along with them. I was barely able to reach the airport in time for my flight to Colorado to meet with Barry Bonds before the Giants-Rockies series.
"Calm down, Barry," I rehearsed, "You have the full support of the commissioner's office. As far as my office is concerned, you broke no rules specified by baseball prior to the steroid policy enacted in late 2005. You hit those home runs with our implicit approval, and we won't pretend otherwise. I will enthusiastically follow you to each stadium later this summer as you approach the greatest record in American sports, and I fully expect Aaron to join me. Good luck, Barry, and whatever happens, may you represent baseball in a way that makes Hank, your father, your godfather and the country proud."
At least that's what I planned to tell Barry, but he blew me off, making me wait at his locker for three-and-a-half hours before the game, then leaving the clubhouse without a word immediately after the game. Maybe he just didn't get the memo that I was in charge.
From there, I caught a flight to Florida where I met with Marlins owner Jeffrey Loria to give him the good news. "You are getting another stadium, and it has a roof so you'll never have another rain delay," I told him. "Of course, the stadium is the Tokyo Dome, because we're moving you to Japan.
"You see, while it's been wonderful to have all the Japanese superstars play in the major leagues, this talent migration has been bad for baseball fans in Japan, steadily sapping their enthusiasm for their own players and teams. But by putting a major league team in Tokyo, Japanese players who want to prove themselves in our leagues can do so without ever leaving the country. Everyone wins -- MLB grows internationally, enthusiasm is rejuvenated in Japan and most important, Jeffrey, you'll be out of the country, so I don't have to hear you whine about a new stadium anymore."
Naturally, Florida fans were upset about the move, but so what? Baseball, like life, isn't fair. Besides, I told them, "You got to cheer two world champions in 15 years, which is a hell of a lot better deal than fans rooting for the Cubs, Giants, Astros, Mariners, Padres, Brewers, Rockies and Cleveland got."
From there, I flew up to New York to meet with Donald Fehr and work out a deal to eliminate the designated hitter. In exchange for adding a 26th player to the roster of each team, the union agreed to drop the DH beginning with the 2010 season. "There might have been a need for extra offense when the DH started in 1972 but that certainly is no longer the case," I said at the news conference. "Fans are tired of 10-8 games that last three-and-a-half hours. Pitchers are worn out from the stress of facing an extra hitter. And frankly, David Ortiz should have to wear a glove every once in a while if he wants to be considered for the MVP award."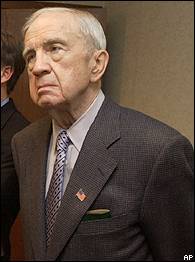 The new commish will try to get Twins owner Carl Pohlad to open his wallet.
On my way home to Seattle, I stopped off in Minnesota, where I met with the Twins and pointed out all the rainouts and snowouts the first two weeks of the season. Then I showed them all the weather records in Minnesota for the month of April over the past 50 years. And then I told them that they damn well were going to put a retractable roof on their new stadium. "And," I said to owner Carl Pohlad, "You've got more than enough money, so I expect you to pay the extra cost yourself you cheap, greedy SOB."
I have to admit, all that left me pretty tired, and I still have so much to announce. Expansion to 32 teams by granting a franchise to San Juan, Puerto Rico, and returning baseball to Montreal. Realignment into four four-team divisions in each league and the subsequent elimination of wild-card teams. The addition of Buck O'Neil and Ron Santo to the Hall of Fame. The removal of Charles Comiskey and Tom Yawkey. The occasional playing of Springsteen's rendition of "This Land Is Your Land" and Ray Charles' "America" instead of the national anthem or "God Bless America." The elimination of the sacrifice fly. Toughened scoring standards for fielders. Cleveland mustard as a required condiment in all ballparks. The league-wide lowering of beer prices. The rebuilding of Ebbets Field …
All that will have to wait, though. Right now, I'm trying to figure out how to invoke my "best interests of baseball" powers to ban the Yankees from the postseason for at least one October.
BOX SCORE LINE OF THE WEEK

Jose Contreras had a beauty Sunday, allowing only one hit and losing 2-1 with this line -- 5 IP, 1 H, 2 R, 0 ER, 5 BB, 3 K. And Cubs reliever Will Ohman threw eight balls out of just nine pitches to turn a 5-4 lead into a 6-5 deficit for this Friday gem -- 0 IP, 0 H, 0 R, 0 ER, 2 BB, 0 K. Both are great performances, but we prefer the effort by Toronto's Roy Halladay. In an era when starting pitchers begin listening for the bullpen phone in the fifth inning and are usually icing their arms in the trainer's room by the sixth, Halladay pitched 10 innings in a 2-1 victory. It was the first 10-inning complete game since Mark Mulder's in 2005 and the second since Halladay also did it in 2003.
His line:
10 IP, 6 H, 1 R, 1 ER, 0 BB, 2 K, 107 pitches
According to Retrosheet.com, Halladay and Mulder are the only pitchers this century to throw more than nine innings in a game. Only five pitchers -- Mulder, Halladay, Kevin Millwood, Darryl Kile and Brad Radke -- have done so in the past dozen seasons.
BASEBALL JEOPARDY

This week's category is: Teams That Lasted Less Time in Milwaukee Than "Joanie Loves Chachi."
Q: Prior to the shift of the Cleveland-Angels series last week, what was the last non-Brewers team to play several home games in Milwaukee?
A: The Chicago White Sox. The Sox played select home games at County Stadium in 1968 and 1969. Of course, Cleveland played as the home team there in the 1989 movie, "Major League," when County Stadium stood in for Cleveland Municipal Stadium.
INFIELD CHATTER

"A Gopher ball."
-- New Minnesota basketball coach Tubby Smith, when asked what type of pitch he was planning to throw out before a recent Twins game
Jim Caple is a senior writer for ESPN.com. He can be reached here. His Web site is at jimcaple.net, with more installments of "24 College Avenue." His new book with Steve Buckley, "The Best Boston Sports Arguments: The 100 Most Controversial, Debatable Questions for Die-Hard Boston Fans" is on sale now.

Also See
ESPN Top Headlines