The only thing more comforting than placing your hand in a loved one's hand is placing it within the soft leather of your baseball glove. No other piece of sporting equipment is as intimate as the baseball glove, not even Maria Sharapova's sports bra or Tom Brady's "lucky" jockstrap.

A baseball glove is a very personal thing.
"I let people hold my [game glove] but I don't let them put their fingers in it," Twins center fielder Torii Hunter says. "I'll let little kids put their fingers in it and they'll only put them in a little bit, but the whole time in the back of my mind I'm thinking, 'Watch it, little kid -- that's my glove.'"
Well, of course you wouldn't want someone else's kid who you just met touching your glove -- gross! -- but it probably would be different if it was your own flesh and blood, right?
"I don't like people touching my glove or any of my stuff -- even my own son," says Mariners right fielder Jose Guillen.
Talking to Guillen about his glove is a little like listening to the Francis/Psycho character in "Stripes" warn Bill Murray, John Candy and Harold Ramis that "I don't like no one touching my stuff. So just keep your meathooks off. If I catch any of you guys in my stuff, I'll kill you."
Guillen says his Seattle teammates don't dare touch his glove, even as a joke.
"They know better," he says. "They don't mess with my stuff." But if someone did put his meathooks on Guillen's glove? "I know right away. I know my hand. I know how it feels in the glove."
And we won't even get into how protective Ichiro is of his glove.
I know exactly how these players feel. I'm just a loser sportswriter, but I never liked loaning my glove out at the company softball game either, because it almost felt violated when I'd get it back with someone else's handprint in it. ("Ewwwww, that better just be sweat.")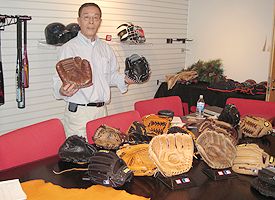 Jim Caple/ESPN.com
Here's Shigeaki Aso, Wilson's master glove designer.
Shigeaki Aso knows how important gloves are to players as well. He's the glove artisan for Wilson Sporting Goods. With more than 30 years of experience in leather-making and more than two decades in the game, Aso, 61, is to baseball gloves what Sarah Jessica Parker is to shoes. The man can tell just by watching a player take infield practice what glove design best suits him. He customizes gloves for Greg Maddux, David Wright and Pudge Rodriguez among many others. (Maddux requested a broader web so that his hand would be better hidden while gripping his circle change.)
"It's very important for me to know who the player is and where he catches the ball in his glove," Aso said.
I met Aso during a visit to the Wilson headquarters in Chicago. He was standing at a table scattered with gloves, including a well-worn glove from before World War II. Now, I've seen old gloves. I've even used one in a game for an inning or two. But I was struck by a revelation while examining this bulky old glove with the sausage-like fingers and the almost nonexistent web: A whole lot of extra-base hits must have dropped in safely in the old days. Ted Williams may have been the greatest hitter of all time, but one reason he's the last player to hit .400 is that gloves are so much better these days. I don't have the research to back it up, but I bet George Brett would have gotten the extra five hits necessary to bat .400 in 1980 if players were still using the old models.
Glove design changed substantially in 1957 when Wilson introduced the A2000 with a stable pocket. According to Jim Hackett, Wilson's baseball director, this design made the one-handed catch much more possible. "If you can't close the glove with one hand, you can't make a diving one-handed catch."
Well, it certainly would be more difficult. Put it this way: It's harder to catch balls when you're using an oven mitt instead of that 24-inch Jai-Alai glove Endy Chavez used last October.
When customizing a glove, Aso shakes hands with the player to get an idea of the thickness of the player's hand, then measures it against his own palm and fingers for the overall size. (My hands are the same size as Maddux's, though obviously there must be more involved in his success). He asks what the player likes in a glove, where he tends to place his fingers (deep in the finger sockets for control, or at the base of the sockets for extra range?), where he tends to catch the ball, etc. Then he turns to his glove patterns and goes to work.
Aso says the key to making a good glove is the quality of the leather (a single cowhide can make four or five gloves) and Wilson's new A2K is made from leather of such high quality that I think the company gets it directly from Dennis Eckersley's tanned hide. You won't need to stuff the A2K under your mattress and sleep on it all winter before being able to use it in a game -- these gloves come almost broken in.
Actually, Aso says you shouldn't break in any glove by stuffing it under your mattress, because placing weight on it can crease the leather and cause the fibers to break down quicker. He suggests placing a ball in the web, closing the glove and wrapping it with rubber bands to hold the form. Big leaguers gradually break in their gloves through repeated use during batting practice and infield practice until they're ready to become a "gamer." On the Wilson Web site, Aso emphasizes that you should care for your glove the way you would care for anything you love. "Rub it, massage it, and talk to it, whatever works!" he writes on the Wilson Web site. "Actually, talking to your glove might be the best way to maintain it and care for it. David Wright talks to his."
The A2K isn't cheap -- the suggested retail price is $299 -- but I must say, it feels good on the hand. When I slipped my hand into the same model Wright uses, it felt almost as comfortable as if I had used the glove through an entire summer. The only difference was, I hadn't made any errors with this one yet.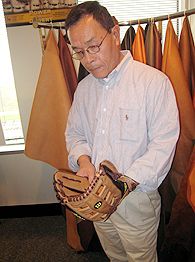 Jim Caple/ESPN.com
There's nothing like the feel of your own baseball glove.
A glove can be precious regardless of price, though. Chone Figgins, the Angels' remarkably versatile fielder, got his first glove at that most renowned of sporting goods stores: Burger King. "I used that all through Little League," he says. "We didn't have a lot of money so you have to go with what you have."
Hunter says all his gloves were hand-me-downs until he turned pro and received a few for free from a glove company. "I thought, 'I must be big-time, I've got two gloves in my locker.'"
Like most major leaguers, Guillen has a locker filled with gloves he receives free from the manufacturer, but he says he actually bought his game glove. For the record, he keeps the glove wrapped inside a nylon sack and hidden in the back of his locker, where he secures it after carefully rubbing it with a leather conditioner. "I put it to sleep after every game."
Guillen didn't say this, but I wouldn't be surprised if he reads it bedtime stories when he tucks it in as well. When you have something as precious as a baseball glove, you need to show it proper love.
BOX SCORE LINE OF THE WEEK
Regular readers know that this award often goes to pitchers who have really bad or really strange lines. Or both. In fact, Rick Ankiel was a recipient once upon a time, back in 2000 when he walked three batters and threw two wild pitches in less than an inning in an LCS start. But Off Base is delighted to honor him this week for a much better line.
After his well-documented struggles with his control, Ankiel returned to the minors, gave up pitching and turned his talent to the outfield. And after pitching in just five big league games since 2001 -- and none since 2004 -- Ankiel completed his comeback in dramatic fashion when he homered in his first game back last week. Two days later he homered again -- twice -- for this award-winning line:
4 AB, 3 R, 3 H, 3 RBI, 2 HR
Welcome back to the majors, Rick, and congratulations on your comeback and perseverance. May your outfield career last many years.
And as for all you other pitchers: If Ankiel can do it, why can't you learn to hit a little bit yourself? You don't have to be Wes Ferrell, but geez, a little practice between starts might lead to some extra hits, some extra runs, and who knows, another win or two each season.
TELL YOUR STATISTICS TO SHUT UP
• And while Off Base is at it, congratulations to Bobby Cox for breaking John McGraw's all-time record for ejections. Although it would have been a lot better if he had marked the occasion by throwing a base or tossing a grenade, as demonstrated by his organizational brother, Phillip Wellman, at Atlanta's Double-A affiliate in Mississippi.
• Tim in Buffalo, N.Y., points out that as of Aug. 11, Ken Griffey Jr.'s season totals were 72 walks, 72 strikeouts, 72 RBIs, a .272 average and 27 home runs.
• Generally speaking, anything that keeps the only player older than Off Base in the game is a good thing. And Atlanta's temporary relocation of Julio Franco to Class A comes with the agreement that he will return to the big club in September when rosters expand (and after Franco turns 49). However, that Franco will be eligible for the postseason just isn't right. After seeing teams find loopholes which allowed all sorts of players who weren't on the 40-man roster by Aug. 31 get into the postseason (Francisco Rodriguez being a notorious example to Giants fans), baseball changed the rules so that any player in an organization at the end of August is eligible. This is counter to the original intent of the rule that playoff teams resemble their 25-man roster as much as possible. Or is Off Base just getting cranky?
INFIELD CHATTER
"Tom Glavine Ominously Announces He Will Be Last 300-Game Winner"
-- headline on TheOnion.com
Jim Caple is a senior writer for ESPN.com. He can be reached here. His Web site is at jimcaple.net, with more installments of "24 College Avenue." His new book with Steve Buckley, "The Best Boston Sports Arguments: The 100 Most Controversial, Debatable Questions for Die-Hard Boston Fans," is on sale now.