When former pitcher Rick Ankiel returned to the majors as a home run-slugging outfielder after years in baseball purgatory, people compared him to The Natural. Then when he was linked to HGH, these same people were aghast that they might have undeservedly bestowed the Hobbsian nickname on someone. Similarly, some found it ironic when the Yankees played the theme song to "The Natural" after one of Jason Giambi's recent home runs.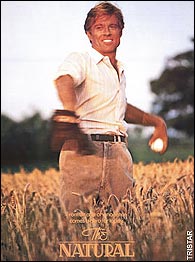 Think Robert Redford's character in "The Natural" was admirable? You might want to think again.
But why do people always hold up The Natural as a paragon of virtue anyway? A close look at the movie reveals that Roy Hobbs was hardly a role model.
He Was a Deadbeat Dad: Hobbs told his high school sweetheart that he wanted to marry her, impregnated her and then skipped town the next morning. Not only did he not return to the girl, he did not even contact her again with so much as a phone call or a postcard -- and he certainly never paid a dime of child support -- until she finally tracked him down 16 years later.
He Was a Womanizer: As mentioned above, Hobbs deflowered his girlfriend in a barn after promising to marry her. Yet less than 24 hours later, he hit on a mysterious older woman on a train, then visited her for a little canoodling action in her Chicago hotel room. Later with the New York Knights, he started sleeping with his late teammate's fiancée while the dead player's body was still warm. This was a particularly cozy relationship for him, given that she also happened to be the manager's niece. Hobbs' playing time skyrocketed about the same time, and once his role was secure with the team, he dumped the niece.
There are three women with meaningful roles in the entire movie, and Hobbs slept with two of them and wanted to sleep with the third. As far as we know, he bedded every female he ever met, including the mothers in the maternity hospital. He also frequently broke curfew, drinking until late into the night and attending a party to celebrate the clinching of a tie for the pennant (a clear violation of baseball etiquette).
He Consorted With Gamblers: The first time Hobbs met a major league player, he and his scout immediately proposed a bet that Roy could strike out the Whammer on three pitches. Was this just a one-time transgression by an impressionable teenager? Hardly. As soon as Hobbs reached the majors, he started hanging out with a known big-time gambler, even after the gambler made it clear he wanted the outfielder to throw some games.
Worst of all, when Hobbs was offered $20,000 to throw the playoff game for the pennant, he did not turn down the offer right away. Although he eventually returned the bribe, he failed to report the offer to the league. This is the same transgression that got Buck Weaver banned for life in the 1919 White Sox scandal, and it also is a clear violation of baseball rule 21 (a) which specifically requires a player report all such offers or "be declared ineligible for no less than three years."
He Was Surly and a Difficult Teammate: Hobbs repeatedly was rude to the media, refusing to cooperate with columnist Max Mercy's simple interview requests. He also operated under his own rules, walking out of required team meetings and not even glancing back when his manager ordered him to do so.
Was It the Lightning Bolt or The Cream? Hobbs reached the majors at 34 (or perhaps 35), an age, as manager Pop Fisher said, when most players retire. Hobbs hadn't played organized ball since high school, when he was a pitcher. And yet he was somehow good enough to play in the majors 16 years later … as an outfielder. Wielding a bat of his own manufacture (and kept in a special case), he not only literally knocked the cover off one baseball, he hit a home run that broke the scoreboard clock at Wrigley Field and another home run that caused the stadium lights to explode in a spectacular fireworks display. Does any of this sound remotely "natural"?
Whether Hobbs' performance came naturally or not is unclear but he definitely was no saint. Anyone who wants to compare a real player to a wholesome fictional star should pick someone of stronger moral character. Like Kelly Leak.
BOX SCORE LINE OF THE WEEK

Seattle's Horacio Ramirez completed the Mariners' pennant drive meltdown (5-16 while falling from three games up in the wild-card race to seven games back) by allowing four runs and not retiring a batter in his start Saturday. But Off-Base prefers the performance of Tampa Bay starter Edwin Jackson, who gave up 14 hits while recording only 14 outs in this staggering line Monday:
4 2/3 IP, 14 H, 7 R, 4 ER, 1 BB, 2 K
TELL YOUR STATISTICS TO SHUT UP

The Ankiel case is yet another glaring example of the double standard held against baseball. While the media leaps on Ankiel for taking a prescribed substance that was not banned by baseball at the time, the NFL's Shawne Merriman is getting a Nike commercial that glorifies outrageous hits. Oh, and speaking of the NFL, it's nice to see that the league's new concussion policy is working so well. Detroit quarterback Jon Kitna leaves the game with a concussion but is allowed to return when he says he's OK, that God has healed him. "If they want someone to play it safe," Kitna told reporters after the game, "that's just not me." And that attitude is precisely why players can't be allowed to make such decisions on their health. …
No one ever wrote a book about Terry Ryan, which is a shame because he got more done with less money than any general manager this side of Billy Beane. It isn't easy running a baseball team when you have to sign players with postdated checks and IOUs, but Ryan did so, helping guide the Twins to four division championships, the first of those coming in a season owner Carl Pohlad and commissioner Bud Selig were trying to euthanize the team. No, it was never easy for Ryan. Back when he was the Twins' scouting director, he was sitting behind home plate at an amateur game when the bat flew out of the hitter's hand, pin-wheeled to the backstop and somehow went through the wire opening and struck him square in the forehead. The gash required more than 100 stitches to close. With luck like that, it was no surprise that when Ryan finally got his crack as GM it came during the 1994 players' strike. Or that one of his first jobs was to track down and sign scab players for spring training in 1995. Or that Kirby Puckett developed glaucoma the next year. But his dedication and talent paid off in the end. If Ryan had the budget of Theo Epstein or Brian Cashman, the Twins would have won at least one and possibly two World Series in the past five years. Off-Base wishes him the best, and knows that as long as he has a baseball game to watch somewhere at some level, he'll be happy. And best of luck to his deserving replacement, Billy Smith, as he follows in the footsteps of Ryan and Andy MacPhail. …
Before voting to place an asterisk on the Barry Bonds 756 ball or launch it into space, you should consider this question: Do you cheer the players on your favorite team who are suspected of using performance enhancers? If so, you have no credibility -- none, nada zero, zip -- if you consider Bonds a cheat while giving your players a free pass. Cheer steroid users or boo them, just be consistent.
Jim Caple is a senior writer for ESPN.com. He can be reached here. His Web site is at jimcaple.net, with more installments of "24 College Avenue." His new book with Steve Buckley, "The Best Boston Sports Arguments: The 100 Most Controversial, Debatable Questions for Die-Hard Boston Fans," is on sale now.