Just when you thought the Roger Clemens steroid scandal couldn't get any more bizarre, personal trainer Brian McNamee now claims that he injected Clemens' wife, Debbie, with HGH, when she prepared to pose in the 2003 Sports Illustrated Swimsuit Issue. Just in case you forget that shot, Debbie Clemens was pictured wearing a skimpy bikini in Central Park while holding a baseball bat across her shoulders and straddling her husband, who lay on his side in the grass flipping a baseball and wearing his Yankees jersey unbuttoned to partially reveal a bare and apparently shaven chest. (And people got bent out of shape when A-Rod took his shirt off in the park?)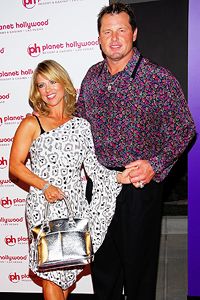 Bruce Gifford/FilmMagic
Will the HGH allegations about Debbie Clemens open a Pandora's box of suspicion for swimsuit models, the cast of "Baywatch" and the USC Song Girls?
Is McNamee telling the truth or has he officially set the limbo bar down in the gutter for this saga? Can HGH improve a woman's figure for a bikini shoot? And if so, does that mean it enhances breast size? What does it all mean for the world of sports, anyway? Page 2 considers the possibilities...
George Mitchell launches an investigation into the SI swimsuit issue. He subpoenas Cheryl Tiegs, Elle Macpherson, Heidi Klum, Naomi Campbell and Petra Nemcova, ordering them to testify before him in a private late-night session at his home.
Victor Conte reopens BALCO and is flooded with applicants for the job of applying the cream or the clear to SI swimsuit models. In a related story, World Anti-Doping Agency chairman Dick Pound personally volunteers to begin testing Sports Illustrated, Maxim, FHM, Playboy and Esquire models for silicone.
McNamee holds another press conference to announce that in addition to Debbie taking HGH for the swimsuit photo shot, Roger Clemens wore a codpiece. Roger responds with a press conference of his own, saying it was nothing more than a protective cup.
Asked to provide evidence of his wild claims about Clemens' wife, McNamee hands over a 34B cup bra from 2001 to federal investigators.
Henry Waxman opens a congressional committee hearing on performance enhancers by calling in SI swimsuit models, the cast of "Baywatch" and the USC Song Girls to testify. C-SPAN subsequently breaks the record previously held by the final episode of "M*A*S*H" for highest-rated TV show in history.
Debbie Clemens tells Mike Wallace on "60 Minutes" that if she took HGH and steroids she would have a third nipple on her forehead and be floating down Broadway next to Underdog and SpongeBob SquarePants in the Macy's Thanksgiving Day parade.
Responding to rumors that Morganna was artificially enhanced, commissioner Bud Selig calls the Kissing Bandit into his office and asks her, "If I placed an asterisk next to your body, would you hold it against me?''
An emotional Tyra Banks tells Waxman's committee she did not take HGH, just too many Krispy Kreme donuts and too much Chubby Hubby ice cream.
TMZ video hounds wind up in the emergency room after they repeatedly ask Tom Brady whether Gisele Bundchen has taken performance enhancers.
Mitchell angers soccer fans everywhere when he questions Brandi Chastain about her sports bra.
Debbie Clemens' agents release a study showing that it isn't unusual for breasts to grow larger as a woman matures, citing Angelina Jolie, Sharon Stone and Raquel Welch. The study fails to convince cynical reporters but becomes a best-seller.
In another day of congressional testimony, Farrah Fawcett says, "I'm not here to talk about the past" when Waxman pointedly asks her whether it's true she artificially enhanced herself with tissue paper for her famous swimsuit poster shoot.
Anna Benson responds to ugly rumors by holding a press conference to declare that her breasts are real "and they are spectacular.''
The NFL begins testing cheerleaders for performance enhancers and handing out four-game suspensions for those who do not test positive.
McNamee holds yet another press conference to claim that David Beckham's underwear ad was also artificially enhanced. "It's not rocket science,'' McNamee says. "They used the same technique in 'Spinal Tap.'''
Saying he has nothing to hide, Alex Rodriguez takes off his shirt again in Central Park.
Mattel introduces the very popular HGH Barbie.
Jose Canseco releases a new book, "Padded,'' in which he claims that he turned Madonna on to steroids.
Waxman expands the scope of his investigations, calling on Victoria's Secret angel Adriana Lima to explain the truth behind the so-called "Miracle Bra.''
Barry Bonds finally takes the witness stand, but in three hours of testimony, federal prosecutors ask him only for details about how his ex-girlfriend, Kimberly Bell, prepared for her Playboy photo shoot.
And of course...
Angry readers cancel their subscriptions to Sports Illustrated, drastically cutting the magazine's sales of the swimsuit issue from three million copies to 2,999,988 copies.
Jim Caple is a senior writer for ESPN.com. He can be reached here. His Web site is jimcaple.net, with more installments of "24 College Avenue." His book with Steve Buckley, "The Best Boston Sports Arguments: The 100 Most Controversial, Debatable Questions for Die-Hard Boston Fans," is on sale now.