The best part of spring training? I mean, apart from the weather, the beer and the sunbathing college students? It's the daily notes on each team that fill you in on all the news from around the Cactus and Grapefruit leagues ...

AMERICAN LEAGUE
BALTIMORE -- Owner Peter Angelos is having second thoughts about trading LHP Erik Bedard but is reportedly close to signing off on the Frank Robinson for Milt Pappas deal. ...
BOSTON -- The Red Sox announced a new ticket plan in which fans have the option of paying with a subprime rate mortgage, their first- or second-born child (depending on seat location) or a body organ, preferably a kidney because that would leave the fan with another one for 2009. ... After consulting with several doctors, RHP Curt Schilling has decided to treat his injured shoulder by wearing a bloody sweatshirt. ... Boston GM Theo Epstein signed Terry Francona to the longest contract extension any manager has received in team history: three innings, or until he does something that upsets the fans, whichever comes first. ... The Boston Globe has begun work on a commemorative book for the 2008 season titled "162-0." ... The Red Sox announced they will raise ticket prices again by the time you finish reading this sentence. ...
CHICAGO WHITE SOX -- The White Sox unveiled their new slogan for the 2008 season: "Come See The Chicago Team That Has Won A World Series This Century, Not That We Have Any Other Particular Team In Mind, Certainly Not One That Blames Its Many Losses On Goats And Its Own Fans." The team is currently looking for a billboard wide enough for the slogan. ...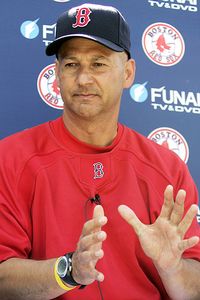 AP Photo/Brita Meng Outzen
Terry still has an inning-by-inning contract with Red Sox Nation.
CLEVELAND --
Paul Byrd's dentist said the pitcher has two cavities, recession along his gum line, an abscess and a slight tear in his labrum. He recommends two fillings, a root canal, flossing twice daily and regular injections of HGH. ... The team's shipment of midge larvae arrived yesterday and will be ready to hatch in early October. ...
DETROIT -- OF Gary Sheffield says that agent Scott Boras is "a bad man" who bought HD-DVD instead of Blu-ray, always leaves the toilet seat up, stole his personal chef, Anatole, is usually late returning his DVDs to the video store, "and worst of all -- charges way too high a commission." ... Miguel Cabrera attributes his weight loss to a new diet that restricts him to fruit, vegetables and rice cakes but allows him to feed on as many fastballs as he wants. ... The surgeon general has determined that sitting in sections 131-136 behind the Detroit dugout is hazardous to fans' health due to the secondhand smoke rising from Jim Leyland's cigarettes. ...
KANSAS CITY -- In addition to free parking, the Royals are trying to boost attendance at spring training by selling tickets to other teams' games. ...
LOS ANGELES ANGELS -- A freak injury sidelined OF Vladimir Guerrero during batting practice when his right hand became stuck to the pine tar on his batting helmet and had to be surgically removed. ... RHP Francisco Rodriguez and the Angels are nearing agreement on a landmark three-year deal that will allow him to become a free agent in the bottom of the fifth inning on July 3, 2012. ...
MINNESOTA -- Fresh off their multiple Oscars, the Minnesota-native Coen brothers told reporters they are making a sequel to "Fargo" titled "No Country for Free Agents" in which owner Carl Pohlad gets the money and then puts Twins fans through the wood chipper. ... In related news, the Pohlad family placed C Joe Mauer and 1B Justin Morneau on Craig's List yesterday. ...
N.Y. YANKEES -- LHP Andy Pettitte held another press conference to tell the truth about his previous statements about HGH, which turned out to be lies. ... To celebrate the final year at Yankee Stadium, the team announced it is holding a contest to select the lucky fan who will have the honor of throwing out the last battery at an opposing player. ... 3B Alex Rodriguez announced that he is opting out of running laps at the end of team workouts. ...
OAKLAND -- The Athletics will attempt to increase attendance by staying in Japan and playing the rest of their home games in Tokyo as well. ...
SEATTLE -- The Orioles told general manager Bill Bavasi that LHP Erik Bedard is in the mail and should arrive any day now. ... Pearl Jam's Eddie Vedder will throw out the ceremonial first pitch on Opening Day. Richie Sexson will swing and miss it. ... Ichiro got stuck while stretching yesterday and had to be pried free. ...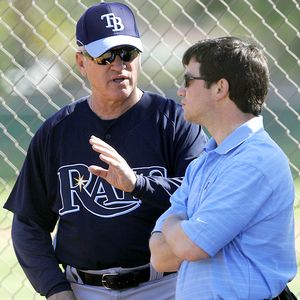 AP Photo/Al Behrman
"Just think of the publicity if we had a bobble judge night."
TAMPA BAY --
On second thought, Tampa Bay now wants to be referred to as the Devils. ... General manager Andrew Friedman said Tampa Bay may sign OF-DH Barry Bonds, depending on whether it can make the finances work and also find a batting helmet large enough to fit him. ...
TEXAS -- The Rangers named Nolan Ryan their new team president and Opening Day starter. ...
TORONTO -- General manager J.P. Ricciardi says he is hopeful the favorable exchange rate for the Canadian dollar will allow the Blue Jays to waste even more money on stupid contracts for oft-injured players such as B.J. Ryan and A.J. Burnett. ...
NATIONAL LEAGUE
ARIZONA -- In an effort to boost attendance, the Diamondbacks have hired Jose Canseco and Roger Clemens' ex-nanny to host drunken pool parties at their stadium. ... LHP Randy Johnson pronounced his back 100 percent healthy after striking out six batters and killing two pigeons. ...
ATLANTA -- LHP Tom Glavine said he is delighted to be back in an Atlanta uniform and vowed to return the team to a division championship and a first-round elimination in the playoffs. ...
CHICAGO -- Manager Lou Piniella told reporters that thanks to his playoff strategy last October, RHP Carlos Zambrano is fully rested and able to go three or four innings in his first Cactus League start. ... RHP Ryan Dempster said his bold prediction that the Cubs will win their first World Series in exactly 100 years was taken out of context. "My full quote was that the Cubs will win the World Series this year ... right after hell freezes over." ... Tribune and Cubs owner Sam Zell says he wants to see cheerleaders at Wrigley Field, preferably wearing nothing but G-strings and dancing with the foul poles. ... The Cubs held a brief but emotional ceremony after broadcaster Ron Santo accidentally pronounced RF Kosuke Fukudome's name correctly. ...
CINCINNATI -- New manager Dusty Baker said he will start his pitchers off cautiously in the Grapefruit League season, putting them on a strict 140-pitch count until mid-March. ...

COLORADO --
The Rockies have yet to report to spring training because they are still waiting for the 2007 World Series to start. ...
FLORIDA -- Team president David Samson said local taxpayers should hurry up and build the Marlins a new stadium while there still are players on the team. ... The Marlins are asking fans to bring two cans of food or nonperishable items to Opening Day for their players. ...
HOUSTON -- RHP Roger Clemens showed up at camp to pitch batting practice Tuesday and said he is willing to come out of retirement only if the Astros allow him to only pitch in months with a K in them. Otherwise, he said he and former trainer Brian McNamee will travel the vaudeville circuit performing the old "Who's On First?" routine. ... Former 2B Craig Biggio also visited camp to watch batting practice and showed he still has it by getting hit by a pitch. ...
LOS ANGELES -- In an effort to generate interest in a region of the world that currently has no interest in big league baseball, MLB International is having the Dodgers play the Padres in a two-game exhibition series at the Marlins' stadium in Miami. ... After 62 years, the Dodgers will mark their final spring at Vero Beach by leaving behind a bunch of empty beer cans, a dirty bathroom and a weird stain that you can't get out on the kitchen counter. ...
MILWAUKEE -- RHP Eric Gagne held a press conference yesterday and apologized for his ERA. ...
N.Y. METS -- The Mets will celebrate their final year at Shea Stadium by selling hot dogs from their first year at the ballpark, where coincidentally the hot dogs have been slowly rotating on the grill since that 1964 season. ... General manager Omar Minaya admitted that he faces felony grand theft charges for stealing LHP Johan Santana from the Twins. ... Mr. Met vigorously denied Kirk Radomski's charge that his head is so big because the former clubhouse attendant supplied him with regular doses of HGH. He did, however, say Mrs. Met used the drug while preparing for a Sports Illustrated swimsuit shoot. ... The Mets somehow lost another game in the standings to the Phillies. ...
PHILADELPHIA -- In his boldest prediction yet, SS Jimmy Rollins said the Phillies will repeat as NL East champs and that baseball will one day be played on the moon with players riding hoverboards like the ones in "Back to the Future II." ... LHP Jamie Moyer pitched batting practice yesterday and appeared to be right on track for the season after being clocked at "Three Mississippi." ... 1B Ryan Howard celebrated his record $10 million arbitration win by making a down payment on Red Sox season tickets. ...
PITTSBURGH -- There was a little commotion yesterday when new 1B Doug Mientkiewicz refused to give up the baseballs that were thrown to him during infield practice. ... The Pirates modeled their new uniforms, with "Chico's Bail Bonds" written across the back of the jerseys. ...
ST. LOUIS -- OF Juan Gonzalez spent the entire day receiving treatments in the trainer's room and pronounced himself in midseason form. ... Manager Tony La Russa got drunk, challenged everyone to a fight, then said that he could prove with geometric logic that former Cardinals 3B Scott Rolen stole the team's strawberries. ...
SAN FRANCISCO -- Three Catholic families have taken up residence in the lockers formerly reserved for ex-Giants OF Barry Bonds. ... LHP Steve Kline reportedly lost 40 pounds over the winter, but it appears C Bengie Molina found them. ...
SAN DIEGO -- RHP Trevor Hoffman received a call in the bullpen from Brewers OF Tony Gwynn Jr., who asked if the closer's refrigerator was running. ...
WASHINGTON -- Nationals general manager Jim Bowden added to the team's depth by signing the body of Ray Boone to a minor league contract. ...
Jim Caple is a senior writer for ESPN.com. He can be reached here. His Web site, jimcaple.net, has more installments of "24 College Avenue." His book with Steve Buckley, "The Best Boston Sports Arguments: The 100 Most Controversial, Debatable Questions for Die-Hard Boston Fans," is on sale now.