Let's get this straight. NBA commissioner David Stern says it is inevitable the Sonics will move to Oklahoma City and that Seattle will never get another NBA team. He also says the NBA is considering expanding to Europe with "a critical mass" of teams.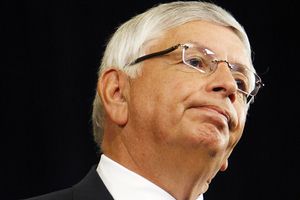 Timothy A. Clary/Getty Images
For Commissioner Stern it's today Europe ... tomorrow the world.
In other words, when a league's arena blackmail schemes are reduced to threatening a move to Oklahoma, it's time to expand the market.
What will the NBA of the future look like? Just take a look at David Stern's state of the league address from the 2018 All-Star Game ...
"I feel proud and vindicated as I stand before you today. Many people said the NBA could not successfully expand to Europe but I'm here today to say those critics were very, very wrong. The enthusiasm I've seen this week here in Stuttgart is proof of that. These are great fans and they obviously love their Bobcats.
"I admit there were growing pains in our European expansion. I again apologize to the many players who signed contracts expecting to spend their winters in Florida only to find themselves in the cold and snow of northern Russia -- but I know they enjoyed their time playing for the St. Petersburg Hornets anyway. And as every general manager will tell you, figuring out the salary cap in Euros was no pleasure, either. And yes, in hindsight we also should have made absolutely certain all the i's were dotted and all the T's crossed on the arena deal for the Kosovo Clippers.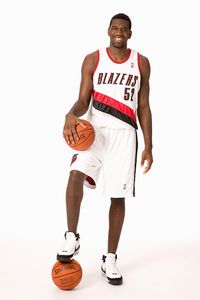 Sam Forencich/Getty Images
After the now standard 10-year rehab from microfracture surgery, Greg Oden is ready for his close up.
"But all that is in the distant past and the NBA is now thriving in Europe. Led by rookie of the year candidate Greg Oden, the Warsaw Grizzlies are selling out Lech Walesa Arena and leading the Eastern Bloc division. Larry Brown has the Dublin Pints in first place in the West Europe division, giving him a good chance to be the first coach to take four different European teams to the playoffs. And the Stockholm Syndrome are setting league attendance records, though that may have a lot to do with the Swedish Girls dance team.
"I'm very proud to say that despite the frivolous lawsuits over trademark infringement, the Haarlem Globetrotters have been a huge success as well. Once best known for its beautiful 17th century architecture, the old Dutch city of Haarlem is now world famous for the ballhandling wizardry of its all-white, chest-passing NBA team and their tight satin shorts. I never laughed so hard as when they pulled down Kobe Bryant's shorts in their playoff game against the Los Angeles Lakers of Anaheim. And I don't need to tell you how popular staying in nearby Amsterdam has been with American players.
"As exciting as the present is in Europe, the future looks even brighter. I'm very excited that we'll be expanding next year to Brno, an up-and-coming city often referred to as the Oklahoma City of the Czech Republic. And while Utah has shown a disturbing lack of support for building a state-of-the-art arena, Salt Lake City's loss will be Finland's gain. I am very optimistic about the long-term success of the Helsinki Jazz.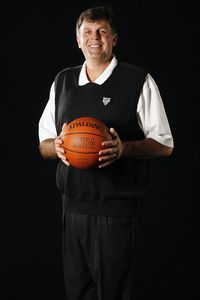 David Sherman/Getty Images
Sadly, Kevin didn't have enough money to make it to the game after falling for the "two tens for a five" trick 50,000 times in a row.
"While I would like to take sole credit for the NBA's success in Europe, many people played equally important roles. Minnesota general manager Kevin McHale, in particular, has been instrumental in building up our European franchises by trading them so many of the Timberwolves best players in inexplicably lopsided deals. Kevin might be right, though. Getting Shaquille O'Neal from the Moscow Cold for two first-round picks is risky but it just might rejuvenate Shaq's career.
"I also would be remiss if I didn't take this opportunity to give a 'shout out' to Berlin Knicks coach Isiah Thomas for his fine job with that historic franchise since its relocation from New York. Another couple years, Isiah, and I think you'll have them at .500.
"In closing, I need to respond to reports on the Web today. Contrary to these unfounded rumors, the NBA has no intention of abandoning Oklahoma City. The team is well-poised for its 12th consecutive lottery pick and I fully expect attendance to rise significantly when the new $5 billion arena/shopping center/theme park/military base/hydroelectric dam opens next fall. Owner Clay Bennett assures me it will be the grandest arena in the league ... and it should be, considering all the lessons the city learned while building the three previous arenas for the team."
"Now if you have any questions, I'm sure deputy commissioner Hans-Gert Pöttering has the answers. Thank you."
Jim Caple is a senior writer for ESPN.com. He can be reached here. His Web site, jimcaple.net, has more installments of "24 College Avenue." His book with Steve Buckley, "The Best Boston Sports Arguments: The 100 Most Controversial, Debatable Questions for Die-Hard Boston Fans," is on sale now.