MARYVALE, Ariz. -- One of the little pleasures of spring training is that you come across security guards with walkers.
I was eating a lunch of rice in the media dining area at the Brewers' ballpark in Maryvale when my friend, Scooter, walked by and tried to join me. He was blocked by an older security guard who took his job very seriously. "You can't go in there, buddy," he said. "You have to get by me first."
How can you not applaud a retiree who needs a walker but still has the bearing of a secret service agent?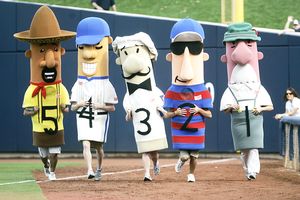 AP Photo/Lenny Ignelzi
Even the sausage racers from Milwaukee need spring training to get into shape.
Longtime readers might remember Scooter from my I-90 road tour back in 2002. He's a terrific baseball fan -- "When I croak I think I'll miss my wife and baseball the most" -- and holds a dazzling reservoir of sports, pop cultural, political and assorted trivia in his mind, such as the fact that Padma on "Top Chef" once was married to Salman Rushdie. Before there was Google, there was Scooter. He also is the sort who will suddenly blurt out things such as, "Did Eliot Spitzer not get the memo? 'You're the governor of New York -- you can get it for free.' And I know you have to be on the lookout for creeping old fogey-ness, but since when do hookers get 4K for an hour?"
Scooter and I first attended spring training together back before Ken Griffey Jr. played his first big league game, when there were only five teams training in Phoenix, and you never had to worry about getting a ticket to see any of them play. Now there are 12 teams in Arizona -- with at least two and probably three more on the way for next season -- and spring training is such a popular vacation trip that ticket prices nearly match those for the regular season and are often sold out well in advance.
Maryvale, however, is one of the few remaining secrets of spring training. While the Cubs regularly play to sellouts, and other teams draw big crowds, as well, the Brewers play here in relative obscurity. You can always get a ticket in Maryvale, which -- aside from the dreary surrounding neighborhood -- is a wonderful ballpark with ample seats in the shade, the sun and the grass berm in the outfield. And if you need anything more, there are also bratwurst.
I really like Milwaukee -- my parents met there -- but if you were to start the major leagues from scratch and distribute 30 teams around the country, no one outside Wisconsin or the Selig family would place a franchise in that city. Brewers fans are as passionate and devoted as any (and more than some), but with two Chicago teams to the immediate south, the Minnesota Twins to the near West, Lake Michigan to the East and Michigan and Canada to the north, they simply lack the numbers other teams possess. Until last year, their fan base was also challenged by 14 consecutive losing seasons, and the Brewers still have zero postseason appearances since 1982, the longest such streak of futility in the majors.
With temperatures in the upper 70s, the sky so blue Ralph Lauren should have a special name for it, Scooter grabs a vacant seat along the third-base line to watch Ben Sheets and the Brewers host the Giants. "Does it get any better than this?" he asks.
Scooter has tickets to all the Giants games in Scottsdale, so he's seen them play a lot this spring. He hasn't liked what he's seen and for good reason. He was there the day Noah Lowry walked nine batters in one inning of work, and he turned to his fellow fans to make sure they were aware something historic was happening. "They batted around without an official at-bat," he says, still not entirely sure a week later whether he really saw it. I don't think the Giants will be as bad as Scooter maintains -- not with a rotation including Tim Lincecum, Barry Zito and Matt Cain -- but when confronted with such performances, it's difficult to argue with him.
"When you're asking Kevin Franzen to play third base," he says, "when you're asking Brian Bocock to play shortstop, when you're asking Dan Ortmeier to play first base, when you're asking Ray Durham to squeeze another year out, when you hear a line like, 'Randy Winn is in his prime' -- which I heard last week in section 119 -- ay-yi-yi."
I point out a woman wearing a Brett Favre jersey behind home plate, which gets Scooter going on the issue of baseball records (which matter dearly to fans) compared to football records (which mean nothing to fans if they don't also affect their fantasy league score or the betting line).
"Favre holds the record for most career touchdown passes -- but what's the number?" Scooter asks rhetorically. "He holds the record for most career passing yards -- what's the number? He holds the record for most consecutive games played at quarterback -- what's the number? The only record of his I can come up with is the number of times previously retired, which I think is four."
The game progresses. Prince Fielder, the largest vegetarian since Stegosaurus, comes to the plate, prompting Scooter to ponder how much broccoli and cauliflower it takes to fill him up. The Giants botch a couple of plays, prompting more dire predictions for their season. We look at the crowd, prompting comments about the high price of spring training. He talks up the talent of the Tigers, saying he hopes they do well for the sake of Detroit residents. After all, he asks, who could wish more bad times on those people?
"Doug Davis has a 14,000-square-foot house plus one of those, what do you call them, carriage houses for guests," Scooter says at one point. "Doug Davis."
This is not the first time he's mentioned this to me. Nor will it be the last. The obscene square footage of players' homes is one of Scooter's favorite rants. Whenever he reads a story about a ballplayer that includes a square footage over 10,000 or a guest house or better yet, both, he e-mails the link to me. The inverse ratio of square footage to performance particularly confounds and delights him. I've received these story links from him for years.
"Doug Davis. Fourteen thousand square feet."
The size of SUVs is a similar source of regular commentary. Neither of us can fathom the appeal of vehicles that get horrible mileage, are difficult to park and prone to fatal rollovers. But then again, we can't figure out why people pay for bottled water or how ticket prices continue to rise, either. When I ask how high gasoline prices must rise before people finally change their driving habits, Scooter shakes his head: "Maybe the price of gas is like the price of tickets."
Until Fielder, J.J. Hardy and the rest of the current team arrived in Milwaukee, the best part of a Brewers game was the sausage race. The Brewers realize how popular the race is, so they hold it in Maryvale, as well -- hey, sausages need spring training, too. As the five sausages line up (the Brewers added the Chorizo a couple seasons ago), I notice again that while most of them wear corresponding national costumes (the Bratwurst wears lederhosen), the Hot Dog just wears a Brewers uniform with the No. 4 on his jersey. I'm not sure this is due to a lack of creativity or a tribute to Paul Molitor.
The sausages race, the "Beer Barrel Polka" plays during the seventh-inning stretch and then the stadium speakers play Chubby Checker's "Let's Twist Again."
"Chubby Checker singing 'The Twist,' a polka band, sausage races -- do you think that would play in Scottsdale?" Scooter says. He waves toward the Milwaukee fans. "These guys are going out to eat cheese and nachos after the game. What do you think the San Francisco fans are going to have? Pan-fried Chilean sea bass in an avocado reduction?"
The starters leave the game and minor league hopefuls take their place. The game ends. The Giants win (take that!). And we get up to leave. Very reluctantly.
"I would stay here two days if they kept playing," Scooter says, though I know that's not true. If they kept playing, he would never leave.
Jim Caple is a senior writer for ESPN.com. He can be reached here. His Web site is at jimcaple.net.