Searching for the link between the steroid use by Alex Rodriguez and Jose Canseco? Look no further than the woman with whom both players have been romantically associated, Madonna, aka All-The-Way Mae Mordabito in "A League of Their Own." As she explains in an exclusive interview with Page 2, apparently there was more than chocolate in those Harvey bars the Rockford Peaches ate ...
"I guess my secret is out now. Yeah, I'm the one who kicked off the whole steroids era in baseball. I turned Jose Canseco on to them two decades ago, and I introduced A-Rod to them, too. It's how we first got to know each other years ago. I'm just surprised it took so long for people to make the connection. I mean, look at me! Do you really think a woman my age gets a body like this naturally?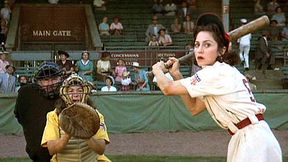 Columbia
Mae Mordabito tried to bring a little power to the Rockford lineup.
"I began taking steroids when I played outfield for the old Rockford Peaches. Everyone on the team juiced -- steroids were just part of the culture. Why? Simple. We had to do something to boost attendance when the league started up. You gotta remember, it was a whole different era back then. Who wanted to go see a bunch of girls play baseball in those days, even if you had a hungover Jimmy Dugan popping his head out of the dugout?
"The owners tried all sorts of tricks to boost attendance. First, they had us wear skirts. Then they shortened our skirts until it looked like we were wearing jockstraps. Then they designed alternate halter-top jerseys for the road. Then they had us pad our chest protectors. Then they had us wear fishnet silk stirrup socks. They even had Dottie Hinson and me in some sort of 'Women in Scoring Position' promotion, but the Rockford vice squad shut it down after the first night.
"None of it worked. Fans didn't mind a little exposed flesh, but what they really wanted to see was home runs. The problem was, we just didn't have the power to hit them. We were just a bunch of banjo hitters, really. Even Marla Hooch had only warning-track power, and she was built like Gil Hodges -- and looked a little like him, too.
"So, in addition to finishing school classes where we learned how to pour tea and cross our legs properly (I never did get that one down), they put us on intense anabolic steroid cycles. We started with andro and worked our way up to dianabol, primobolin and finally equipoise. You could see the effects right away. We went from teams' hitting maybe one home run every other week to four or five a game. And the fans loved it. Pretty soon, we were selling out the ballpark. The only problem was Dottie's kid sister, Kit, threw a fit because her ERA kept going up.
"It all was done under proper medical supervision to begin with, but pretty soon, everyone was looking for that extra edge on their own. I caught Dottie injecting Kit in the bathroom stall before one game, and they tried to cover it up by saying it was only a penicillin shot, but it was pretty obvious what was really going on. They finally admitted it was some sort of experimental steroid used for fattening up their cows back home in Oregon.
"To be honest, not everyone wanted to use steroids. I remember when Evelyn Gardner started crying about how she was afraid she would get caught and how she would be disgraced and how she wouldn't be able to explain herself to her bratty little kid, Stilwell. But she finally gave in after Jimmy set her straight by screaming, 'There's no testing in baseball! There's no testing in baseball!'
"Sure, there were some side effects, like deepened voices and facial hair, but that wasn't all bad. Hell, one season I had endorsement deals with Maybelline and Gillette.
"Anyway, since steroids worked great for my career, I figured they could help Jose and A-Rod. And they did. At least, they worked most of the time. For some reason, each October, Alex always got the testosterone pill mixed up with the estrogen pills I take for hot flashes."
Jim Caple is a senior writer for ESPN.com.