My favorite part of spring training is reading the daily notes on each team. Or at least my favorite part of spring trainng is pretending to read the daily notes while I'm actually checking out fans in bikini tops while lying in the sun and sipping beer on the outfield berm. Either way, you find out the most interesting things in those notes.
GRAPEFRUIT LEAGUE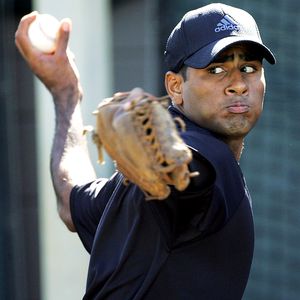 AP Photo/Matt York
Good news, Rinku: You're a hot cricket prospect, too.
PIRATES
As part of Pittsburgh's continuing rebuilding program, the Pirates traded SS Jack Wilson for the California octuplets. "The deal saves us $15 million in salary over the next two seasons," general manager Neal Huntington said. "Plus, it gives us eight young arms who won't be arbitration eligible until at least 2033." ... LHP Rinku Singh and RHP Dinesh Patel, the pitchers signed by Pittsburgh after they appeared on an Indian reality show, have impressed the Pirates with their high-80s fastballs and their low-80s googlies.
BRAVES
Team president John Schuerholz thought he had a one-year deal for $15 million with OF Manny Ramirez yesterday morning until Scott Boras and Ashton Kutcher walked in and declared, "You've been punk'd!," then laughed and said Manny was going to sign with the Dodgers instead. ... Brewers GM Doug Melvin called later and asked whether Schuerholz would like Prince Fielder in an Atlanta uniform. When Schuerholz replied yes, Melvin laughed, shouted, "Then I better let him out of his contract!," laughed and said, "No, I'm sorry, John. That was just a twist on an old practical joke. Prince isn't going anywhere." ... Later in the day, the Hendricks brothers knocked on the door and said they had a great deal on a free agent, then left a burning bag of manure for Schuerholz to step in. ... In more positive news, LHP Tom Glavine agreed to a one-year contract to play golf for Atlanta.
NATIONALS
The Nationals have asked President Obama to throw out the ceremonial first pitch on opening day and, in an effort to boost Washington's rotation, GM Jim Bowden has asked him to pitch the rest of the game as well.
YANKEES
3B Alex Rodriguez held a press conference to apologize for his poor postseason performances in New York, attributing his .159 average and lone RBI in the past three postseasons to "being young and na´ve." ... A-Rod also told reporters that when he was in high school, he could "throw a football over them mountains." ... Rodriguez received a stirring show of emotional support at the press conference from three of his 56 Yankees teammates in camp, though it appeared RHP Brett Tomko might have been simply looking for the lunch spread. ... The Yankees named Bernie Madoff their new budget director.
TWINS
Rather than wearing a shoulder patch that costs $3 apiece, the Twins will honor late owner Carl Pohlad this season by wearing the same uniforms every day without washing them once all season to trim the laundry bill. "Actually," manager Ron Gardenhire said, "it's what he was going to have us do anyway." ... C Joe Mauer said he expects his sideburns to be ready by opening day.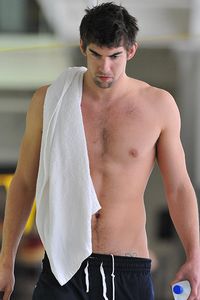 AP Photo/Gail Burton
Ahhh Mr. Phelps, the greatest aquatic Baltimore native since the soft-shell crab.
ORIOLES
Showing his full athletic capability, native son Michael Phelps will not only throw out the first pitch at the Orioles season opener, he'll participate in the first hit as well.
METS
Joe Torre and Sports Illustrated writer Tom Verducci are rumored to be hard at work on a sequel to "The Yankee Years," tentatively titled "The Mets Years," in which the one-time Mets skipper reveals Mr. Met was obsessed with the San Diego Chicken. In one leaked excerpt the authors write: "The team openly joked it was like in the movie 'Single White Female,' a reference that thoroughly confused Torre until the movie came out 13 years later." ... The Mets and the city announced that due to the government bailout of the banking industry, the name of Citi Field is being changed to Debits Field.
RAYS
Thanks to this past year's World Series run, Tampa Bay's season ticket sales have swelled to 47. ... Manager Joe Maddon is getting the Rays better prepared for a return to the World Series by holding workouts with the sprinklers on.
RED SOX
Owner John Henry told reporters that baseball needs a hard salary cap, and wants it instituted just as soon as the contracts for RHP Daisuke Matsuzaka ($52 million and let's not forget the $51,111,111.11 posting fee), OF J.D. Drew ($70 million), DH David Ortiz ($52 million), 1B Kevin Youkilis ($41 million), 2B Dustin Pedroia ($40 million), 3B Mike Lowell ($37.5 million), RHP Josh Beckett ($30 million) and SS Julio Lugo ($36 million) expire. ... Henry added that baseball needs more competitive balance, so that in addition to free-spending, large-market teams such as the Rays, Rockies and Cardinals reaching the World Series, penny-pinching teams like the Red Sox can get there more often as well. ... Boston's consecutive-game sellout streak is in jeopardy even though the team kept many ticket prices flat at just one body organ and 1½ quarts of blood.
PHILLIES
First baseman Ryan Howard reported to camp 20 pounds lighter, saying he will show up with the missing 20 pounds only if the Phillies raise his salary another $4 million. ... LHP Jamie Moyer asked team player rep Jimmy Rollins whether grandchildren are eligible for the annual Father-Kids game.
MARLINS
In yet another a cost-cutting move, the Marlins plan to break camp with just 18 players and make up the difference using cheap off-shore workers.
BLUE JAYS
Manager Cito Gaston says he misspoke recently when he said this year is a bridge to 2010 and beyond. "Given the state of the club," he said, "it's more like one of those complicated transportation projects that involve both road construction and a light-rail system, the funding of which all depends on the state first passing a tax increase and the voters agreeing to user fees and tolls in order to get federal matching money."
TIGERS
IF Carlos Guillen reported to camp one pound lighter than this past year and attributed his weight loss to an intense workout routine and new diet during the winter, plus weighing in before he ate breakfast.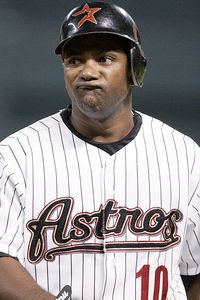 AP Photo/Pat Sullivan
Tejada apologized for lying ... but who knows if he was telling the truth when he did.
ASTROS
SS Miguel Tejada apologized for lying to Congress, explaining he only lied because "I thought that's what people are supposed to do when they're in Washington, D.C." ... Owner Drayton McLane has asked former pitcher Roger Clemens not to pitch to minor leaguers this spring, but would be happy to have him mow the Astros' outfield by pulling a tractor with his teeth.
CARDINALS
The Cardinals are looking for another infielder after releasing SS Khalil Greene when manager Tony La Russa woke up on the wrong side of the bed.
REDS
RHP Aaron Harang, who missed time with shoulder issues this past season, threw 15 minutes on the side yesterday. Depending on how he feels, he'll try pitching 20 minutes on his feet next time.
CACTUS LEAGUE
DODGERS
After a winter of haggling, the Dodgers and Manny Ramirez are finally close to agreeing to a $20 million, five-month contract that will allow the outfielder to become a free agent in September. ... Ramirez's agent, Scott Boras, however, also has contacted the Netherlands, Chinese Taipei, Canada and South Africa about a $25 million contract for Manny to play for one of them in the World Baseball Classic. ... The Dodgers have 46 players in camp at their new facility in Glendale and 11 others who showed up in Vero Beach by mistake.
MARINERS
OF/DH Ken Griffey Jr. didn't report to camp yesterday because he stopped at the store on the way to ballpark and is said to still be agonizing over whether to choose paper or plastic. ... Former Seattle reliever J.J. Putz told New York reporters that Ichiro caused team disharmony in 2008 because by hitting .310 with 103 runs scored, 43 stolen bases, 213 hits, playing gold glove defense and making an eighth consecutive All-Star Game appearance, "he made the rest of us look even worse by comparison. If he wasn't so selfish, he would have done his part and sucked, too." ... The Mariners gave C Kenji Johjima another three-year, $24 million contract extension which will be paid exclusively in garlic fries. ... New manager Don Wakamatsu says RHP Carlos Silva looks much lighter without his 6.46 ERA from this past year and hopes he can keep it off this season.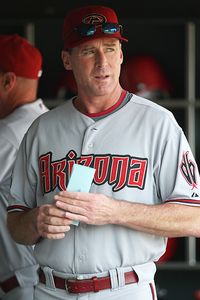 Brad Mangin/MLB Photos/Getty Images
"Schilling's people had success practicing on cadavers in '04, so it's worth a shot."
DIAMONDBACKS
RHP Max Scherzer, a candidate for the rotation who has had some shoulder aches, had some trouble facing live batters yesterday but manager Bob Melvin and pitching coach Bryan Price were encouraged by his effectiveness against dead batters.
RANGERS
Vowing to have the best season of his career, OF Andruw Jones says he has lost 20 pounds and also had the moss removed from his north side. ... Responding to Alex Rodriguez's claims that he took steroids while in Texas because he was young and stupid, the Rangers will start including IQ tests as part of their spring training fundamentals. They also will only sign free agents to $250 million contracts if they hit 50 home runs, are at least 57 years old and are U.S. Supreme Court justices.
WHITE SOX
Among the amenities at Chicago's new spring training facility in Glendale is one of those inflatable Bozo the Clown punching bags so OF Carlos Quentin can hit it after strikeouts. ... Former Illinois Gov. Rod Blagojevich is selling his seats to the White Sox spring games on eBay.
INDIANS
RHP Kerry Wood said his arm feels good and that he is delighted to finally be playing for a team where he won't be constantly reminded and asked about how many years it has been since it won the World Series.
ROYALS
DH Billy Butler took batting practice and somehow grounded into four double plays. ... IF Willie Bloomquist stayed after practice yesterday to work on hitting routine grounders and lazy flyouts to medium-deep center field.
CUBS
The Cubs finished up practice yesterday with that one fundamental drill where they make an error at each infield position. ... New owner Tom Ricketts showed up at HoHoKam and promised to improve Wrigley Field by not putting the score on the scoreboard in October. ... Longtime fan Ronnie Woo-Woo has officially changed his name to Ronnie Diecinueve Cero Ocho.
ANGELS
Manager Mike Scioscia says he will make room for newly signed OF Bobby Abreu by going with a controversial four-man outfield this season. ... The Angels say they are confident LHP Brian Fuentes can replace former closer Francisco Rodriguez by being paid a ridiculously high salary to protect three-run leads with no runners on base for one inning when the game's outcome is almost sealed anyway.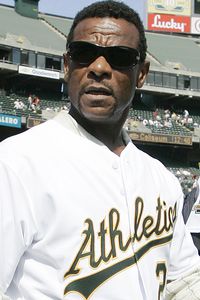 AP Photo/Eric Risberg
"Rickey knows that Rickey is the only one as good as Rickey."
ATHLETICS
Rickey Henderson visited camp and said he wants to go into the Hall of Fame wearing an A's cap and "an A's jersey and A's pants and A's socks and A's shoes because they should sign me to a two-year deal, like Jamie Moyer got. I can still out-hit half the guys in this clubhouse and out-run all of them." ... Steven Soderbergh, who is directing a movie version of "Moneyball," also stopped by and asked why Jeremy Brown wasn't in camp.
ROCKIES
A poll of 50 Hall of Fame voters found that only one writer would vote for Rockies C Humberto Cota after the career minor leaguer was suspended this winter for steroid use. Apparently, that one writer is the same guy who voted for Jay Bell.
PADRES
GM Kevin Towers denied he is close to a trade that will send RHP Jake Peavy to the Korean team in the World Baseball Classic.
GIANTS
LHP Randy Johnson said he is looking forward to having his new teammates score no runs for him and then having the bullpen blow the lead. ... With 295 career victories, Johnson needs three more to reach 298. ... The Giants are using former OF Barry Bonds' batting helmet as a hydrotherapy pool.
BREWERS
First baseman Prince Fielder says he is in the best shape of his life, which, when you think about it, isn't saying all that much.
Jim Caple is a senior writer for ESPN.com.