The biggest problem with Alex Rodriguez's news conference last week was that not only will we have to go through the same process with another athlete someday soon, we'll probably go through it multiple times. And although athletes already receive plenty of advice that's both solicited (from agents/attorneys/publicists) and unsolicited (from columnists/talking heads) regarding what to say in these news conferences, I can't help but think the other people in the process have been left out.

What about the reporters? What questions should they pose to a player?
Well, if they want to follow the guidelines standardized at previous news conferences, here's what they will do in the future:
1. Go into the news conference as if it's the Frost/Nixon interviews. If the athlete doesn't do so on his own, push him to apologize. Repeatedly and profusely. Get him to apologize for steroids, the DH, artificial turf and $8 beers. America deserves no less than a full and complete mea culpa!
2. When asking your question, use a tone of voice that conveys bitter disappointment, outright disgust or personal betrayal -- or, preferably, all three. You must make it clear that, like Demi Moore in "A Few Good Men," you strenuously object to the athlete's taking a substance in a selfish attempt to improve his performance and help his team win. (While doing so, it helps to conveniently forget he may not have broken any league rules because the substance may not have been banned by the league at the time of its use.)
3. Determine whether to trust a player's explanation based on how you feel about him personally. If you like him and he's friendly and always available to talk after games, accept his story and praise his "apology" (though it may contradict his previous denials) as a refreshing bit of candor and a positive step forward. Move along; these are not the 'droids we're looking for! However, if you already dislike him because he provides boring postgame quotes, or none at all, or makes way more money than he deserves yet still complains to no end about his contract, blast the apology as insincere, demand he be more forthcoming with "all the facts" and vilify him. Make an example of the louse!
4. Be sure to ask him whether an asterisk should be placed next to his statistics, under the assumption that all the stats from his entire career are completely invalidated by any steroid use at any time. (Just don't feel required to put other "sacrosanct" statistics into a similar context, such as those compiled before World War II, when many great players were banned on the basis of their skin color, or those stats compiled after World War II, when players started using amphetamines.)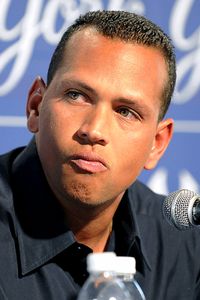 Kyodo/AP Images
Did you enjoy A-Rod's press conference? Because there will be more like it.
5. Ask the player what he has to say to America's children about his steroid use and how he might be able to be a positive example for them. (When doing so, it's helpful to pretend you actually do think athletes should ever be considered role models in the first place.)
6. Ask how badly the player feels he has damaged his Hall of Fame chances. This is a key subject, because you and your peers must keep the Hall of Fame free of cheaters. (Unless, of course, the player admitted to throwing spitters or scuffing the ball, in which case it's OK, because that's not really cheating, that's more like gamesmanship. Which everyone knows is completely different. The batters who try to maintain their jobs by hitting such illegal pitches would undoubtedly agree, so there is no reason to ask them.)
7. When giving your opinion afterward that the athlete has blackened the sport, be careful not to lay a hint of suspicion on athletes in other sports (say, the NFL or the NBA) who are noticeably bigger, stronger and faster than they were two decades ago and whose performances also are likely to have benefited from steroid use. It just distracts from the main point that this sport is filthy dirty!
8. Also, when condemning the entire current generation of players, assume that past players, who were so quick to use amphetamines to enhance their performances, were somehow morally superior and, provided the opportunity, would never have taken steroids that also could have enhanced their performance, even if they weren't specifically against the rules.
9. Never pause to acknowledge that you repeatedly glorified the player's performance and the long, majestic home runs he clobbered, all while you'd suspected for a decade or more that steroid use was widespread.
10. And, finally, always remember to hyperventilate.
TELL YOUR STATISTICS TO SHUT UP
• Whose spring training will be most disrupted by the World Baseball Classic? Potential injuries aside, the early leader is the Seattle Mariners, who might have to make do without five position players who will start games for them this season -- Ichiro, Adrian Beltre (if he decides to play in the WBC), Jose Lopez, Kenji Johjima and Endy Chavez -- plus ace Felix Hernandez and starter Carlos Silva (though, given his 2008 season, maybe that isn't such a loss), as well as top prospect Phillippe Aumont. Meanwhile, Red Sox fans paying up to $46 a ticket will have to go without seeing David Ortiz, Daisuke Matsuzaka, Dustin Pedroia and Kevin Youkilis during WBC action. Oh, and the Brother Elephants of the Chinese Professional Baseball League will contribute four players to the Chinese Taipei team.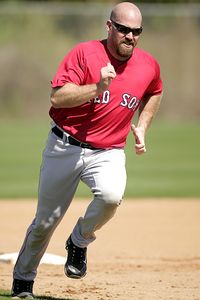 AP Photo/Steven Senne
Red Sox fans are going to miss Kevin Youkilis for part of spring training.
• Early pick for the championship game: the U.S. (pitching depth and lineup) versus Japan (pitching and serious approach to the WBC). But don't underestimate Korea, which won the Olympic gold medal.
• As the World Baseball Classic nears, baseball is readying its bid to get back into the Olympics for the 2016 Games. The International Baseball Federation submitted a 150-page proposal last week and is awaiting a decision by the International Olympic Committee in the fall. IBAF president Dr. Harvey Schiller wrote this about baseball's rightful place in the Olympics on his blog at the ibaf.org Web site: "This week, teams begin practice for the World Baseball Classic. We've started out-of-competition drug testing. Over 37,000 fans showed up in Japan to view the first team practice! This past year 12 books were listed on Amazon concerning Japan's victory in the 2006 Classic. Baseball is the national sport in dozens of countries, from Cuba to Japan, from USA to Venezuela. We've broken racial barriers and no one needs [to] belong to a private club to play. You'll find young players on streets, in ghettos, and on playgrounds; it's as simple as a bat and a ball. We've been in 12 previous Olympic Games. Our best players from around the world have played and will play in the years ahead. Baseball reflects all the right things that the Olympic Movement represents. So I ask, what am I missing??'"
• In case any doubt remains about a double standard when it comes to media coverage of steroids in baseball and football, first read Jayson Stark's recent Three Strikes blog post, then tell me whether you saw the story about New England Patriots special-teams captain Larry Izzo's being listed as a possible witness in the Barry Bonds trial about getting performance-enhancing drugs from Greg Anderson. A three-time Super Bowl champ and three-time Pro Bowl selection is a possible witness in a steroids trial, but the story was buried behind the tire and erectile dysfunction ads? Nah, there's no double standard.
• The Sports Illustrated swimsuit issue is out, and although there are no photos of Debbie Clemens (nor Roger), there are signs of the recession. The second annual Off Base swimsuit count finds the following numbers, almost all down from last year:
Total pages: 179, including cover (down from 229 in 2008)
Topless photos: 22 (down from 33)
Breasts blocked by: arms (15), paint (three), sand (one), hands (one), balcony (one), beads (one)
Models with finger suggestively tucked inside bikini bottom or bra strap, as if about to take it off: 17 (up from 11)
Swimsuit photos of Danica Patrick: one (down from five)
Bottomless photos: six (down from seven)
Jim Caple is a senior writer for ESPN.com.