News item: Some Yankees fans are steaming over the steep price increases, poor seating assignments and inconvenient selection of games for their partial season-ticket packages at the new Yankee Stadium, as well as the terse and convoluted instructions for requesting a change.
Page 2 peeks at how the Yankees and a few other teams are handling ticket packages this season …
How the Yankees contact their ticket buyers
To whom it may concern: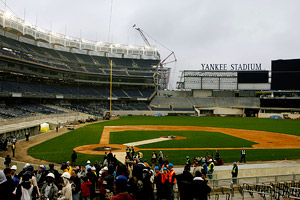 AP Photo/Jason DeCrow
The new Yankee Stadium will be great, if you can figure out a way to get a ticket.
Congratulations! The New York Yankees have received your request for a partial, 20-date season-ticket package and, after a thorough background check, have agreed to renew your tickets!
However, because of the seating limits of our new home, plus the overwhelming demand for tickets to see the World's Greatest Team move into the new Yankee Stadium, we were unable to fulfill your specific seat requests. But we have assigned you alternative seating we feel certain you will enjoy just as much or even more!
You are hereby assigned two 20-date partial season tickets: one in our special Challenger's Perch rooftop loge, Section 679, Row 82, Seat 276 (view partially obstructed by a bank of lights, fully obstructed when the lights are turned on for night games), and the other in our auxiliary seating area at 31st Street and Ditmars Boulevard in Queens, conveniently located near the Astoria-Ditmars subway station, serviced by the N and W trains (standing room only).
Also, thanks to high demand, your ticket price has increased slightly, from $60 per seat to $170 per seat, plus a $12.50 convenience fee per ticket, a $5.95 service charge per ticket, city and state taxes of 18 percent, a luxury tax of 8.5 percent, $10 for postage ($50 for delivery this season) and a onetime handling fee of $110, bringing your 20-date partial season-ticket plan to $9,695.57. Your bill is already 60 days past due and therefore includes a 15 percent late fee of $1,454.34, bringing the grand total for the 20 dates to $11,149.91.*
If you wish to decline your assigned seat location, simply go to "MyBombersAccount'" at Yankees.com and select the "Account Settings'' tab next to the "Personal Preferences'' heading under the "Login'' banner. Then type in your 28-digit, randomly generated RAS customer number followed by your Social Security number and the daily 17-character/12-digit password (available on the YES Network at 6 a.m. each morning), and you will be redirected to the "Alternative Seating'' page. From there, you will have the option of choosing a more expensive seat in another location or a pricier seat in a different location or a costlier seat in the same location. You may also decline your assigned seat altogether by clicking the "Decline'' tab. (But do not, under any circumstances, click the "Are You Sure?'' pop-up, as this may delete your hard drive.) Warning: If you choose to decline your assigned seat, you will go to the back of the waiting list, and there is very little chance you will ever see the Yankees play in person the rest of your life. Either way, you will be billed the full amount, plus interest.
Again, congratulations. We ask that you not spit or throw garbage at the new Yankee Stadium.
Sincerely,
The 26-time world-champion New York Yankees
*Note: In an effort to accommodate everyone who applied for tickets, be advised that the Yankees may not be playing games on the dates you have been assigned.
---
How the Boston Red Sox contact their ticket buyers
Dear Fellow Citizens,
As we embark on another magical season, we understand that the current economic situation poses financial challenges to all citizens of Red Sox Nation. Rest assured that we are working hard to ease your burden.
First, in a show of solidarity, we are tightening our belts by trimming payroll while at the same time upgrading our roster for another title run. Second, we are holding the line on ticket prices, freezing them at their 2008 levels that provided the biggest bargain in sports.
Please know we deeply appreciate your support and look forward to seeing you at Fenway Park, the greatest ballpark in baseball.
The Boston Red Sox
(In a minor but somewhat related accounting matter, because of mounting costs, we have been forced to impose a 7.8 percent income tax on Red Sox Nation citizens. Tax-return forms are available online at RedSox.com and must be filed no later than midnight April 15. Also, we are placing a 15 percent Value Added Tax on all purchases within Red Sox Nation. Finally, because of increasing security concerns, all Red Sox Nationals must have a passport to enter Fenway Park this season -- sorry, no exceptions. Processing fees for passports are $150 each, and they must be renewed monthly. In addition to a passport, a visa is required for admission to the Green Monster seats. Visa fees are $200, or $300 for expedited, same-season service. Foreign fans from outside Red Sox Nation must apply for a Green (Monster) Card to attend games at Fenway Park; standard processing fee is $200. All passports, visas and Green Cards can be obtained at Red Sox team stores, Fenway Park and our officially licensed plasma centers.)
---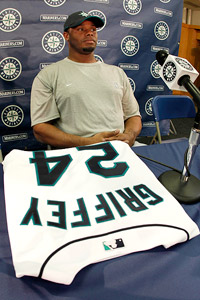 AP Photo/Charlie Riedel
Junior's back with the Mariners? Really?
How the Seattle Mariners contact their ticket buyers
Dear Mariners fan,
Only a few weeks remain before Opening Day (when Ken Griffey Jr. returns to Seattle!), but we still haven't received your season-ticket renewal deposit. Perhaps our letters have crossed in the mail. (Maybe while Ken Griffey Jr. was signing his contract with the Mariners?) But if not, we hope you will take a moment to send in your deposit before all our tickets are gone (because so many Seattle fans can't wait to see Ken Griffey Jr. back in a Mariners uniform)!
Thank you for your loyalty, and we can't wait for the season to begin (when Ken Griffey Jr. will be wearing No. 24 for us again)!
The Seattle Mariners
P.S. Did you see we signed Ken Griffey Jr.?
---
How the Cubs contact their ticket buyers
Dear Cubs fan,
We have received your ticket request and look forward to welcoming you aboard as we sail into another century of baseball (one that hopefully will include a World Series). Thanks to the increasing demand for seats, you will see that under our flexible spending plan, tickets are priced according to a range of variables, including the opponent, month, day of the week, etc.
To determine the price of the tickets you want in your desired section, begin with a base price of $45, then add on the following charges with the help of our simple Friendly Confines Advisory System:
Green/Low: For midweek games in months with an R, but after Lent and before Ramadan, against the Pirates or Nationals, add $15.
Blue/Guarded: For weekend games against the Padres, Marlins or Rockies during full lunar or solar eclipses, add $25.
Yellow/Elevated: For weekday games against the Brewers, Astros or Giants when Scorpio is rising, the moon is waning or Kosuke Fukudome is in the lineup, add $40.
Orange/High: For games between May and September, or against the Cardinals, Mets, Dodgers, Phillies, White Sox or Braves, or with Carlos Zambrano starting or Alfonso Soriano leading off or Derrek Lee in one of those grooves or when you know Lou Piniella is due for a full nut-out or when the wind is blowing out and the sun is shining and the boss is out of the office, add $50.
Red/Severe: For games in October in prime time, add $175.
Purple/Apocalyptic: For World Series games, you may enter the lottery by submitting the name of the child you are willing to give up for indentured servitude in our concession stands.
Thank you again, enjoy the 2009 season, and just wait until next year!
The Chicago Cubs
---
How the Pittsburgh Pirates contact their ticket buyers
Dear season-ticket holder: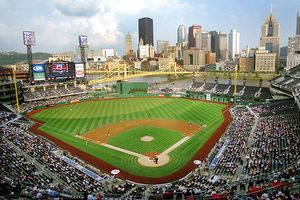 AP Photo/Mark Genito
Arguably the best park in the majors, and it's cheap to get in too!
The Pittsburgh Pirates thank you for your loyal support and look forward to seeing you during another unique season of Pirates baseball. We received your season-ticket request and are pleased to offer you the following seats at half off last year's price of half off:
Section: Dugout. Row: 1. Seats: between manager John Russell and outfielder Nate McLouth.*
Thank you! And go Bucs!
The Pittsburgh Pirates
*Note: You may be called upon to play as circumstances arise.
---
How the Florida Marlins contact their ticket buyers
Urgent and confidential business proposal!
Dear sir,
I send this to you with the trust in your strictest confidence. My name is Danjume Dikumbu, one of the sons of Abubakar Dikumbu, the exiled prince of Nigeria. My family recently was forced to flee our homeland because of the rebel forces that have plagued our country for several years. With the rebels gaining power and our present stateless position, we are unable to access our personal family fortune worth approximately $210 million (U.S.) that is contained in 40 metal crates in a secret bank vault in Nigeria. This fortune also includes two Florida Marlins season tickets. Our lawyers advise us that our only way of accessing our fortune is through a foreign intermediary. Your name came up on a list of people sympathetic to our government in exile, and so I am appealing directly to you as a man of God for help on behalf of my family. If you could be so kind as to aid us in accessing the account, I am in position to reward you with 10 percent of our fortune, plus the two Marlins season tickets, but you must respond to this e-mail immediately for further details regarding how to proceed. Please, sir, we are desperate.
Thank you and God bless.
P.S. This offer is genuine and 100 percent guaranteed safe, plus the tickets are right behind the Marlins' dugout.
Jim Caple is a senior writer for ESPN.com.