PORTLAND, Ore. -- Jamey Winchester's first job was as a teenager working behind the bar in Portland's Memorial Coliseum during the late '70s, when the Trail Blazers won the NBA championship and the city's heart. Every game was a sellout back then -- the 12,666 capacity was more of a fixture in the box score than a Maurice Lucas double-double -- and the team actually sold tickets to watch closed-circuit game telecasts at the Paramount Theater. To be a season-ticket holder in those days? It gave you the cache of a TV weatherman or a Rose Festival princess.
Fans would visit the bar for a drink before leaving behind filthy ashtrays on their way to watch Lucas, Bill Walton, Lionel Hollins and the rest of the world's coolest team. Winchester would watch those fans saunter away as if they were better than he was -- just because they had tickets and he was a barback cleaning ashtrays. It was a world of haves and have-nots, but Winchester was determined to one day join those haves with his own season tickets. At 17 he put his name on the waiting list, which, given its length, was a bit like the cable company placing you on eternal hold ("You are the 12,347th caller in line ...").
Decades later, when the team's performance on and off the court (Ruben Patterson! Rasheed Wallace! Damon Stoudamire!) ravaged attendance, the front office offered a package so drastically reduced -- $200 for a full season ticket -- that Winchester was finally able to buy a pair. His seats in Section 309, Row O are so high they should come with Sherpas, yet when he talks about the thrill of holding those season tickets in his hands, his face beams as bright as the old White Stag billboard that welcomes people to Portland. Those season tickets represent passion, loyalty, industry and, in certain respects, that he's made it since those days cleaning ashtrays.
"People say, 'Your seats are WAYYYY up there.' No. Those are MY seats. I worked my ass off for those seats," Winchester, 46, said at a recent game. "I didn't think that I would never get them. I always knew. I always knew I would get them."
CRUNCH TIME 2009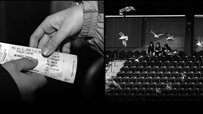 And yet now ...
Our economy is bad and Winchester says he earns about $500 a week as a carpenter on stage sets and he must provide for four children. So even though the tickets aren't that expensive and even though the Blazers are a team in which the city can again take pride, when Winchester learned his season tickets had risen to $796, he thought hard about whether he could afford them.
"Very few people are bigger fans than I am," Winchester said. "I don't shave my head with a Blazers symbol in it, well, maybe -- but my kids are not going to go hungry because of tickets. I guess that sums it up. My kids are not going to go hungry. There are priorities in life and basketball isn't one of them." He paused ever so briefly. "Well, to a point it is."
Indeed. Sports are about the last thing fans give up before food and shelter. And maybe not even then, if you could sleep in your seat between games and the concessions weren't so expensive. As one season-ticket holder said, "Sports is one of those luxuries that's almost a necessity."
We're in the longest recession since the Great Depression, with the highest unemployment level in a quarter century (2 million jobs shed in the first quarter of 2009) and a stock-market crash that wiped out more than $10 trillion in investments and retirement plans. How is that economy affecting fans?
We could look at this year's ticket sales for the answer, but that mostly reveals the situation varies by city. The Detroit Tigers -- crippled by the economy and a last-place finish in 2008 -- reportedly lost almost half their season-ticket holders from last season. The world champion Phillies, meanwhile, have sold more tickets than they did in 2008. The Mariners offer a 4-for-2 deal on season tickets, yet the Yankees nearly doubled their average ticket price and still had so many requests for partial-season packages that some fans were moved from behind the plate to right field.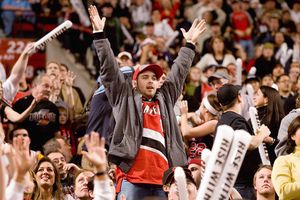 Cameron Browne/NBAE/Getty Images
It's once again fun to attend Blazers games in Portland. But what if you've lost your job?
Such figures indicate winning percentage is at least as important as the Dow Jones average. To appreciate the bad economy's effect, better to focus on specific fans wrestling with the same sort of ticket-buying decisions as Winchester.
Before we learn Winchester's decision, meet Erik Ritter, 33, another Blazers fan so devoted he's been known to sit in his truck in the driveway and listen to the game when it wasn't on TV.
Ritter remembers the night he and a friend watched Brandon Roy play his first exhibition game. Portland was coming off a 21-61 season and so many off-court "incidents" they were known as the Jail Blazers. But Roy was so electrifying Ritter went into the team store at halftime -- he couldn't wait until the game's end -- and bought his replica jersey. Ritter feels that after suffering through the Blazers' miserable decline, he got in on the ground floor of their rebuilding phase and has an ownership stake in the success. He bought a 10-game ticket last season -- "When you have those tickets in your hand, you get a chill. I get to go to every one of these games" -- and was ready to double that when he was laid off from his sales job in the construction business.
No 20-game package. No 10-game package. No chill running through his body as he held the tickets. No tickets, period.
"It's killing me to not be able to say, 'Hon, I'm going to the game tonight,'" Ritter said in March. "Because that's what I did last year. Game's coming up, the matchup is looking good -- I'm going to that game. Done. No questions asked. Go have a good time. This year? Not happening."
Ritter watches games on TV with friends, and he enjoys that, yet it's not the same as being in the arena, feeling you are not just an observer but an actual part of what's happening. Nonetheless, in some ways, the games are more important.
"I'm unemployed. I'm feeling pretty down in the dumps. But dammit, I've got a Blazers game to look forward to," Ritter said. "I love my family, I love my time with my daughter and everything, but I get that feeling [with the Blazers]. So knowing that tonight we're taking on the Mavericks, I've been on pins and needles all day. When you're having hard times, you look forward to the games even more. I don't know if I would appreciate this season as much as if I wasn't unemployed, as weird as that sounds. Looking back, I totally took for granted going to games."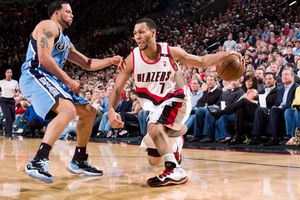 Sam Forencich/NBAE/Getty Images
Watching Brandon Roy in person is enough to make some fans put away money for tickets.
Ritter is fortunate. After the interview, he found another job. And yes, he's setting aside money to buy a partial-season ticket.
This is the thing. Fans love their teams and will endure virtually anything -- personal seat licenses, $8 beers, priority game pricing, Ticketmaster -- to see them. When they can afford tickets, they buy them. When they can't, they consider buying them anyway.
My brother, John, bought University of Washington football season tickets in 1978 when he was 20 and Don James and Warren Moon had just taken Washington to the Rose Bowl. He's had those tickets for 31 years, attending games with our father, his wife, Dianne, and eventually his son, Christian. Edging ever so slowly from the end zone to under the south grandstand, he's rooted for the Huskies during the (usually) good times and the (recently) bad. Even when a new job required he drive an hour each way to work, he still made the several-hour drive to Seattle and the several-hour drive back for his Huskies on Saturdays. He is as devoted a fan as you could meet.
Then came last month.
John lost his job as a draftsman when his employer went out of business and that same week his season-ticket renewal was due. What to do? The tickets cost $630 for the pair, not counting a mandatory "donation" of $75 per ticket to the athletic department and a $10 handling fee -- $790 total. And for what? The team that hasn't had a winning season since 2002 and is coming off the first 0-12 season in Pac-10 history. My brother made that long drive up and long drive back seven times last season and didn't see one victory. The team is so bad some weeks he can't find anyone to attend the game with him. The many fans he enjoyed sitting beside have moved to other sections or stopped coming. At the UCLA game, his row was virtually empty.
CHEAP BASEBALL TICKETS!
• The Marlins are giving away tickets to unemployed South Florida residents.
• The Brewers and Braves have some seats available
for $1 each to every game.
• The Athletics sell more than 9,000 seats for $2 each for all Wednesday games.
• Page 2 compiles the 20 best MLB ticket specials this season
It would make more financial sense for John to cancel the season tickets and just buy seats from scalpers for games he wants. And yet ... there is something about those season tickets and owning them so long. When Washington began honoring longtime fans in recent seasons, those who had been ticket holders for 40 to 50 years, he thought, maybe in 15 years or so it will be him and Dianne introduced on the field.
The tickets made him feel a part of the program.
"That's the reason you go to games instead of just watching on TV at home," he said. "If I watched on TV, they can't hear me if I'm screaming. If you go, you think that maybe you can influence the game because your screaming and cheering may cause false starts and intimidate the other team with everybody wearing purple."
And yet ... he is out of work with a son in college and a daughter in graduate school. He lives in a town with an unemployment rate of 14 percent. The tickets are expensive, as is the drive. Just as importantly, the games haven't been fun recently. The team is so bad you can't tell what games are worth anticipating -- an equally bad team the Huskies at least stand a chance at beating or a ranked opponent who will likely rout them. "Three years ago, you would say, 'We get to play Oklahoma in three years -- yes!'" he said. "Then it comes three years later and it's, 'Oh no, we have to play Oklahoma. Why can't we play Idaho?' We don't look forward to the good teams coming into town anymore."
The decision wasn't easy, but he finally chose not to renew the tickets, even though he worries he'll wind up regretting doing so in a couple of years. "Was it because they were crappy last year? No, I renewed after they were 1-10," he said. "Was it because I lost my job? No, I renewed after I lost my job in 2002."
In the end, it was a combination of the two, plus the overriding factor that going to the games just wasn't fun like it was for so many years. It wasn't just the bad economy. If the team had still been good, he probably would have renewed.
Which brings us back to the Blazers, who are good again, and Winchester's season-ticket dilemma.
Yes, Winchester did renew. But only because of two things. One, the Blazers allowed him and other fans to stretch out the payments over 12 months without interest. And two, renewing enabled him to afford playoff tickets because this way the team won't charge for the playoff games until after each round.
Thinking about the price of each playoff game, however, Winchester said, "I hope we sweep everyone really fast."
Jim Caple is a senior writer for ESPN.com.