Commentary
It's time to fix the hold statistic in MLB
Updated:
May 8, 2009, 1:42 PM ET
By
Jim Caple
| Page 2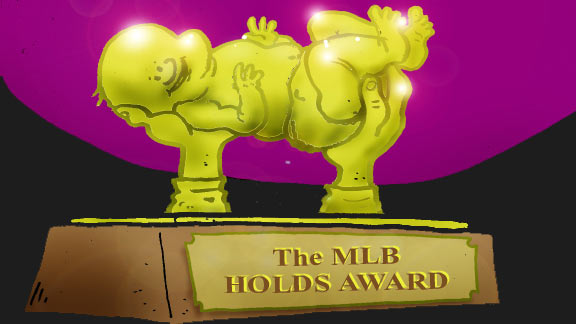 Kurt Snibbe
Here's this week's trivia question: What is the proper definition for the hold?
(A) An official statistic awarded to a reliever who enters a game at any point and holds the lead but does not get the save.
(B) An official stat awarded to a reliever who enters a game in either a save situation or with the score tied and maintains the lead or tie but does not get the save.

(C) An unofficial stat awarded to a reliever who enters a game in a save situation and leaves without ever having relinquished the lead and also does not get the save or the win.
(D) Yet another needless and nonsensical stat awarded to a reliever who enters the game in a save situation but without being accompanied by an official heavy-metal theme song or a fog machine and disco lights, also occurring in a month with an "R" in it, but not during Lent or Ramadan, in a non-leap year divisible by 3.14.
The correct answer, of course, is:
(E) Something the Mets rarely see.
Actually, the correct answer is (C). At least, I think it is. Because the hold is not an official stat, pinning down its exact definition is a little troublesome. Even the people I asked who did know the correct definition weren't always sure they had it entirely right. I was also given differing responses on whether a pitcher needed to record an out, though people at both STATS and SportsTicker said they most certainly do. And Seymour Siwoff, the president of the Elias Sports Bureau, says his company keeps track of the hold only as an unofficial stat, and does even that grudgingly. "I guess we were forced to," he said, adding that a hold is awarded to a reliever who entered in a save situation, did not get a save and did not alter the situation. (ESPN.com player cards also list the hold stat.)
The only thing that I'm completely sure about regarding the hold is that it's a silly statistic.
Don't get me wrong. I'm not against the hold. Or to be more specific, I'm not against coming up with a way to acknowledge a good performance by a relief pitcher. But the hold does not do that.
There are always minor issues with stats involving pitching decisions. For example, a starter can allow eight runs and get a win if he pitches five innings and his team scores nine runs before a reliever takes over. He can also get a loss for allowing one unearned run in nine innings if his team gets shut out. That doesn't mean the win and the loss are invalid stats, merely that they come with occasional glitches.
But the hold comes not only with frequent glitches, it comes with glitches that are as ridiculously contradictory as the "productive out." Consider Seattle reliever Brandon Morrow's outing on April 7. He started the ninth inning with a 5-3 lead, but walked the bases loaded while retiring two batters before leaving. The Mariners still led when he left the game, so he received credit for a hold. But those three baserunners later scored against the next pitcher, so he also received the loss. So Morrow somehow both held the lead and lost the game (and yet, oddly, did not receive a blown save).
"If I lost the game, how good was my hold?" Siwoff questioned. "What does it mean? That's how stupid it is!"
That's the problem with the hold. Too often it doesn't do what it's intended to do. Rather than recognize effectiveness, it rewards timing. Come in with the score tied, pitch four scoreless innings, and leave with the score still tied? Sorry! No soup for you! But load the bases in the eighth, let one run score on a fielder's choice, and have the lead disappear after you kick the water jug -- congratulations! You receive a genuine, authenticated, unofficial "hold" good for $50,000 at your next salary arbitration!
The first thing necessary in fixing the hold is deciding its intent. Is it meant to credit the normally unsung middle relievers and set-up men for doing a good job? Fine. Then don't limit it to a save situation.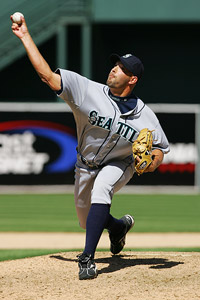 Michael Zagaris/Getty ImagesDavid Aardsma would like to see some changes to relief statistics.
"Why do you have to be winning?" asked Seattle reliever David Aardsma. "A lot of times you come into a game when you're already behind and you have to keep them from scoring or they'll put the game out of reach. Holding the other team from scoring and keeping your team in the game -- that's what a hold is supposed to be."
Aardsma is right. If you're going to give out holds, award them to relievers who either protect a lead or maintain the status quo -- keeping a tie or the same deficit as when they entered -- at any point in the game.
Next, the hold should be awarded to a reliever only if the final inning in which he pitches ends with the same situation as when he entered. What about a guy who comes in with a one-run lead, retires two batters, allows a walk and then gives way to another pitcher who allows a run-scoring double? It isn't entirely his fault, because his replacement pitched ineffectively -- but if baseball was fair, the Cubs would have reached the World Series in 2003 and an innocent fan named Steve Bartman could live his life in peace. Besides, if a reliever puts a runner on base and leaves the mess for someone else to clean up, that isn't really worth a hold. It would be like the Army Corps of Engineers taking credit for preventing a flood because "our sandbags were doing just fine when we left" only to have them collapse overnight and leave the town 6 feet under water.
The important thing is, the rule needs to come closer to being a true approximation of whether the reliever actually, you know, "held" the lead.
Aardsma had another idea to measure relief effectiveness: tracking the number of times that relievers don't hold the lead. "Every stat should have an opposite stat," Aardsma said. "Like the win and the loss."
I like that idea, except for one thing. Given the problems with the hold, do we really need the "blown hold"?
BOX-SCORE LINE OF THE WEEK
Chicago's Carlos Marmol gave up runs in two consecutive appearances despite not allowing a hit in either one -- (1/3 IP, 0 H, 4 R, 4 ER, 4 BB, 0 K) and (1 IP, 0 H, 1 R, 0 ER, 2 BB, 1 K) -- which is generally not easy to do. Milwaukee's Yovani Gallardo pitched much better (8 IP, 2 H, 0 R, 0 ER,1 BB, 11 K) and won the game for himself with his second home run of the season, which means he has hit nearly as many as he's allowed (three). And Cincinnati's Edison Volquez held opponents to one hit for the second consecutive start, though this time the result was much better because he did not also walk seven batters while doing so.
[+] Enlarge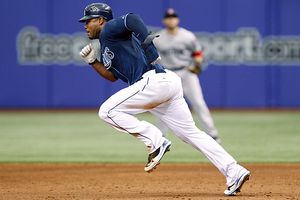 AP Photo/Mike CarlsonCould Crawford have swiped seven? Maybe he'll try again.
And it's tempting to give this week's award to Oakland's Gio Gonzalez for his line Sunday (5 IP, 5 H, 3 R, 3 ER, 4 BB, 1 K, 108 pitches). What's so interesting about that line, you ask? Gonzalez wasn't the starter. That's right, all 108 pitches were in relief, which you'll have to admit is an unusually high total for a pitcher who doesn't enter the game until after the ninth inning. In fact, that was more pitches than 15 starters threw the same day. (Gonzalez pitched the 10th through 14th innings in the A's 8-7, 15-inning loss to Seattle.)
But Tampa Bay's Carl Crawford wins the award this week, by doing something only three other players have ever done -- he stole six bases in one game, producing this extraordinary line:
4 AB, 2 R, 4 H, 1 BB, 1 RBI, 6 SB
The three players he tied, by the way, are not named Rickey Henderson, Ty Cobb or Lou Brock. And to do something as a base stealer that they didn't do is really an accomplishment. Crawford, who is 17-for-17 stealing this year, stole second five times and third base once, tying the major league record held by Eddie Collins, Otis Nixon and Eric Young. He told reporters after the game that he would have broken the record, except for one minor detail. Crawford didn't know he had tied the record until he was told about it later.
"I wish I had known during the game," Crawford was quoted as saying in the clubhouse. "I probably would have broken it. At least I would have tried."
TELL YOUR STATISTICS TO SHUT UP
• One of the better baseball movies in recent years is "Sugar," currently playing at indie movie houses across the country. While almost every other baseball movie hinges on the suspense building toward the climactic big game, "Sugar" does not. Like "Bull Durham," it finds drama and tension in the normal ups and downs, joys and triumphs, and disappointments and losses within the minors -- albeit without the laughs or the sex (this pitcher does not wear a garter belt). More importantly, it tells a tale we rarely see on the big screen. "Sugar" very effectively conveys the loneliness and cultural difficulties of young Latin ballplayers as they progress from baseball academies (in this case, in the Dominican Republic) to the low minors in this country. We feel Sugar's confusion when people ramble on in English (even expecting him to understand rather important instructions), and we get a taste of it as well in one scene in which he explains how he got a scar on his head -- his explanation is entirely in Spanish, with no translation provided. While the movie oddly renames the Kansas City Royals the Kansas City Knights, there also is a feeling of authenticity to the characters and situations, such as when an older player teaches the newcomers to get their porn from inexpensive magazines rather than the outrageously overpriced pay-per-movie channel in the team motel. Two moments in particular stand out. One is a sweetly affecting scene in which the players sneak out for a low-key party at the academy, laugh about their clumsy English lessons, and then sing a tender and heartfelt version of "Take Me Out to the Ball Game." The other is when Sugar finally gets his first view of Yankee Stadium (to describe that view further would be revealing too much of the plot). If "Sugar" isn't showing at a theater near you, be sure to rent it when it becomes available on DVD.
• Before we get too far off the subject of the hold, can we talk about another unofficial stat -- the blown save? There is nothing terribly wrong with the blown save when applied to closers. It provides a good assessment of their effectiveness. But box scores are now littered with blown saves alongside relievers who aren't closers for surrendering leads in the sixth, seventh and eighth innings. It's ridiculous. These relievers are never going to be finishing the game and be rewarded with a save, no matter how well they pitch, so why also punish them with a negative stat? When a middle reliever fails to hold a 6-5 lead in the sixth inning, he has not blown a save, he's merely given up the lead.
• As MLB.com's Doug Miller pointed out during a game last week, there are few better names for a pitcher than (Josh) Outman of the Athletics. As Miller said, it certainly beats (Grant) Balfour of Tampa Bay. And it's definitely a better name for a pitcher than a DH.
Jim Caple is a senior writer for ESPN.com.