Commentary
Brief history of the ceremonial first pitch
Originally Published:
June 5, 2009
By
Jim Caple
| Page 2
It isn't as easy as it looks.
Oh, I know. It's fun to ridicule Carl Lewis, Cincinnati Mayor Mark Mallory, Mariah Carey and anyone else you have seen deliver an embarrassing ceremonial first pitch. Having covered baseball for almost a quarter-century, I've seen a full range of first pitches. I've seen Homer Simpson, RoboCop, Ronald McDonald, Mr. Piggly Wiggly and Charlie Brown show off their arms, and they all were better than Lewis. I've seen George W. Bush (inspiring) and Barack Obama (not quite as memorable) give it a try, along with Michael Jordan (good arm) and Brandon Roy (weak enough to make you wonder whether he has ever played a sport other than basketball). Although I occasionally wind up laughing at some efforts, I shouldn't because it isn't easy.
FIRST PITCH PHOTO GALLERY
Check out 21 of the most memorable, goofy, outlandish and bizarre ceremonial first pitches ever. Page 2 photo gallery.
Believe me, I know. I once threw out the first pitch before a Twins game. And were it not for former infielder Jeff Reboulet, I would have endured the same humiliation as did Lewis, Cincinnati's mayor and so many others who found themselves on the field with a baseball in their hand, thousands of fans staring at them and home plate looking much farther away than it ever does from the stands.
It is at this point that many people ask themselves, "Why me?"
For that matter, why anyone? The first pitch has been a baseball tradition since President William Howard Taft first performed the honors in 1910, and damn it, someone has to do it. Kevin Martinez is vice president of marketing for the Mariners, and among his duties, he oversees the first pitch. "The person throwing the first pitch," he says, "is basically a national celebrity or a local celebrity, or someone of note in the community who has made a difference, like a teacher of the year."
Or, when you're really desperate, a sports writer.
I was the Twin Cities chapter president of the Baseball Writers' Association of America in 1992, and it was my responsibility to present the previous year's awards to the Twins before a game. Because I was going to be out on the field anyway, the Twins' staff asked whether I would throw out the first pitch as well. I can only assume the honor fell to me because someone else failed to show. In that, I am fortunate they did not also ask me to sing the national anthem.
[+] Enlarge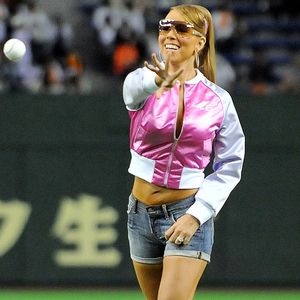 Jun Sato/WireImageThe combination of Mariah Carey's lack of athletic prowess and satin-denim combo made her first pitch at a 2008 Yomiuri Giants game unforgettable.
Throwing out the first pitch sounded easy enough. I played a lot of softball back then, and I had a decent arm. Not only could I throw out the first pitch but, compared with Mr. Piggly Wiggly, I also would look good.
At least, that was my intention.
Great Moments In First Pitches I: On the off day before Game 3 of the 1989 World Series, a television reporter standing alongside me asked Giants manager Roger Craig who was going to throw out the first pitch the next night. Craig said he had no idea. "You don't know who's throwing out the first pitch?" the reporter asked with a tone mixing incredulity and ridicule. "You're the manager of the team and you don't know who will throw out the first pitch of your next game in the World Series?" The reporter obviously had been assigned to do a fluff piece on the first pitch but unfortunately was under the mistaken belief that the "first pitch" was the actual first pitch of the game. Sometimes, I'm embarrassed to be part of the media.
If you look at the photos from my first pitch, you'll notice I'm standing a few feet in front of the mound rather than on it. Was I too casual? Too timid? Frightened? No. I distinctly remember wondering whether I should pitch from the rubber. I decided against it because I thought that would seem pretentious, as if I considered myself a real pitcher rather than a sports writer. A lot of people do it the off-the-mound way, and besides, it was my first time and -- look, I was nervous, all right?
Anyway, I stood in front of the mound and looked to the plate, which was when I got a full appreciation for how small that plate really is, even from, say, 50 feet, rather than 60 feet, 6 inches. With so many people watching, I could only hope I would get the Twins' best catcher. Instead, I got Reboulet, a rookie infielder.
This should have been no surprise. When throwing out the first pitch, you rarely throw to the starting catcher because he's busy preparing for the game or doing something vitally important like sitting in the clubhouse eating. Usually, the duty falls to a rookie bench player who is in no position to tell the team no. In my case, that meant Reboulet. Actually, it was Reboulet most of the time back then.
"When you usually sit on the bench for the first six innings, it's pretty easy to not have your rhythm disrupted by catching the first pitch," Reboulet said. "I did it a lot because I'm a nice guy. I shook everyone's hands, and I didn't bitch about it. A lot of players would complain. Unless it was someone big. If it was a prominent person, I'm sure someone would have stepped up and done it instead. Not like you. A major celebrity like yourself they left to me."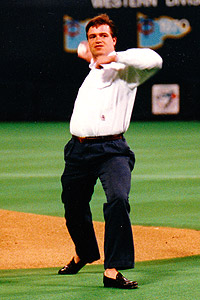 Courtesy of Minnesota TwinsLong before Page 2 popularized the look, Jim Caple blazed the trail for sockless loafer wearers.
Was it disappointing to throw to a backup infielder? Not at all. Reb went on to play 12 seasons in the majors and was a valuable utility guy for five teams. He even hit a postseason home run off Randy Johnson. All of which is more than could be said when my friend Scooter and I threw out first pitches before a Buffalo Bisons Triple-A game in 2002 and our catcher was the team mascot.
Great Moments In First Pitches II: An exception to the utility infielder rule came when the Mariners held Barry White Night in 2000 and asked the legendary crooner to throw out the first pitch. When Rickey Henderson found out, he asked to be the catcher, which was the first known time in Henderson's Hall of Fame career that he volunteered to do something extra. Afterward, I asked Henderson where catching White ranked among his career highlights, and he said it was at the very top. Henderson is a VERY big Barry White fan, telling me the performer's songs helped him out with a lot of ladies (if you know what he means, and I think you do).
If any of you ever are in the position to throw out a first pitch, allow me to provide some helpful advice.
Remember that you are throwing out the first pitch at a major league ballpark, where fans are accustomed to seeing 95 mph fastballs. No one is going to be impressed by your 63 mph fastball, not even Jamie Moyer. Your best bet is to focus on: (A) reaching the plate (unlike Lewis, who bounced it halfway), and (B) throwing a strike, or at least a pitch close enough to the plate that former umpire Eric Gregg might have called it a strike if he had a plane to catch and Greg Maddux was on the mound.
"My last words to people are, 'Aim high,'" Martinez said. "All you're really looking to do is not bounce it. Just get it over the plate. Use a nice touch. It's like playing catch in the backyard -- don't try to break the radar gun."
Unfortunately, I did not know Martinez at the time of my first pitch before the Twins game, and no one gave me any tips. So I approached my first pitch the same way aging athletes approach the speed-pitch attraction. In a pathetic search for glory, I intended to show off my arm and, as Nuke LaLoosh would say, "announce my presence" by really letting loose with a fastball. This, I must stress, was a terrible strategy.
"You really don't want to go there," Martinez said. "Be honest -- you're not going to get signed to a contract."
[+] Enlarge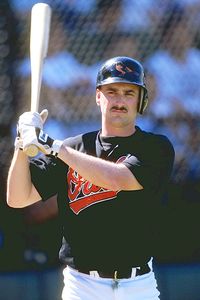 Jamie Squire/Getty ImagesIt didn't show up in the box score, but Jeff Reboulet once saved our humble correspondent from major humiliation at the Metrodome.
True. Wearing a Polo dress shirt, slacks and loafers with no socks (hey, at least I wasn't wearing Zubaz like some people still were that summer) and standing in front of the mound rather than on it, I didn't get much velocity on the pitch (not that I would have had I been wearing a full uniform with spikes atop the mound). Far worse, the pitch sailed way to the outside. I remember thinking, "Oh, no. That ball is going to the backstop, and I'm going to be humiliated in front of 35,000 fans (bad), my fellow sports writers (worse) and the Twins (worst of all)."
"Most people just lob it in there, but you came in there and winged it," Reboulet recalled. "You chucked it in about a hundred miles an hour. In the dirt. But at least it skipped off the dirt pretty good so I could get it. You almost made it to the plate. And maybe you did reach the plate. But it was little bit of a shock seeing it come in there like that. It came quick. All of a sudden, you just fired it.
"I'm quite sure you needed rotator cuff [surgery] afterward."
Fortunately, Reboulet showed his fine defensive skills with a diving, backhanded grab in a move that would have fit nicely into an action scene from "Crouching Tiger, Hidden Dragon." Just as the pitch was about to bounce embarrassingly to the screen, Reb somehow got his glove on the ball and caught it in the webbing as if it were a double-scoop ice cream cone.
I trotted to the plate, shook Reboulet's hand and thanked him profusely for catching the pitch and saving me from complete humiliation. He said it was no big deal, but he was wrong. It was a big deal, a very big deal. Had he not pulled off the backhanded stop, I never would have been able to live it down. It would have been bad enough walking into the press box and listening to the hoots from my fellow writers, but it would have been far, far worse walking into the Twins' clubhouse and hearing their comments had my pitch gone to the backstop. I probably would have had to give up the beat job and go work on the copy desk.
So I was embarrassed but greatly relieved when I walked past the Minnesota dugout on the way back to the press box.
Then I heard Kirby Puckett yell, "You throw like that and you write s--- about us?"
"It's not easy doing the first pitches," Reboulet said. "Look at the president."
Great Moments In First Pitches III: Probably the most famous first pitch is President Bush's before Game 3 of the 2001 World Series at Yankee Stadium, shortly after 9/11. Derek Jeter warned Bush not to bounce the pitch or the crowd would boo him. Not to fear. Bush practiced beforehand, and when it came time for the actual pitch, he threw a strike and received an enormous ovation. It was a powerful, inspiring moment. Obama also threw out a pitch before the World Series, but he did so while still a senator in 2005 at U.S. Cellular Field, and it wasn't as inspiring. Ozzie Guillen remembers it like this: "I was criticizing Jerry Reinsdorf about it because, at the World Series, there are always celebrities throwing out the first pitch. Movie actors and actresses and like that. And then I see this Obama guy throw out the first pitch, and I said, 'Who's that guy?"' Asked what kind of arm Obama has, Guillen replied, "He's a great president."
[+] Enlarge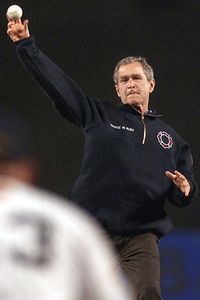 Roberto Borea/AFP/Getty ImagesPresident Bush threw a strike at Game 3 of the 2001 World Series
in perhaps the most memorable ceremonial first pitch ever.
As bad as my first pitch was, at least I didn't throw two pitches. Which was what Carl Lewis did in his infamous Seattle pitching debut. You expect a nine-time gold medalist and former world's fastest human to have some athletic ability, but Lewis sort of shot-putted the ball in the style of a preschooler. I know I said we shouldn't make fun of first pitches, but c'mon. This was so bad that he insisted on a do-over, which wasn't much better. "We called it the ceremonial second pitch, the first one ever at Safeco Field," recalled Cole Parsons, who worked for the Mariners at the time. "It was bad. It was really surprising."
Indeed. Based on the ratio of quality of athlete to pathetic throw, Lewis' first pitch must be considered the worst of all time. "It would have been embarrassing for Cookie Monster," Martinez said, adding that, yes, Cookie Monster also threw out the first pitch once. "I think he threw a three-finger splitter."
Still, throwing out the first pitch is an experience to savor, even though some teams cheapen it by throwing out multiple first pitches in sponsorship deals.
In fact, the night my friend Scooter and I threw out first pitches in Buffalo, we were among at least 10 people doing so and had to stand in line by the mound waiting our turn. Yet it was a very big deal to Scooter. All his siblings were in attendance that night -- it was the only sporting event one sister had ever attended -- and all he could think of was reaching the plate with his pitch and "not dribbling one in there to a guy in a mangy Bison costume."
No worries. He threw a strike and still cherishes the memory. And for good reason. As he says, "How often do you hear your name yelled out on a loudspeaker in front of people? OK, traffic court. But it's not the same."
No, it's not. Nor is hockey's first puck drop, which is much more infrequent than baseball's first pitch. "That's very ceremonial," said Parsons, who works for the Boston Bruins now. "We save that for special people. Like Carl Lewis. I think he could get it to the ice."
Jim Caple is a senior writer for ESPN.com.
MOST SENT STORIES ON ESPN.COM