Commentary
Iraq gets unis, courtesy of Ebbets Field
Originally Published:
July 23, 2009
By
Jim Caple
| Page 2
McClatchy newspapers reported last week that the Iraqi national baseball team -- you knew there is one, right? -- recently was down to one cap, three old balls, nine secondhand gloves and a 5-year-old softball bat. In other words, the team is the Pittsburgh Pirates of the Middle East, only it doesn't plan to trade away its best players.

The Iraq baseball program might be just getting started, but it's about to become ready for Turn Back the Clock Night -- Ebbets Field Flannels is sending it uniforms.
With equal parts passion and meticulous detail, Ebbets Field has been recreating gorgeous old-style uniforms out of its Seattle office for more than 20 years. Jerry Cohen started the company because he was frustrated he couldn't find wool uniforms and wound up turning his obsession into a business. The company specializes in old minor league, Negro League, Federal League, foreign and forgotten teams, such as the 1902 Nevada Lunatics, the 1932 House of David team, the 1926 Longview Cannibals and the 1928 Decatur Commies (I'm afraid to ask). Yes, I've dropped a fair amount of money at Ebbets Field over the years, beginning with a set of jerseys for my softball team back when Cohen ran the business out of his apartment and hung uniforms on every available door frame and knob.
And now the company is adding the Iraqi national team, which should pair well with an old Cairo Pharaohs jersey.
Cohen found out about the Iraqi team while watching "The Rachel Maddow Show" on MSNBC. Maddow mentioned the McClatchy report and appealed for help to supply the team. That was all Cohen needed to hear. He fired off an e-mail offering to put the team in uniform, and his offer was quickly accepted.
"I was telling somebody earlier today -- just to establish baseball in a soccer country or a nonbaseball country alone is very difficult," Cohen said. "You can't buy the equipment, and the fields aren't available. We take those things for granted here. But the fact that these guys were taught baseball by the soldiers and wanted to carry it on really inspired me. If a small company like ours could help bridge cultures, we wanted to do that."
Cohen said he assumed the Iraqis would want to go with their national colors (red, white, black and green), but they wanted blue. So they'll wear Dodger blue tops with the national flag on the chest and "Iraqi Baseball" across the back. The pants are gray. And yes, they will have stirrup socks. Good to know Iraq is old-school in that area as well.
[+] Enlarge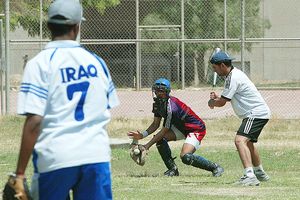 Muhannad Fala'ah/Getty ImagesIraq's players will look much more like a team when they get their new unis.
Cohen said he is making 20 uniforms, one for each player, but American fans already are asking whether the company will manufacture Iraq jerseys for public sale. He said he is interested but wants approval from the Iraqi team before offering them to customers along with such jerseys as this beautiful 1960 Hawaiian Islanders road vest. (Note to my wife: This is on my Christmas list.)
Iraq is the second national team clothed by Ebbets Field, which doesn't focus on that type of thing. The company also made uniforms for Russia a couple of years ago.
"The Russian uniforms were gray, with very big red Cyrillic letters," Cohen said. "They had a lot of input in the design. For better or worse, people have an idea of what they want, and you either have to talk them out of it or refine it. Sometimes they just have an abstract concept and you have to help make it work. They usually want too many things, and we have to talk them back."
Of course, the Iraqi uniforms do come with one obvious concession, given that flannel is not exactly the fabric of choice for the 110-degree heat of an Iraqi summer.
"We're not going to make them in flannel," Cohen said. "We're going with a contemporary design and using mesh because of the heat. It's a more modern uniform."
At least it beats the alternate camouflage jerseys with body armor.
BOX SCORE LINE OF THE WEEK
Minnesota's Nick Blackburn pitched a 13-hitter Monday night against Oakland (6 IP, 13 H, 7 R, 7 ER, 0 BB, 0 K), but his was not the most interesting line of the game. No, that honor falls to Oakland's Gio Gonzalez, who allowed 11 runs in less than three innings. His line:
2 2/3 IP, 10 H, 11 R, 11 ER, 3 BB, 1 K
Granted, starters give up double-digit runs from time to time. But what makes Gonzalez's line this week's winning entry is that he gave up those 11 runs and didn't get the loss. Instead, he picked up a no-decision after the Athletics rallied from a 10-run deficit to win 14-13.
TELL YOUR STATISTICS TO SHUT UP
• Congratulations to Rickey Henderson and Jim Rice, who enter the Hall of Fame on Sunday (along with Joe Gordon, inducted posthumously). Was there ever a more eagerly awaited acceptance speech than Henderson's? Here's a fun way to spend the afternoon. Sit around with a bunch of friends and take a drink every time Henderson refers to himself in the third person or as "the greatest" during his speech. And I can't wait to see that plaque with all his team transactions.
• Not to suggest that the Padres are struggling or anything, but their starting nine finished Wednesday's game with these batting averages: .221, .220, .249, .244, .222, .179, .196, .197 and .174. So it's no surprise they're in last place in the National League West. But explain the Mariners. Their starting nine finished Wednesday's game with these averages: .357, .274, .265, .211, .219, .235, .204, .190 and .189, yet they're six games above .500, with a run differential of minus-14. Which is one reason it's difficult for new general manager Jack Zduriencik to know whether the Mariners should be buyers or sellers as the trade deadline approaches. Seattle has the league's best pitching but is next-to-last in runs scored.
Jim Caple is a senior writer for ESPN.com.