Commentary
Tour de France redux
Originally Published:
July 27, 2009
By
Jim Caple
| Page 2
Like the NCAA tournament, the Tour de France is a three-week virtually nonstop extravaganza that fans of the sport wish would never end. The cyclists, on the other hand, probably have a somewhat different take after, say, 15 stages, 1,500 miles and seven tubes of chamois cream.
Saying goodbye to the NCAAs is easier because March Madness is, well, in March, and when it ends baseball is beginning and summer is not far off. When the Tour ends, football camps are starting and a new school year is not far off. I saw my first back-to-school commercial last week, which means that the first commercials celebrating the Christmas shopping season can be no more than a month away.
So there will be no more watching the peloton ride past fields of lavender, or the leaders climbing ridiculous roads through the Alps and Pyrenees, or the aerial views of ancient chateaus that make you reach for the Rick Steves travel guide so you can dream about a vacation to the Tour that you absolutely, without doubt, "I mean it this time" will take next July. Of course, you won't take that trip next year and will wind up watching the Tour on TV again, feeling sad when it ends and reflecting on the highlights. As I do now …
Most impressive performance by a 37-year-old cyclist: Two months shy of his 38th birthday and after a 3½-year retirement, Lance Armstrong returned to the Tour, missed wearing the yellow jersey after one stage by 0.182 of a second, matched Alberto Contador and Andy Schleck pedal stroke for pedal stroke up Mont Ventoux, finished atop the podium in third place, announced plans to return next year with a new team, inspired millions, raised untold money for cancer research and even won over the French media. The most impressive performance, however, was Lance getting his girlfriend pregnant last fall despite his believed inability to father a child due to testicular cancer.
Most impressive performance by everyone else: Contador suddenly breaking away and flying up Verbier on Stage 15. For all the speculation about whether he or Lance should be Astana's team leader, Contador earned the role on the road by clearly showing he was the best rider. You know the bike scene in "E.T." when Elliott is straining at the pedals and E.T. suddenly lifts them both up and they soar above the forest high into the night sky and there's that famous shot of the pair riding across a full moon? That's what Contador looked like riding away from everyone up Verbier, only without a big-eyed alien in his basket.
[+] Enlarge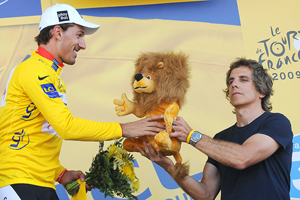 Sipa/AP Images"Great, yeah ... here's your stupid stuffed animal."
Worst showing by a non-cyclist: Ben Stiller's presentation of the little stuffed lion to Fabian Cancellara after the team time trial was his worst performance outside of "Along Came Polly." Making no attempt to mask his disappointment that he wasn't giving the lion to Lance (who missed out on yellow by that damn 0.182 of a second), Stiller wore the pout of a teenager forced to accompany his parents on a two-week car trip to see the cousins in North Dakota. C'mon, Ben. We were all disappointed Lance didn't get yellow, but you're an actor. Would pretending to be excited for Cancellara have been any more demanding than making "Starsky & Hutch"?
Most overhyped stage: Ever since the route was disclosed last winter, Stage 20 up Mont Ventoux -- a rare mountaintop finish on the penultimate stage -- was touted relentlessly as the moment when the Tour would be won. Contador, however, led by so wide a margin before then that his Tour victory was all but guaranteed even if he had been forced to ride up Ventoux on a Schwinn Sting-Ray while carrying a canvas satchel full of newspapers.
Favorite image: It's hard to choose just one when you have three weeks of video from France, Switzerland, Italy and Spain. Was it the shot of the apparent James Bond villain's lair atop a craggy peak in the Alps? The riders snaking down a serpentine road to cross a stone bridge straight out of the Brothers Grimm? The eerie moonscape atop Mont Ventoux? No, my favorite was a shot of snails crawling along the roadside as the peloton whizzed by. The only way you could have had a more iconic image would have been by adding a chef with an outrageous accent sautéing the escargot and a snobbish French waiter standing by to serve them.
Most painful image: Jens Voigt face-planting at 40 miles per hour on a descent during Stage 16 and skidding on the asphalt seemingly halfway across France. He was almost hit by a motorcycle carrying a photographer, lost consciousness and had to be hospitalized. I've said it before: How pro cyclists climb mountains is impressive, but what really separates them from everyone else is the fearless way they fly down those same mountains.
Best reasons to look forward to next July: Lance, with another year of training, competing for his own U.S.-based team against Contador and Schleck, who will have another year of experience; fellow Americans Christian Vande Velde and Levi Leipheimer at (cross fingers) full health; American sprinter Tyler Farrar attempting to close the gap against Mark Cavendish; and a stage up Alpe d'Huez.
Is it too early to get an office pool going?
Jim Caple is a senior writer for ESPN.com.