Commentary
Free agency continues to change MLB
Originally Published:
August 5, 2009
By
Jim Caple
| Page 2
Back in the days of the reserve clause, general managers never had to worry about losing a player to free agency. They just held onto their players until they retired or broke down or found a more lucrative career selling insurance.

Then came free agency, which led to negotiating leverage, which led to big contracts, which led to much bigger contracts, which led to much, much bigger contracts, which led to teams claiming they couldn't afford to re-sign players, which led to teams trading players in midseason before losing them to free agency.
The strategy makes sense. If a team is going nowhere this year, better to get something for a player now rather than lose him for nothing after the season. The drawback to such deals is that they have become baseball's equivalent of the Christmas shopping season and back-to-school sales. They keep happening earlier and earlier.
Last year, Cleveland traded CC Sabathia, the then-reigning Cy Young winner, two months before he became eligible for free agency. This year, Cleveland traded Cliff Lee, also the reigning Cy Young winner, a year before he becomes eligible for free agency. The Blue Jays shopped Roy Halladay even though he doesn't become a free agent until after the 2010 season. The Padres, meanwhile, traded Jake Peavy even though his contract runs through 2012 with a club option for 2013. And those are just a few recent examples.
The reason why this is happening is the same reason we see Christmas displays in September. It produces bigger sales. When only a few teams dangled potential free agents, you could get a lot in return (the Mariners received Randy Johnson for Mark Langston in an early such deal, and Freddy Garcia and Carlos Guillen for Johnson in a later one). As salaries rose, and more and more clubs copied the strategy, the payback diminished.
"Teams are reluctant to give up players in return for a year or less of major league service," Oakland GM Billy Beane said. "No longer is the big-market team interested in your 33-year-old veteran. They want the 27-year-old player. The only way you can get those [prospects] in exchange is to trade earlier."
The problem is, if this trend continues, teams will be announcing trades at the same news conference they introduce a newly signed player.
The Reds are proud to announce the signing of All-Star outfielder Jason Bay to a four-year, $60 million contract. Bay will provide power and on-base percentage in the lineup -- though, in this case, that lineup will be Chicago's, because the Reds are also proud to announce the acquisition of pitcher Gavin Floyd and three prospects from the Chicago White Sox in exchange for Bay. While we hate to say good-bye to Bay after his time here and all he meant in the community, he also was about to enter his next-to next-to next-to-last season before becoming eligible for free agency. Because we had no guarantee we would be able to re-sign Bay, we felt it best to be proactive and trade him now to get something in return, which we did with Floyd. And speaking of Floyd, we are happy to announce that we have traded him to the Cardinals for three more prospects.
[+] Enlarge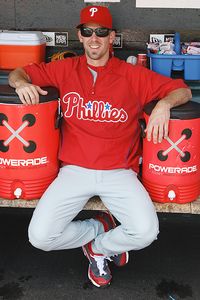 Brad Mangin/MLB Photos/Getty ImagesCliff Lee looks happy, but are Indians fans?
Think I'm exaggerating? In February, The Pirates signed Nate McLouth to a three-year deal, plus a club option, which meant he was under their control until after the 2012 season. And then they traded him to Atlanta in June. If the Pirates were in charge of the Macy's Thanksgiving Day Parade, they would hold it on Labor Day and they would replace all the big helium balloon figures with high school marching bands.
(It must absolutely suck to be a Pirates fan. Red Sox and Yankees fans brag about what great and loyal fans they are. Well, I'd like to see how well they would support their team if it went 17 years without a winning season -- that's a record, by the way -- and traded off all its best players every other season. Pittsburgh has the best ballpark in the majors, but it would be nice if it was worth going there for something other than the Primanti Bros. sandwiches, the Pierogi races and the skyline view.)
It's not an easy call for general managers. Trade a player early, and you're accused of being cheap by people who don't have to operate within your limited budget. Wait until the player leaves as a free agent, and you're portrayed as stupid by people who don't have access to your scouting reports.
So I'm not saying general managers shouldn't look to the future and make a trade that provides a better chance to win later. But there's no guarantee such trades will make you better. I mean, if you trade two Cy Young winners and an All-Star catcher in a one-year span, what are the chances your team will wind up as good as the one with which you started? Likewise, the Twins traded Johan Santana a year before he was eligible for free agency so they wouldn't lose him for "nothing." But that "nothing" included a full season from one of the best pitchers in baseball, who just might have gotten the Twins to the World Series. Instead, they lost that season and gained players who haven't helped them yet. By trading Santana to avoid losing him for "nothing," the Twins may have instead lost a considerable amount.
Trading a player when your season is shot and he's about to become a free agent is one thing. But dealing him more than a season ahead of free agency is trickier. That's why I applaud the Blue Jays for not trading Halladay (or at least, not yet). It may be old-fashioned, but there's nothing wrong with holding onto a player because he's good. After all, you charge fans a lot of money for tickets, and those fans might actually want to see a team that isn't composed strictly of prospects who, if everything breaks just right, may one day develop into All-Stars as good as the ones you just traded away.
Especially if you're only going to trade those prospects away a year or three before they become free agents.
BOX-SCORE LINE OF THE WEEK
Two starters received 14 or more runs of support apiece last week but were unable to pitch the five innings necessary for a win (Washington's Craig Stammen and Boston's Clay Buchholz). But they had a more pleasant time of it than Chicago Cubs closer Kevin Gregg. Saturday night he took over with an 8-5 lead in the ninth, retired the first two batters, then gave up a home run, two singles and a two-run triple that tied the game. The next night he took over with a one-run lead, retired the first batter, and then allowed back-to-back home runs on consecutive pitches. That's three home runs, a triple and two singles in an eight-batter span. His combined line:
1 1/3 IP, 6 H, 5 R, 5 ER, 0 BB, 2 K, 3 HR
On the other hand, Gregg did get the victory in Saturday's game when the Cubs won in the 10th inning.
Jim Caple is a senior writer for ESPN.com.