Commentary
Cameras capture players at all times
Originally Published:
October 21, 2009
By
Jim Caple
| Page 2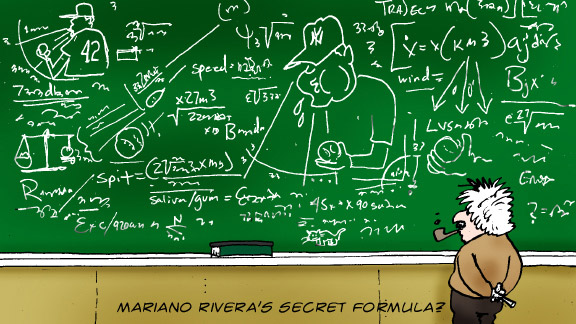 Kurt Snibbe
Gaylord Perry pitched 22 seasons, won 314 games, struck out 3,534 batters, earned a Cy Young Award in each league, made the All-Star team five times and ended his career in the Hall of Fame. And had he pitched in today's world of ubiquitous cameras and YouTube, baseball's most notorious spitballer never would have stood a chance.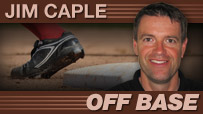 That's the lesson to be learned after Riveragate, the latest in the increasing number of video "scandals" that have allegedly "caught" players in compromising positions. A snippet of Mariano Rivera spitting in the direction of a baseball in his hand in Game 3 of the American League Championship Series created a brief furor Tuesday when someone posted it on YouTube as evidence that the Yankees closer cheats by doctoring the baseball.
Forget that rather than carefully applying a foreign substance to the ball, Rivera instead unleashed a cascade of saliva that would shame a slobbering St. Bernard. Forget that this is not how most spitballers go about loading up a ball. Forget that you never see any spit hit the ball. Forget that Rivera has never been suspected of loading up a ball. Forget that the Angels don't think he was cheating. And most of all, forget that Rivera supposedly attempted this skullduggery in full view of several umpires, an Angels baserunner, the Angels' base coaches, 44,000 fans and a national TV audience. Here's video of Rivera spitting! Ban him for life!
Rivera said he could see how the camera angle made it look like he was spitting on the ball but insisted he did not. He said that if any reporters could prove he spit on the ball, he would charter a plane and fly them all to dinner anywhere in the world. Like just about everyone else, I believe him, but I assume there are a handful of conspiracy theorists convinced otherwise. Even now, they are desperately searching through old video to prove Rivera is a spitballer before they have to give up and crawl into their bunker to prepare for the end of the world in 2012.
That's just the way it is today. Whatever you do, it's certain to be in someone's viewfinder. Which means that if it is (A) incriminating, (B) embarrassing or (C) involves Lindsay Lohan, it will wind up replayed endlessly on YouTube.
Was Joe Mauer stealing signs in that infamous video clip that appeared on YouTube a couple of weeks ago? Mauer denied it -- and as everyone in Minnesota knows, he is a trustworthy, all-American Boy Scout who would never, ever, under any circumstances cheat, lie, swear or say mean things about anyone. More importantly, he is way too smart to be so blatant about it if he did steal signs. (Players caught stealing signs usually are rewarded with a fastball in the ear.) Nonetheless, he was convicted on YouTube, which is all the proof some people need nowadays.
[+] Enlarge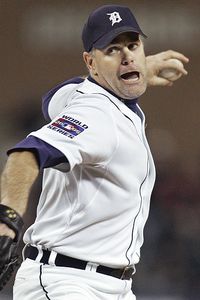 AP Photo/Jeff RobersonKenny Rogers' reputation took a big hit in the 2006 postseason.
And what about Kenny Rogers in the 2006 World Series? The extreme closeups of his hand revealed something that looked suspiciously like pine tar -- which, let's face it, it probably was.
That's why Perry, as well as Mike Scott, Whitey Ford and many other pitchers suspected of doctoring the ball, would face such a challenge if they played today. It was easy to cheat in the old days, when photographers used box cameras and flash pots to capture grainy black-and-white daguerreotypes. Not only are cameras far better and more intrusive now -- "Look, Derek Jeter missed a spot when he was shaving!" -- but YouTube allows armchair CSIs to replay clips endlessly in search of incriminating behavior. If a player cheats, someone is bound to catch him in the act on video.
Of course, the camera can catch you doing things even worse than cheating.
"You've got to be careful," Torii Hunter said. "There are cameras everywhere, and if you do something, those cameras will grab it and it will be on YouTube like that. They got me adjusting my belt during a game against the Twins. I was just adjusting my belt but it looked like I was, well …"
Well … like he was doing something usually done only in private, in a Madonna video or allegedly in the Mets' bullpen when David Cone was still pitching for them. Anyway, Hunter said, the moment lives on via YouTube.
"If they catch you digging in your nose, then it's going to be on YouTube," Hunter said. "And now people won't have respect for you because you were digging in your nose."
For that matter, the cameras can make you look bad when you're just sitting there minding your own business.
"I will tell you the camera does tend to put a little weight on you," Angels manager Mike Scioscia said. "I told my wife the camera angle can put on 10 pounds. My wife said, 'In that case, you must have five cameras on you.'"
Jim Caple is a senior writer for ESPN.com.