Commentary
Meet digital Lincecum, 2.0
Originally Published:
November 19, 2009
By
Jim Caple
| Page 2
I didn't have a vote for Cy Young this year -- for some reason, I didn't get a ballot for anything this season -- but I would have picked Tim Lincecum as well. He won only 15 games but that's because the Giants couldn't score any runs. Meanwhile, he threw substantially more innings than Chris Carpenter and struck out way more batters and allowed far fewer baserunners than Adam Wainwright.
Most importantly, he had the coolest commercial in baseball, last spring's ubiquitous "MLB 2K9" ad in which Lincecum teaches his digital doppelganger some valuable big league lessons. As Rich Aurilia said of the digital Lincecum in spring training, "The likeness of it is pretty similar, but it looks like pre-Cy Young Timmy, not post-Cy Young Timmy. They need to trim him up there. The hair is kind of ratty on the little video guy. Tim still has the long hair but it looks a little manicured ... He had somebody clean him up pretty good."
Flesh and blood Lincecum went on to nearly pitch the run-challenged Giants into the playoffs and won his second consecutive Cy Young Award and also picked up his first Jeff Spicoli award. So what might the "MLB 2K10" commercial look like next year? Glad you asked.
Human Timmy in the driver's seat and Digital Timmy in the passenger seat of Lincecum's car en route to the ballpark. Gritting his teeth, Human Timmy hands over a marijuana pipe and small baggie of pot to a state trooper writing up a ticket outside. Human Timmy then turns to Digital Timmy, who is bopping his head to Wang Chung's "Dance Hall Days."
Human Timmy: "Lesson 1: We don't leave our weed out in plain view where the cops can see it!"
The Giants' dugout minutes before a game. Digital Timmy wanders into the dugout and take his seat next to Human Timmy. The rest of the team is staring at him, including Mr. Bochy. Digital Timmy looks around, confused.
Digital Timmy: Hey, there's no birthday party for me here!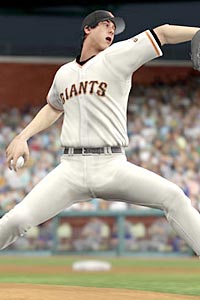 MLB 2K9Virtual Timmy still has a lot to learn.
Human Timmy glares at Digital Timmy and motions for him to shut up. But it's too late. Mr. Bochy, disgusted by the constant tardiness, walks purposely toward them.
Mr. Bochy: What's the reason for your truancy?
Digital Timmy: I don't know, mon. The food lines took forever.
Mr. Bochy: "I don't know." I really like that. "Mr. Bochy, will I ever get another start?" "Mr. Bochy, will I ever get to pitch again?" "Mr. Bochy, will I get sent down to AAA?" "Gee, Mr. Lincecum, I don't know." I like that.
Mr. Bochy takes his lineup card that has Digital Timmy listed as the starting pitcher and rips it in half. He writes out a new lineup, inserting Barry Zito as the starting pitcher.
Human Timmy: Lesson 2: We're never late.
The Giants' clubhouse after the game. Randy Johnson walks past Human Timmy and Digital Timmy, whose bare backs are turned to us. They've just returned from the shower room. Johnson looks down at Digital Timmy.
Randy: Is that a bong or is he just excited to pitch today?
Jim Caple is a senior writer for ESPN.com.