Commentary
The 10th Annual Year That Wasn't
Originally Published:
December 31, 2009
By
Jim Caple
| Page 2
Thanks to the explosion of Twitter in 2009, we received updates so quickly that we practically knew the scores of the St. Louis Rams', Kansas City Royals', New Jersey Nets' and Washington State Cougars' losses before they even played their games. Everyone from Lance Armstrong and Chad Ochocinco to the Kobe and LeBron muppets was in such a rush to alert followers to their every movement (well, except for Tiger Woods) that you didn't know whether Brett Favre and Urban Meyer were coming or going.
OK, maybe that confusion wasn't all due to Twitter.
The point is, you probably were so distracted receiving tweets you might not even remember these moments from the past year in sports …
Jan. 1: America opened the year with an enormous hangover after spending New Year's Eve with Michael Phelps, Tiger Woods and Rick Pitino.
Jan. 8: After Tim Tebow performed a precise circumcision on the Oklahoma defense by throwing for 231 yards and running for 110 more, the Florida Gators celebrated by dousing the quarterback in Gatorade, which he then turned into wine.
Jan. 20: Millions of Americans wept with pride and millions more cheered with joy as they witnessed a moment most thought they would never live to see -- the Arizona Cardinals reaching the Super Bowl.
Jan. 30: Parents were dismayed when General Mills released boxes of Wheaties with a picture of Michael Phelps smoking a bong and eating hash brownies with the caption: "Like, the Breakfast of Champions, dude."
Jan. 31: Roger Federer cried at the Australian Open after Rafael Nadal stole his lunch money, gave him a wedgie and stuffed him in a locker.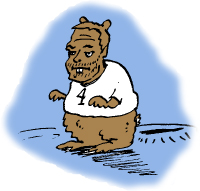 Kurt Snibbe
Feb. 1: In one of the most dramatic plays in NFL history, Steelers quarterback Ben Roethlisberger and wide receiver Santonio Holmes teamed up to score last-second tickets to Bruce Springsteen's Super Bowl halftime show. In a related story, Federer cried after an epic Australian Open final against Nadal because he had the 3 and 0 squares in his Super Bowl pool.
Feb. 2: Brett Favre saw his shadow, signaling six more months of indecisiveness about whether to come out of retirement. (Note: In the interest of going green, this joke has been recycled from last year.)
Feb. 9: Alex Rodriguez admitted to using steroids, but only in months with an "R" in them and years with an "0" in them.
Feb. 13: Lance Armstrong's return to competitive cycling hit a bump when he broke his collarbone while tweeting to his followers, "Get your Livestrong bands on, I'm back and I feel great! Wait, there's a fire hydr--"
Feb. 26: After missing the previous eight months due to reconstructive ACL surgery, Tiger Woods returned to the PGA Tour in the Accenture Match Play Championship with a fully healthy left knee -- though curiously, he seemed to still require a lot of nurses.
March 12: UConn men's basketball coach Jim Calhoun demanded that the state of Connecticut pay him time-and-a-half after the Huskies lost to Syracuse in six overtimes in the Big East tournament.
March 25: With health care costs raging out of control and an estimated 47 million people without medical insurance, Congress boldly took action by forming a committee to fix the BCS system. Months of gridlock and rancor were finally broken with a watered-down bill after Nebraska's Sen. Ben Nelson got a guarantee that the Cornhuskers will play in the championship game each year.
April 4: Michigan State upset UConn in a Final Four semifinal game after Huskies coach Jim Calhoun demanded time-and-a-half for working on a weekend.
April 5: Michael Phelps threw out the ceremonial first pitch at Camden Yards and then participated in the ceremonial first hit.
April 6: The official feel-good story of the NCAA tournament ended abruptly in the championship game between North Carolina and Michigan State, when the 72,922 fans at Ford Field received pink slips during the national anthem.
April 16: After signing a $160 million contract during the winter, CC Sabathia's first start at Yankee Stadium went terribly awry when he wasn't able to afford tickets to get inside the ballpark.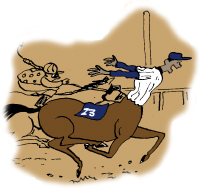 Kurt Snibbe
May 9: A former lover told a gossip magazine that A-Rod has two paintings in his bedroom that depict him as a centaur, a mythological half-man/half-horse creature. In a related development, A-Rod overcame 50-1 odds to win the Kentucky Derby.
May 10: Baseball suspended Manny Ramirez for 50 games after he tested positive for women's fertility drugs. Yes, women's fertility drugs. No, I'm not making that up.
May 11: Manny delivered octuplets.
May 12: Scrambling to fill a void left by the Jon and Kate Gosselin split, TLC signed Octo-Manny to star in a new reality series during his suspension: "Manny Plus 8 Still Has a Minus Ultimate Zone Rate."
May 30: Although wildly popular, Nike's advertising campaign featuring muppets of LeBron James and Kobe Bryant hit a road block when Miss Piggy gave LeBron swine flu during the Eastern Conference finals.
June 6: A-Rod became the first baseball player since Carl Yastrzemski to win a Triple Crown by winning the Belmont Stakes.
June 14: Muppet Kobe's joy at winning a fourth NBA championship was dimmed when he realized puppets only have two fingers and a thumb.
June 16: A big day in the NHL! Sidney Crosby and the Pittsburgh Penguins won the Stanley Cup finals and the Pirates hired Walter Matthau as their manager.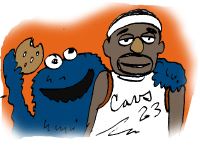 Kurt Snibbe
June 25: In a desperate attempt to keep LeBron in Cleveland by showing him they're serious about improving the team, the Cavaliers traded for the Cookie Monster.
June 26: Mariners shortstop Yuniesky Betancourt delivered a personal tribute to the late Michael Jackson by wearing a leather glove on his left hand for no apparent reason.
July 5: In another dramatic finish at Wimbledon, Roger Federer broke down and wept when he heard the Princess Diana version of Elton John's "Candle in the Wind."
July 10: Lance Armstrong's attempt to win the Tour de France after a four-year layoff ended while he was tweeting his followers, "I'm riding up the mountain to Arcalis and about to regain the yellow jersey and -- wait! Where the heck did Alberto Contador go?"
July 14: After President Obama threw out the ceremonial first pitch at the Major League Baseball All-Star Game, baseball writers awarded him the Cy Young based on his potential.
July 19: Barely two months shy of his 60th birthday, Tom Watson nearly became the oldest golfer to ever win a major, but missed a clinching putt at the British Open when he was distracted by Tiger Woods casually asking whether he had any extra Viagra.
July 25: It's official! After weeks of waffling, Brett Favre announced that he had finally made his decision. He chose paper bags for his groceries, much to the relief of Minnesota shoppers lined up behind him all the way to Mankato.
July 26: No, hold on. On second thought, paper bags aren't that much more environmentally friendly, either.
July 31: FINA, international swimming's governing body, banned high-tech swimsuits as "technological doping," requiring that swimmers compete in those old-fashioned wool bathing suits like you see in silent movie comedies. Phelps, meanwhile, showed up at the poll in a ratty bathrobe with a White Russian.
Aug. 5: Floyd Mayweather Jr. came out of retirement but lost his first fight when he was knocked out by Raiders coach Tom Cable.
Aug. 12: Louisville men's basketball coach Rick Pitino published yet another motivational book, this one titled "Ten Secrets to Enjoying Great Service at a Restaurant."
Aug. 16: In a stunning upset, Y.E. Yang won the PGA Championship when Tiger Woods was distracted by the drink cart girl on the 17th hole.
Aug. 18: Suspicions arose over women's 800-meter champion Caster Semenya's gender at the World Track and Field Championships when Tiger Woods didn't hit on her.
Aug. 19: OK, now it's official. After months of waffling and intense public scrutiny, Brett Favre finally opted for reusable canvas totes.
Aug. 20: Usain Bolt shattered his own world record in the 100-meter dash, despite stopping at the 70-meter mark to tweet, "I'm making Tyson Gay look like Oprah."
Sept. 3: The end of the Boise State-Oregon game was marred by an appalling display of poor sportsmanship when Tom Cable punched one of the Boise State coaches, South Florida coach Jim Leavitt struck one of the players and Mets assistant general manager Tony Bernazard went into the Boise State locker room, ripped off his shirt and challenged everyone to a fight.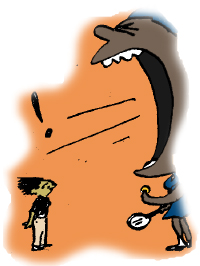 Kurt Snibbe
Sept. 12: Homeowners in Flushing complained that they couldn't hear planes taking off or landing from LaGuardia Airport due to Serena Williams swearing at the line judges in the U.S. Open.
Sept. 14: Uh-oh. The Cowboys' new $1 billion stadium already needs a remodel because the massive scoreboard hangs so low over the field that owner Jerry Jones keeps bumping his ego against it.
Sept. 25: Seeking the most remote, unpopulated site possible to avoid protesters, the G-8 leaders held their annual summit at Pittsburgh's PNC Park during a Pirates game.
Sept. 28: PETA staged a mass nationwide protest regarding the NFL allowing Michael Vick to return, as well as the way the league is abusing the Lions and Rams.
Oct. 1: Even though the Tigers blew a three-game lead with four games to play and then lost a one-game playoff against the Twins, Miguel Cabrera made sure all the team's already-purchased champagne didn't go to waste.
Oct. 7: Stevie Wonder, Andrea Bocelli, New York governor David Paterson and Leslie Nielsen's character from "The Naked Gun" were accidentally assigned to umpire Major League Baseball's postseason.
Oct. 15: An anxious nation sat glued to TV screens as it followed the careening, doomed flight of the Notre Dame football team. It eventually landed, only to have state troopers discover there was no competent coach inside.
Oct. 20: The St. Louis Cardinals' Matt Holliday dropped a game-deciding fly ball when he lost the ball in his cup.
Oct. 24: Major League Soccer faced a playoff dilemma when every team in the league finished the regular season tied with identical records of 0-0-30.
Oct. 26: After almost single-handedly leading the Yankees to the World Series, Alex Rodriguez attributed his newfound postseason success to a new batting stance in which he places both hands firmly around the bat handle rather than around his throat.
Nov. 4: The Yankees celebrated their first World Series championship since 2000 by showering themselves in champagne and returning the wallet, watch and smartphone Johnny Damon stole off Phillies closer Brad Lidge in the ninth inning of Game 4.
Nov. 15: Tennessee Titans owner Bud Adams gave the Buffalo Bills the same single-digit gesture he previously reserved for the city of Houston.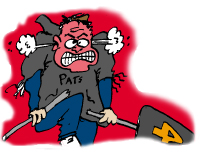 Kurt Snibbe
Nov. 21: After six days, New England cell phone service still remained disrupted by fans waiting on hold with local sports-talk radio stations desperate to complain about Patriots coach Bill Belichick's decision to go for it on fourth down against the Colts.
Nov. 27: Tiger Woods suddenly found himself in a very tough lie after his wife, Elin, Tiger-proofed their driveway.
Dec. 5: Distraught to see his college career end this way, Tim Tebow cried when he got only a B-plus on his sociology final exam.
Dec. 10: Former NBA ref Tim Donaghy celebrated the long-delayed release of his book "Personal Foul" by scheduling a grueling six-week, two-city book tour to Las Vegas and Atlantic City.
Dec. 13: Sophomore running back Mark Ingram won the Heisman Trophy. Republicans complained that he didn't deserve it because he hasn't been Alabama's running back long enough.
Dec. 25: A crazed woman knocked over Tim Tebow during a Christmas celebration at the Vatican.
Dec. 30: Texas Tech fired coach Mike Leach for his alleged questionable treatment of a player with a concussion. The NFL promptly hired Leach to take charge of the league's concussion treatment program.
Dec. 31: Americans ring out the year in a traditional manner, by watching Tiger Woods' endorsement money and marketability drop in Times Square.
Jim Caple is a senior writer for ESPN.com. You can follow him on Twitter at jimcaple.