Commentary
The Page 2 Top 20 writer poll
Originally Published:
September 2, 2010
By
Jim Caple
| Page 2
The Big Ten will have 12 teams in it next year while the Big 12 will have 10 teams. But don't worry. We still have one last season of sanity, made even clearer by the ESPN.com preseason Top 20 Page 2 writer poll.
Editor's note: You might be wondering where the other five teams are, since everyone does a Top 25 these days. You aren't going to find them because Jim Caple is old school ... so deal with it.
20. USC. Pete Carroll will be hard to top but USC boosters are confident that based on Lane Kiffin's track record at Tennessee, their new coach will eventually surpass Carroll's impressive mark by having the Trojans placed on probation for five years and banned from bowl games for three seasons.
19. Oklahoma. Many others are picking the Sooners higher but they're lucky they even make my Top 20. One, they're coming off a five-loss season. Two, I'm still upset about the Sonics moving to Oklahoma.
18. Utah. But the Utes could finish significantly higher -- Senator Orrin Hatch is currently politicking to get a BCS bowl bid for Utah inserted into a $200 billion spending bill.
17. Navy. After rushing for a quarterback-record 27 touchdowns last year, Ricky Dobbs is a darkhorse to become the first player from a military academy to win the Heisman since Roger Staubach and a mortal lock to have several dozen reporters ask whether he regrets his five-year military commitment.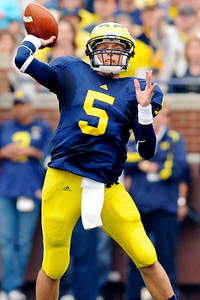 Icon SMIRich Rodriguez's fate could be in the hands of Tate Forcier. Tough break, Rich Rod.
16. Marshall. You can count on coach Matthew McConaughey and assistant Matthew Fox to build on the success they had upsetting Xavier at the end of the movie.
15. Michigan. After going 3-13 in the Big Ten his first two seasons, Rich Rodriguez couldn't be on more of a hot seat in the state of Michigan unless he was sitting on top of Tigers manager Jim Leyland's pile of discarded cigarette butts. But I have confidence Rodriguez will restore Michigan to its former glory, leading the Wolverines once again to a dominating Big Ten season and putting them in perfect position to lose to Ohio State on Thanksgiving weekend.
14. Penn State. Coach Joe Paterno may be 83 years old but he's still able to embrace social media as a powerful recruiting tool -- in fact, he's ready to start a Twitter account just as soon as he can figure out where you insert the carbon paper.
13. Pitt. The favorite to win the Big East, Dave Wannstedt's Panthers also have a chance to win more road games than the Pirates.
12. Oregon. After cutting quarterback Jeremy Masoli following an arrest for burglary and possession of marijuana and suspending running back LaMichael James one game for fighting with an ex-girlfriend, the University of Nike is changing its uniform scheme once again -- this time to horizontal black and white stripes. (Yes, Ducks fans, I'm a University of Washington alumnus.)
11. Florida State. New coach Jimbo Fisher hasn't lost a single game since the end of last season, which is 12 fewer losses than Bobby Bowden has had tacked onto his record since then. And they said no one could fill Bowden' shoes.
10. Georgia. Replacing personnel each year is a big part of college football but no program faced as daunting a task as Georgia. It lost Uga VII last November and as far as I can tell, still hasn't named a replacement. I'm not sure why; all you do is go to Georgia games and sit on a pack of ice on the sideline, which you would think even would be fairly appealing to some fraternity brothers. Meanwhile, PETA has a suggestion for the new Uga.
9. BYU. Frankly, I'm ranking BYU this high because I want to make my Washington Huskies' victory over the Cougars this weekend look more impressive by being able to say it was over a Top 10 team.
8. Nebraska. Why are the Cornhuskers leaving the Big 12 after this season to join the Big Ten? Because the Big 12 stubbornly refused to shorten fourth quarters to 14 minutes, 59 seconds.
7. Notre Dame. What with covering other sports I must admit I kind of lost track of what went on in South Bend lately. I do know that this will be Charlie Weis' sixth full season as coach, which means that by now he's undoubtedly shed 60-70 pounds, beaten USC three or four times, won several BCS bowls and fully turned around the program to justify that $40 million contract extension the school shrewdly gave him after his first seven games. I hope they just had the foresight to further extend his contract and lock him up until at least 2025 because you don't want a proven winner like that to ever get away.
6. Florida. How will the Gators replace Tim Tebow, who rushed for nearly 3,000 yards, passed for nearly 10,000 yards and accounted for 145 touchdowns? First thing, they will have to reinstall a grass field, because it's unlikely junior quarterback John Brantley will be as mobile on water as Tebow was.
5. Boise State. Big changes at Boise State. They're going to change the color of their field to black and blue to better coordinate with their opponents' flesh after four quarters of bruising by the Broncos' defense.
[+] Enlarge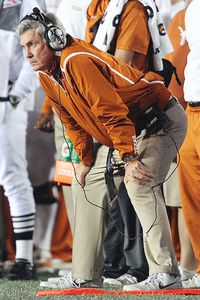 Kevork Djansezian/Getty ImagesMack Brown's squad should do well in the new Southwest Austin Conference.
4. Ohio State. After actually winning a big bowl game last year, Buckeyes fans are very excited about this season. And for good reason. Quarterback Terrelle Pryor is one of the nation's most exciting players, coach Jim Tressel has a dynamic new sweater vest combination and the marching band is finally updating its staid image for the digital age -- from now on it will spell out Verdana Ohio.
3. Texas. The Longhorns pulled a cruel practical joke on Pac-10 commissioner Larry Scott by leading him to believe they were actually going to join his conference, then pulling the rug out from underneath him. Ha! Sucker! Instead, Texas will form its own conference next year, the one-team Southwest Austin Conference. They're just trying to figure out how they can avoid sharing bowl revenue or any of the $300 million ticket package with the rest of the one-team conference.
2. Alabama. Can junior Mark Ingram win another Heisman Trophy to give him a pair of matching bookends for his shelf of textbooks? It won't be easy. He'll miss this week's opener with a knee injury and he'll also have to share time with Trent Richardson. Those two, plus quarterback Greg McElroy, will provide Alabama with its most potent offense since the first half of "Forrest Gump," but with the benefit of no annoying Gump-isms.
1. Washington. We should all stand and applaud quarterback Jake Locker, who deserves the Heisman simply for the shining example he showed by choosing to stay in school for one more season even though he probably could have signed a contract worth $75 million or so as the likely No. 1 pick in the NFL draft. But college football fans know Jake is a true student-athlete who plays for the love of the game, not money, and is determined to lead his school back to the Rose Bowl in between reading to the blind, serving dinners at local homeless shelters and volunteering as a Big Brother in the inner city. Sure, he could be earning $1 million monthly paychecks and sipping $200 bottles of champagne at gentlemen's clubs around the NFL but Jake isn't like that. He's satisfied by the simpler things, like pursuing a triple degree in aerospace engineering, molecular biology and English literature, or tossing Frisbees to his dog, Ten, or sipping a cup of java in one of Seattle's many fine coffee shops, where everyone is too respectful of his privacy to bother him for an autograph (even though he would happily sign because that's the type of regular guy he is). The NFL life just cannot compare to walking across the most beautiful campus in the country or running through the tunnel onto the Husky Stadium field on a crisp autumn afternoon with the majestic Olympic mountains to the west, pristine Lake Washington and the rugged Cascade mountains to the east, and the stands filled with the most devoted, spirited fans in all of college football. How can you put a price on that? You can't. Plus, Jake also knows that he'll more than make up any lost NFL riches with a degree from Washington, the leading research and educational institution in the Northwest (I believe Harvard refers to itself as "The Washington of the East").
And no, the fact that I am a Washington alumnus has absolutely nothing to do with this ranking.
Jim Caple is a senior writer for ESPN.com. You can follow him on Twitter at jimcaple.