Commentary
Page 2's Actor Athlete Hall of Fame
Originally Published:
December 15, 2010
By
Jim Caple
| Page 2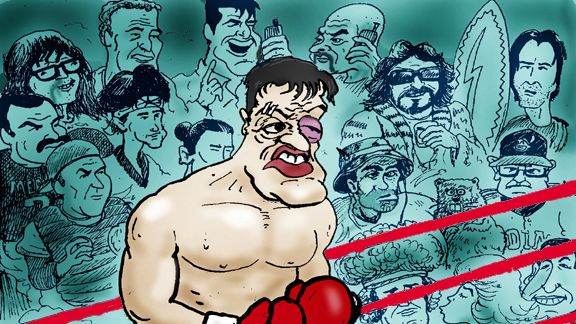 Kurt Snibbe/ESPN.com
The Boxing Hall of Fame elected Sylvester Stallone for induction recently because of his contribution to the sport with his "Rocky" movies. Evidently, the good folks in Canastota, N.Y., forgot about Rocky II, IV and V (especially V).
Stallone's election prompts an obvious question: If this sort of thing spreads to other sports halls, how the heck will baseball writers be able to decide whether Kevin Costner and Charlie Sheen belong in Cooperstown, let alone Bert Blyleven and Tim Raines?
Or maybe it isn't that difficult a vote. Which other actors belong in a sports Hall of Fame? I offer you a sample ballot in the first Page 2 Actor Athlete Hall of Fame. But before we get to the nominees, let's consider the criteria. There is no hard and fast standard other than the performance must be in a major motion picture (no TV -- sorry, no Billy Dee Williams or James Caan for "Brian's Song;" no Carver High basketball team for "The White Shadow"). The actors' credentials, however, are weighted by the following:
VOTE: PAGE 2'S BALLOT
Page 2 is evaluating the merits of some of the big screen's most accomplished fake athletes. Vote for as many as you think merit induction.
• Vote: Page 2 Actor Athlete ballot
1. Multiple performances in a single sport. Just as you don't get to Cooperstown by being the fifth-best third baseman of your generation, actors get bonuses for dominating a sport on the screen.
2. Multiple performances as an athlete. If you don't have the chops to qualify for a specific sport's Hall of Fame, you can overcome that via a decathlon of sports roles, sort of as Hollywood's version of the world's greatest athlete (and by that I don't mean Jan-Michael Vincent).
3. Importance of role. Starting pitchers and quarterbacks are more valuable than relievers and punters. And starring roles are more important than supporting and cameo appearances. In other words, Denzel Washington gets more props for "Remember the Titans" than Corbin Bernsen does for appearing in all three "Major Leagues."
4. Quality of performer. This is like voting for the All-Star team. Sure, a rookie or journeyman might be having a good first half, but Derek Jeter is still getting marked on my ballot. Similarly, Paul Newman is going to get my vote over Adam Sandler.
5. Quality of performance. Academy Awards notwithstanding, actors still can't phone it in, no matter how big their name is atop the marquee or who they're wearing on the red carpet.
6. Quality of movie.
Hey, Roy Scheider was a great actor. But there is no way "Tiger Town" earns you anything on this list.
All clear? OK, then, let's bring on the 25 candidates:
FIRST-BALLOT INDUCTEES
[+] Enlarge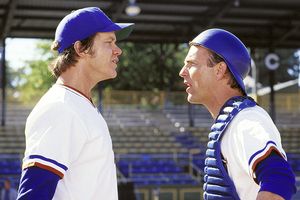 Kobal Collection/Getty ImagesNuke LaLoosh and Crash Davis in "Bull Durham."
Kevin Costner (baseball): Because of his smooth swing -- from both sides of the plate -- as Crash Davis in "Bull Durham" -- and his even smoother pickup lines. "I believe in the sweet spot, soft-core pornography, opening your presents Christmas morning rather than Christmas Eve, and I believe in long, slow, deep, soft, wet kisses that last three days." Because he made women wilt in "Bull Durham" and men cry in "Field of Dreams." Because he threw a perfect game against the Yankees in "For Love of the Game." (Whoops, that last one should have come with a spoiler alert.) Because he gets bonus points for showing us what is most important in golf and life in "Tin Cup": "Sex and golf are the two things you can enjoy even if you're not good at them." Because all of the above more than makes up for his mustache in the awful cycling movie, "American Flyers."
Sylvester Stallone (boxing): Because though it's sometimes hard to remember after "Stop, or My Mom Will Shoot," "Cliffhanger" and the menu at Planet Hollywood, "Rocky" really was a terrific movie that richly deserved its Oscar for best picture. Because Rocky Balboa is one of the iconic figures of film and sport. Because of "Yo, Adrian!" and that theme music still makes you want to wake up before dawn, swallow a half-dozen raw eggs and run to the top of the Philadelphia Museum of Art steps.
Burt Reynolds (football): Because long before "Rocky" or "Bull Durham," he was the essence of cool as the quarterback in "The Longest Yard" and "Semi-Tough." Because he should have been the star of the remake of "The Longest Yard" as well. Because this former Florida State player would sentence even Warren Beatty ("Heaven Can Wait") and Jamie Foxx ("Any Given Sunday") permanently to the sideline with baseball caps and clipboards. Because, his football performances aside, who wouldn't want to ride shotgun with Smokey and Stroker Ace?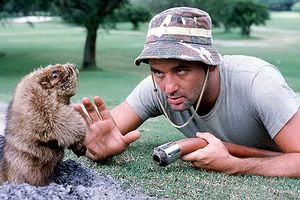 Orion PicturesCarl Spackler, a legendary Bill Murray role.
Bill Murray (golf): Because he was an incredible Cinderella story as Carl Spackler in "Caddyshack." So he has that going for him, which is nice. But he also had as beautiful a swing as Tiger Woods in one gorgeous scene of the fabulous "Lost in Translation" -- and his Oscar-nominated character was a whole lot funnier guy to share a drink with at the 19th hole ("For relaxing times, make it Suntory time"). Because he was one of the redeeming features of "Space Jam." And because he gets bonus points for golfing in pro-ams and for bowling in "Kingpin" ("I know that right about now, your bladder feels like an overstuffed vacuum cleaner bag and your butt is kinda like an about-to-explode bratwurst").
Dennis Quaid (football): Because he proved it's never too late to start over in "The Rookie." Because he was college football's best player -- and got Jessica Lange to boot -- in "Everybody's All-American." But mostly because he delivered the finest, most poignant monologue in sports film history as Mike, the bitter former high school star quarterback, in "Breaking Away." "You know, I used to think I was a really great quarterback in high school. Still think so, too. Can't even bring myself to light a cigarette because I keep thinking I have to stay in shape. You know what really gets me though? I mean, here I am, I have to live in this stinking town, and I gotta read in the newspapers about some hot-shot kid, new star of the college team. Every year, it's going to be a new one. And every year it's never going to be me." Not that he'll ever get in our swimming Hall of Fame.
[+] Enlarge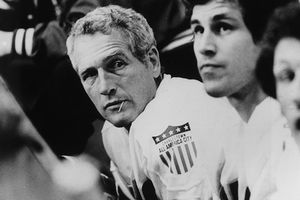 Hulton Archive/Getty ImagesPaul Newman as Reggie Dunlop in "Slap Shot."
Paul Newman (hockey): Because he was the first Rocky on the silver screen (Graziano in the biopic "Somebody Up There Likes Me"). Because he outhustled everyone besides Pete Rose as Fast Eddie Felson in "The Hustler" and "The Color of Money." But mostly because his role as player-coach Reggie Dunlop in "Slap Shot" showed what old-time hockey is really all about: a terrific mixture of better passing, comedy, drama, profanity, sex and, most of all, going on the radio to put a $100 bounty on the head coach and chief punk of your playoff opponent.
Hilary Swank (boxing): Because she showed she could hang with the boys in "The Next Karate Kid" (albeit she did so less successfully in "Boys Don't Cry"). Because when matched up with Clint Eastwood and Morgan Freeman in "Million Dollar Baby," she held her own -- and more -- by winning an Oscar (her second). Because we would much rather run a photo of her than Ralph Macchio.
WILL EVENTUALLY MAKE IT THANKS TO SABERMETRICS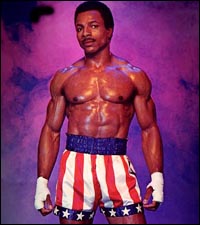 Apollo Creed, an American icon.
Carl Weathers (boxing): Because the former San Diego State/Oakland Raider player beat Rocky in the original, went the distance with him again in II, gave him the eye of the tiger in III, fought Drago to the death in IV and, along the way, provided children with the wisest, most inspirational words ever spoken by an actor/athlete: "Be a thinker, not a stinker."
Jeff Bridges (bowling): Partially because he showed that everyone deserves a second chance as the owner in "Seabiscuit." But mostly because he was there drinking White Russians and taking it easy for the rest of us -- and advancing to the bowling league semifinals -- as the Dude in "The Big Lebowski." And if you disagree, well, you know, that's just, like, your opinion, man.
Cuba Gooding Jr. (football): Because he showed us the money, saved on environmentally damaging detergent after a shower ("I air-dry") and won a much-deserved Oscar for his role as Rod Tidwell in "Jerry Maguire." Which makes up for "Snow Dogs." But just barely.
Gene Hackman (basketball): Because he took the kids from little Hickory to the Indiana high school basketball state championship, showed the boosters who was boss ("Leave the ball, will you, George?"), rehabilitated the town drunk and, in the biggest upset of all, almost made Myra Fleener crack a smile. But he'll have to wait just a while because if he was really such a good coach, how come Hickory always lost before Jimmy Chitwood showed up? Plus, while Hackman may have been the Olympic ski coach in "Downhill Racer," it has to be easier to coach Robert Redford than Bode Miller.
Sony Pictures"Talladega Nights" tells the story of Ricky Bobby and his famed Wonder Bread car.
Will Ferrell (auto racing or figure skating -- and when have you ever seen those two sports paired?) Because he's the Bo Jackson of sports comedies. Because he was funny enough in "Talladega Nights: The Ballad of Ricky Bobby" ("Here's the deal -- I'm the best there is. Plain and simple. I wake up in the morning and I piss excellence") and "Blades of Glory" ("Hey, they laughed at Louis Armstrong when he said he was going to go to the moon. Now he's up there, laughing at them") that you needed Depends as well as a movie ticket. But he might need to wait, because "Semi-Pro" truly was his bridge too far.
Denzel Washington (football): Because he made certain we'll "Remember the Titans." Because, I mean, when Denzel tells you to jump, tell me you're not going to say "How high, sir?"
VETERANS COMMITTEE IS THEIR BEST HOPE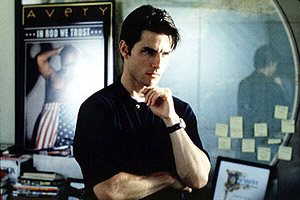 TriStar PicturesJerry Maguire says help him help you -- vote him in.
Tom Cruise (various sports): Because while he had us at "Show me the money!" as agent Jerry Maguire, he was outclassed by Robert Duvall in "Days of Thunder" and by Paul Newman in "The Color of Money." And because, let's be honest, his early role as a high school football star in "All the Right Moves" wasn't quite Princeton material, now was it?
Wesley Snipes (baseball or basketball): Because it's OK if he has to wait. While he schooled Woody Harrelson in "White Men Can't Jump," hit like Willie Mays and ran like Bob Hayes in "Major League" ("S---, I've been cut already!") and was so self-obsessed and disdainful of fans in 1996's "The Fan" that you could really believe he was the Giants' star outfielder, he might not be able to attend his induction ceremony while in jail for tax evasion.
Robert De Niro (boxing): Because though he was terrific in "Raging Bull," Robert Duvall deserved the Academy Award that year for his portrayal of Marine pilot/psychotic basketball dad "("Go ahead, cry!") Bull Meechum in "The Great Santini" (I mean, really -- De Niro got so much credit for gaining 40 pounds for his role as the old Jake LaMotta, but how difficult is it to gain weight? No one nominated me for an award when I ballooned to 190 pounds in 1993.) No, De Niro has to wait as well because even an Oscar can't make up for his embarrassing athletic performance in "Bang the Drum Slowly."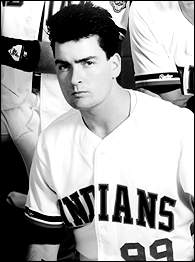 Charlie Sheen stars as Ricky "Wild Thing" Vaughn in "Major League."
Charlie Sheen (baseball): Because he was closer to Rick "Wild Thing" Vaughn in "Major League" and "Major League II." Because he gets extra credit for being such a real-life fan that he played "Take Me Out to the Ballgame" at his wedding to Denise Richards and bought out a section of Anaheim's bleachers in a futile attempt to catch a home run. But that might not be nearly enough to overcome throwing the World Series as Happy Felsch in "Eight Men Out."
Robert Redford (baseball): Because "The Natural" would have been better had he stuck to the original novel and struck out in the end.
Walter Matthau (baseball): Because while he was the cinema coach for whom I most would want to play, where was he when the Bad News Bears broke training or went to Japan?
OFF THE BALLOT AND STRAIGHT TO VIDEO
Adam Sandler (football): Because he wasn't funny as "Happy Gilmore." Because he wasn't funny as "The Waterboy." And because he wasn't funny or anywhere nearly cool enough to replace Burt Reynolds in "The Longest Yard." (Though he does get credit for getting Rod Carew into "The Hanukkah Song.")
Geena Davis (baseball): Because while she was terrific in "A League of Their Own," she quit on the team in the middle of a pennant race.
Emilio Estevez (hockey): Because despite his body of work in the "Mighty Ducks" trilogy as coach Gordon Bombay ("Now here's the long and the short of it: I hate hockey and I don't like kids"), what does it say when you lose the battle of sibling screen cred to Charlie Sheen?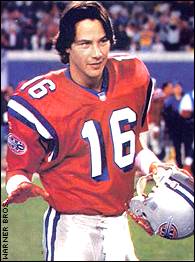 APSure, they're sports movies. But he's still Keanu Reeves.
Keanu Reeves (football): Because, while he was Shane "Footsteps" Falco in "The Replacements" and a former football star turned FBI agent in "Point Break" and a Little League coach in "Hard Ball," we're still talking about Keanu Reeves.
Jeff Carlson, Steve Carlson and Dave Hanson, the Hanson Brothers (hockey): Because while they nearly stole the movie in "Slap Shot," they also were in "Slap Shot 2" and "Slap Shot 3."
Robert Duvall (surfing): Sure, he informed us that "Charlie don't surf" in "Apocalypse Now" and that "rubbin', son, is racing" in "Days of Thunder," but as Roy Hobbs made it clear in "The Natural," Max Mercy is just an aging sportswriter who never played the game.
OK, that's it. The Page 2 ballot. Disagree? Feel free to express your opinion in the comments section or by voting in the SportsNation poll. Just be sure to save your money for a ticket when the Page 2 Actor Athlete Hall of Fame opens. In addition to watching the inductees preserve their footprints in infield dirt, you'll want to see the exciting exhibits such as Tom Sizemore's hair from "Hustle" and John Turturro's fake ears from "The Bronx is Burning."
Jim Caple is a senior writer for ESPN.com. You can follow him on Twitter at jimcaple.