Commentary
Page 2's annual Oscar breakdown
Originally Published:
February 25, 2011
By
Jim Caple
| Page 2
You know why the image of Cameron Diaz feeding popcorn to Alex Rodriguez in a luxury suite at the Super Bowl struck such a nerve? Not because it was the creepy modern equivalent of a Roman Caesar being fed peeled grapes. Not because it reminded us of how vastly overpaid athletes and entertainers are. And not because everyone hates A-Rod already.
(Well, perhaps it had a little to do with everyone hating A-Rod.)
No, what really struck a nerve was the knowledge of how friggin' much popcorn costs when we go to a theater these days.
I mean, really. It's not enough that the ticket prices keep skyrocketing (tip: the 3-D IMAX version of "The King's Speech" isn't worth the extra price), but popcorn prices are rising faster than medical coverage. At the rate it's going, movie popcorn may someday cost as much as stadium beer.
A Gizmodo analysis says the price of movie popcorn has risen more than 660 percent since 1929 -- and that adjusts for inflation. I'm not surprised. When the original "Toy Story" came out I was paying $2.50 for a bag of popcorn. I think I paid $7 for "Toy Story 3." By the time "Toy Story 6" comes out (and Woody and Buzz are reunited with Andy in a dementia unit), the only people who can afford movie popcorn will be actors, ballplayers and team owners.
One welcome exception to this is Seattle's Cinerama theater which is owned by Seahawks and Trailblazers owner Paul Allen. Not only does it have a full "Cinerama" width screen, you can buy popcorn for just $2-$3 a bag! Talk about Turn Back the Clock night.
If Jerry Jones owned a movie theater he would charge $15 for the popcorn, plus $10 for a PSL (personal salt license), and then after you pay for it, tell you that he ran out of bags and you'll have to just hold the popcorn in your hands (better buy some $3 napkins to wipe off the butter) or come back next year for "Sex and the City 3."
And now, onto my annual Oscar breakdown ...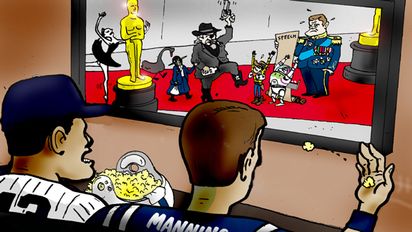 Kurt Snibbe/ESPN.com
"Toy Story 3" Last year I described Pixar as the Albert Pujols of Hollywood, an analogy Texas Rangers pitcher C.J. Wilson agrees with. "They've never failed," he said. "They bat .330 every year with 120 RBIs." But there is one crucial difference. Pixar is not going to abandon St. Louis next winter and sign a 10-year, $300 million contract to only show its movies in a major-market, 25-screen cineplex that charges $20 for 3-D screenings and $10 for a medium popcorn and already has the exclusive rights to show the first three "Star Wars" movies, plus the "Lord of the Rings" trilogy, "Rocky" and "Rocky III," "Raiders of the Lost Ark," "Jaws," "The Wizard of Oz," "Casablanca," "It's a Wonderful Life" and "Field of Dreams." Pixar movies will continue to play everywhere, from the biggest cities to small, one-screen towns where tickets are still only $5 and popcorn just $2. So, cheer up, St. Louis. Adam Wainwright might be out for the season and Pujols might be leaving in the winter but you'll be able to watch "Cars 2" this summer while you're battling Pittsburgh for fifth place in the NL Central.
"Black Swan" Based on Hollywood's recent offerings, I can only deduce the last two occupations remaining in this country are international hit man and super-powered crime fighter. Which is what made "Black Swan" so refreshing. When virtually every movie at the cineplex is based on a comic book (I think the only Marvel character that hasn't been had a movie is Dazzler), "Black Swan" not only gave us a gripping ballet psycho-horror movie, it threw in some naughty scenes, too. True, the movie missteps and crosses the line into farce once or twice but what makes it work overall is that Natalie Portman put in the effort to make her ballet dancer credible. She reportedly lost 20 pounds -- she makes Ichiro look like Jonah Hill -- and trained in the dance studio for six months. This is similar to what Robert De Niro did when he supposedly gained 60 pounds to play boxer Jake LaMotta in "Raging Bull." But if De Niro was so dedicated to portray a boxer, couldn't he have at least gotten into a batting cage before playing the catcher in "Bang the Drum Slowly"?
"The Fighter" Christian Bale's incredible performance as a messed up, drug-addicted athlete (he's kind of Steve Howe, Diego Maradona and Roy Tarpley all multiplied into one mess) makes him a lock to win best supporting actor. But could somebody explain Hollywood's love affair with boxing movies? As I wrote in this week's Off-Base, boxing-related movies have been nominated for best picture six times (seven if you count "On the Waterfront") and have won two times (three if you count "Waterfront"). No other sports-related movie has won a best picture award.
SPORTING CHANCE
Here's my count of nominations and Oscars in acting, directing and best picture categories for various sports-related movies.
Title of data

| | | |
| --- | --- | --- |
| Sport | Nominations | Oscars |
| Boxing | 37 | 12* |
| Football | 11 | 3@ |
| Pool | 8 | 1 |
| Baseball | 6 | 0 |
| Rugby | 4 | 0 |
| Track | 3 | 1 |
| Cycling | 3 | 0 |
| Pro wrestling | 2 | 0 |
| Horse racing | 2 | 0 |
| Basketball | 1 | 0 |
(*includes "On the Waterfront")
(@ includes "The Fortune Cookie")
It's crazy. Hollywood loves boxing movies so much I fully expect to see coming attractions for a boxer who has been bitten by a radioactive spider and is also an international assassin (in 3-D!).
"127 Hours" Like many, I was reluctant to watch a movie based on a man amputating his arm. But director Danny Boyle and actor James Franco make that climactic scene thrilling, liberating and inspiring. This is the best movie of the year and the best sports movie in many years. What's most impressive is Boyle won the Oscar two years ago for "Slumdog Millionaire," an exhilarating saga that fills the screen with about a thousand characters amid all the vibrant colors of India. "127 Hours," however, is essentially one character trapped in a narrow, monochromatic, claustrophobic canyon. Plus, we know the ending. And yet Boyle fills "127 Hours" with every bit as much life, energy and passion as "Slumdog." It's a stunning achievement -- like Eric Heiden winning gold in all the speedskating sprints and the distance events at the 1980 Winter Olympics.
"Winter's Bone" I'm told this is a powerful but depressing movie so I did not see it. I didn't need to pay money to see something depressing. I live in Seattle and go to enough Mariners games.
"True Grit" Ethan and Joel Coen are Hollywood's version of Peyton and Eli Manning, the only two brothers to quarterback Super Bowl winners, or Lloyd and Paul Waner, the only ballplaying brothers in the Hall of Fame. The Coens consistently churn out wildly creative, enormously entertaining movies that are gorgeous, stimulating and filled with funny, clever and very memorable dialogue. I love all their movies (well, maybe not "The Ladykillers"), and "True Grit" is great. Now, I understand complaints about it being a remake. But it's not so much a remake of a movie as another (superior) stab at turning a great novel into a film. Besides, no one complains about remakes in sports. Teams essentially attempt remakes of old championships with new casts every season (well, maybe not the Clippers). My one reservation with "True Grit," however, is that by recreating John Wayne's role, will Jeff Bridges now also have to star in a remake of "Rooster Cogburn and the Lady," possibly with Helen Mirren in the Katharine Hepburn role? If so, at least that would be tolerable. Not so if Matt Damon (who played the Glen Campbell role of LaBoeuf) releases a CD of "Rhinestone Cowboy."
"Inception" It's visually stunning and mentally challenging. But what with moving back and forth from all the multiple dream levels, I'm still trying to figure out what the hell was going on. All I know is that after my Giants finally won the World Series last fall, I had to make sure that my top stopped spinning so I knew it wasn't all just a wonderful dream.
"The King's Speech" I got sucked into this by deceptive advertising. I went in thinking it was going to be Felix Hernandez talking about winning the Cy Young. Instead I got a stuttering Colin Firth. But he's wonderful in this -- as is Geoffrey Rush. Firth is a lock to win the Oscar. What I don't understand is Helena Bonham Carter receiving a best supporting actress nomination. For what? She's not bad but there is nothing memorable about her role. She's strictly riding Firth and Rush's coattails. Nominating her is like co-crediting the home run record to those two college goofs who followed Hank Aaron around the bases when he hit No. 715.
"The Social Network" Leave it to Aaron Sorkin, creator of "Sports Night" and "West Wing" to write a smart, captivating and fast-moving script about computer geeks who change the world. "The Social Network" begins in Boston in the fall of 2003. Which was truly a different universe. There was no Facebook. No Twitter. No YouTube. And like Hosni Mubarak, the Yankees were still firmly in power and still squashing any rebellion from Red Sox Nation.
"The Kids Are All Right" This was my third favorite movie of the year (behind "127 Hours" and "True Grit") but a small-budget movie without a single explosion, car crash, shootout, death or international hit man has about as much chance of winning best picture as the Pirates winning the World Series. Or your local theater lowering popcorn prices.
Meanwhile, "The King's Speech" will win best picture. And somewhere in Tampa, Alex Rodriguez will be canoodling with Cameron Diaz and asking for another bowl of popcorn. Why not? They can afford it.
Jim Caple is a senior writer for ESPN.com. You can follow him on Twitter at jimcaple.