Commentary
Page Turner: Sports books we need
Originally Published:
March 9, 2011
By
Jim Caple
| Page 2
In the last Page Turner, I wrote about the need for a moratorium on certain sports genres glutting bookshelves. "Excuse me, could you tell me where the Mickey Mantle section is?" In this edition I reverse course and give you sports books that need to be written.
[+] Enlarge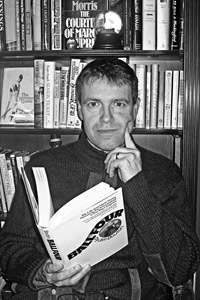 ESPN.comEnjoy sports books? Jim Caple's book blog will be featured on a regular basis on Page 2.
1. Confessions of a Traveling Secretary: A team traveling secretary has a thankless job (though in the case of George Costanza on "Seinfeld" there was no reason for thanks). Traveling secretaries are blamed if weather delays the flight. They get blamed if there is so much as an empty pop can left in a spring training condo when the .250-hitting shortstop shows up. They get blamed if the opposing team's ticket office screws up and places a player's mistress next to his wife. Traveling secretaries also have all the inside skinny on players -- who cheats on their wives, who demands a corner suite with a bowl of green M&Ms and generally who has the most interesting skeletons hidden in their hotel room closet. Yet no traveling secretary has broken the omerta by revealing the secrets to the public. The first one who does can expect the sort of sales figures normally reserved for teenage sorcerers and high school students in love with vampires.
2. Fumbled Balls: Terry Pluto's "Loose Balls" is a classic account of the old American Basketball Association. Bookshelves and eReaders are crying for a similar look back at the failed USFL, WFL and XFL, either on their own or in one volume. With the passage of time, an oral history of leagues that included Ken Stabler, Herschel Walker, Doug Flutie, He Hate Me, the Hawaii Hawaiians and Donald Trump would make for great reading. Particularly if it could be published in time for us to read while waiting for the NFL lockout to end.
OFF BASE
Jim Caple's Off Base returns next Wednesday, March 16.
3. Pay Some Attention to the Man Behind the Curtain: How is possible that we have more than two dozen books on Michael Jordan but not one on David Stern? Nothing against Michael, but I think Stern's effect on the NBA as its commissioner for more than a quarter-century is worth at least as many books as there are on Jordan's effect on world trade ("Michael Jordan and the New Global Capitalism" by Walter LaFeber), or warrants half as many books on Stern's rule as the Jordan rules ("The Jordan Rules" by Sam Smith and "Michael's Golden Rules" by Deloris Jordan).
4. This Is Your Concussed Brain on Steroids: There are plenty of books decrying performance enhancers in sports and even a few on concussions in football, but I would love to see a book that takes a serious look at what is more physically damaging to an athlete long-term: the steroids we campaign against relentlessly, or the very act of playing the games we love so much. What really poses more risk to the athlete? Performance enhancers that are easy to condemn -- or the concussions, weight gains, bone damage, etc. that we so often ignore because they could threaten the games themselves?
5. "Ball Four," the Director's Cut: The greatest sports book ever written, Jim Bouton's "Ball Four" is 400 pages long (including two pages of Bouton's season stats). But Bouton's original transcribed notes totaled 450,000 words spread over 1,500 double-spaced pages. His first draft was 650 pages. When people call "Ball Four" a "tell-all" book, Bouton counters that it is actually a "tell-some" book because of all the stories and observations he left out. I would love to read the additional anecdotes in an expanded "tell-more" edition, especially the alternative ending in which Bouton stays in Seattle, and so do the Pilots.
6. The Unwritten Rules Written: We always hear about athletes breaking the unwritten rules. Bunting to break up a no-hitter. Piling on points when you already have a safe lead. Attacking the yellow jersey when he has a mechanical breakdown. Sleeping with a teammate's wife. But wouldn't it be easier to enforce these rules if they were actually written down?
7. The Arthur Fonzarelli Traveling Sitcom Stars and Shark-Jumpers: In the previous Page Turner, I complained about the number of books about New York and Boston championship teams. But here's a neglected team that warrants an oral history. Back in the 1970s and early '80s, the "Happy Days" cast traveled the country playing softball games, occasionally in big league parks against major leaguers. In this video clip, Ron Howard compares playing softball with the "Happy Days" cast at Wrigley Field to filming "Apollo 13" weightless. We're talking ballplayers, Fonzie, young starlets, one of Hollywood's most successful directors and a lot of bad fashion and haircuts -- there must be some pretty interesting stories there about baseball, TV and the '70s, right?
BOOK OF THE MONTH CLUB
Often funny, frequently surprising and always stimulating, "The Sheikh's Batmobile" is about the underreported popularity of American culture in the Muslim world. The title refers to a sheik who pays an American engineer to build Batmobiles. There also is a very entertaining chapter on the clumsy attempt to dub "The Simpsons" for an Arab audience (spoiler alert -- "Al Shamshoon" fails miserably, or, as author Richard Poplak writes, "Homer Simpson without Duff beer is like Pamela Anderson in an A-cup").
So just why in the world am I writing about this for a column about sports books? One, there is a wonderful chapter about bodybuilders and WWE fans in Afghanistan. In a poignant scene, a Kabul gym owner asks Poplak that if he should happen to be in California and talk to Arnold Schwarzenegger, to please tell the Terminator about his gym.
Two, in addition to being an adventurous and very sharp journalist, Poplak is a serious amateur cyclist who races in Toronto. Three, he also is a native of South Africa with interesting views on this summer's World Cup.
And four, with the current events in the Middle East, this is a particularly intriguing book. I interviewed Poplak before the uprisings, then asked him to comment further last week. Here's his reply, followed by the original interview:
Page Turner: I was wondering what thoughts you have on how Western pop culture is influencing what is going on in the Middle East, beyond what we've read about Twitter and Facebook.
Richard Poplak: Twitter and Facebook are communications technologies -- like phones or cables. They are culturally transformative by dint of the fact that they're useful. But that doesn't mean they contain ideas. American pop culture does. And it seems like 'The Sheikh's Batmobile' has been entirely prophetic, which is nothing I pat myself on the back for. I simply went over there and observed and wrote down what I saw.
And what I saw was young kids organizing heavy metal shows in Egypt, and Arabizers embedding radical ideas in their work despite the pushback from the regime. In the heavy metal instance, these kids -- in organizing shows -- were literally learning the mechanics of revolution (how to organize, how to get the word out, how to avoid the authorities) as well as imbibing the spirit of revolution (rock is revolution, baby!)
Time and time again, I heard how the idea of the individual rising up against chaos was the most powerful take-home from even the crappiest Hollywood blockbuster. But allowing all that stuff in, because they thought it would crush indigenous culture and turn their people into unthinking consuming autobots, the regimes in the region made a deadly mistake. Those ideas were viruses, and they transformed the region.
Which is not to ignore the very, very real grievances that the protesters had to deal with, and the fact that enough was enough, and the indignities had come to a boiling point. And it's not to ignore the very, very real anti-American subtext of the revolts. But we should never assume that smart young Arabs think American policy and American culture are necessarily linked. They sifted for nuggets, and used the ideas they could.
And now back to the original interview …
[+] Enlarge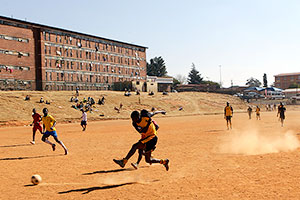 AP Photo/Rob GriffithLocals play a morning game of soccer on a dirt pitch in Alexandra Township in Johannesburg, South Africa, during the 2010 World Cup.
PT: What has been the fallout from the World Cup in South Africa?
RP: Two things. First of all, I think it showed the rest of the world and Africa that if soccer is done professionally and at a high level, it doesn't matter where it is. The sense of the 'Africa Debacle' evaporated. But the feeling of optimism it gave has curdled. Africa has matured. It's certainly capable of pulling off a multibillion-dollar party, but the continent needs to grow in many ways.
It was like a bar mitzvah for South Africa, a coming of age. Nothing really changes, but there was a change in the sense in how it's viewed.
BW: I've long thought sports is one of the few things left that can unite people. Which can be good and bad.
RP: In sports there is the sense that the individual can rise up and conquer. He does that for a community if it's a team sport. On the other hand, watching the World Cup -- as lovely and spiritual as it was -- it can also be creepily nationalistic at times. I don't mean patriotic -- I mean nationalistic and tribal and closed. But I was also there during the [cricket] World Cup when Oman did very well, and there was a sense of tribes knitting themselves together and creating another identity. In that sense it can be a good thing. You can always look at nationalism as a bad thing, but Oman was a good example. It can also be silly and bad. As a Toronto Maple Leafs fan I know that.
BW: What prompted you to write "The Sheikh's Batmobile"?
RP: The idea had percolated in me for years. Growing up in South Africa in apartheid, my way into the wider world was through popular culture. Hollywood is often racist in its depictions but it gave me an idea that black people could be something other than a servant. It was formative stuff growing up. So that has always been brewing for me. When I came across the story that 'The Simpsons' had been Arabicized, it gave me the idea -- how does American culture fit in the Muslim world?
The level of reverence people sometimes have for American pop culture is amazing. A lot of the culture is utter garbage. I'd say the greater proportion is innocuous. And some of it is really amazing. But imbedded into all of this is this sense of American optimism. I'm not saying sex and violence are not imbedded as well, but so is this sense that the individual has rights and can overcome chaos. This very particular American sensibility -- that individuals can triumph -- can be very appealing if you're growing up in say, Saudi Arabia.
BW: One of my favorite chapters in "The Sheikh's Batmobile" is the one about the popularity of bodybuilding and WWE in Afghanistan. The stories of the guys in the gyms are touching. How widespread is the popularity?
RP: That was a little bit of a surprise. All they want to do is get ripped. They want to get big. They love Arnold. They love bodybuilding, this sense of empowerment. It was quite poignant talking to them. They wanted to be bigger, they wanted to take up more space. They do have a precedent in Persian wrestling. Having a powerful body is ancient in that part of the world. Certainly there are parts of Afghanistan where it hasn't touched yet because they're so remote. But in the bigger cities, this stuff is big.
CLASSIC LIT 101
With spring training heating up, it's time to pick up my well-worn copy of Jim Bouton's "Ball Four," probably the best sports book ever written. I've read this book every couple of springs since I was age 12 and I think I've finally figured out all the sexual references. (Former pitcher Roy Smith read it even more frequently -- for a while, he kept a copy in his bathroom, along with "The Godfather.")
Bouton's usually funny, occasionally poignant and always insightful diary of his 1969 season with the Seattle Pilots and Houston Astros is not only a history of what baseball was like in that era (he writes about haggling over a $22,000 contract and fretting over the loss of a $600 apartment security deposit), it also serves as a reference work for the present. How could anyone pretend to be shocked about Tiger Woods cheating on his wife after reading about ballplayers doing it so cavalierly in "Ball Four"? Why was anyone surprised by the use of performance enhancers when Bouton revealed the widespread amphetamine use in 1969?
David Halberstam described "Ball Four" as "a book deep in the American vein, so deep it is by no means a sports book," while the New York Public Library named it one of the most important books of the 20th century. Deservedly so. "Ball Four" is a brilliant time capsule of baseball and America in the late '60s, yet it is remains timeless because so much of what he wrote then remains true today -- only the dollar figures have changed.
BW: What has the response been to your book?
RP: It's been surprising. People are skeptical -- there's almost this need to hold onto our views of the Muslim world. That the Muslim world isn't interested in engaging, that it's in enmity with us. That's the default position. People are surprised and puzzled by my book. That response was surprising and it upset me. We're almost 10 years out since 9/11 and we haven't made any significant gain in understanding. There is no intellectual desire to understand, to reach out and win the hearts and minds.
BW: That's too bad because the message in your book is actually very hopeful, that American culture can actually help bridge our differences.
RP: They don't want to be believe it. At that I can only chuckle. Cultures are open. They are always open. You can put on as many Internet filters as you want, but it won't work. The people will find it. Their culture will change and hopefully there will be this meeting in the middle. Relations can't always be this bad.
BW: You're a pretty serious cyclist. How do you view yourself, as a cyclist who writes or as a writer who bikes?
RP:I spend a lot of time on the bike and I love it. I spend a lot of time racing, but I don't make a living at it. For awhile, I thought it was taking away from my writing. To improve as a writer you need to write a lot and you need to read a lot. But writing and riding are very much linked, and I don't think I can take one away from the other.
BW: How are they linked?
RP: They're linked because they take the same amount of punishing effort. You can't lie when you're on the bike. You can't get on the bike if you're not fit and get through the race. And you also have to work very, very hard. There is this mental strength that is very good discipline. I just have to keep pedaling. It's the same thing when you're getting through a major piece of writing. You have to keep at it.
ALSO RECOMMENDED
After weeks atop The New York Times bestseller list, Laura Hillenbrand's "Unbroken" doesn't need any additional publicity from me, but I need to talk it up anyway. If you thought her earlier "Seabiscuit" was an amazing story, wait until you read about distance runner Louis Zamperini, who touched hands with Hitler when he competed at the 1936 Olympics and later survived two years of torturous punishment in Japanese prisons during World War II. I would have liked Hillenbrand to tell more about the 1936 Olympics, but I was hooked from the opening pages that place us in the lifeboat with Zamperini in the middle of the Pacific, 27 days after his plane crashed, with no food and sharks circling. I loved this book. So did my father who, like Zamperini, flew in a B-24 Liberator during the war. So will you.
Jim Caple is a senior writer for ESPN.com. You can follow him on Twitter at jimcaple.