Commentary
Page 2's top 20 royal sports marriages
Originally Published:
April 28, 2011
By
Jim Caple
| Page 2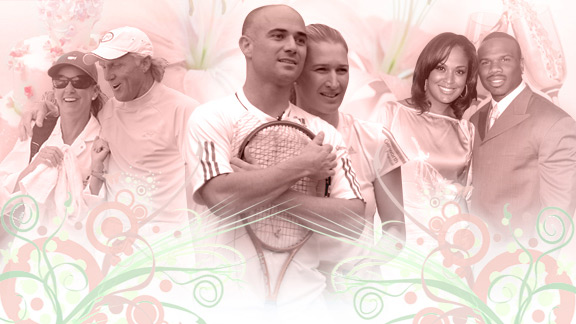 ESPN.com Illustration
Prince William will marry Kate Middleton early Friday morning in the most wildly anticipated royal event of this century ... or at least until King Felix Hernandez pitches to Prince Fielder in this summer's All-Star Game.
So to honor the most important event in the history of the E! network, I give you the cream of athletic royalty, the all-time top 20 athlete couples. The criteria is very simple. To be considered, they had to be a married couple (sorry, no A-Rod self-love) and both must be athletes (that means no swimsuit or lingerie models -- sorry Brooklyn and Gisele).
20. Terry Bradshaw and JoJo Starbuck: Bradshaw won four Super Bowls as the quarterback of the Steelers and is a very popular broadcaster despite making Paul McCartney sing "A Hard Day's Night" with him before Super Bowl XXXVI. Starbuck was an Olympic pairs figure skater. The two divorced after four years. Perhaps he insisted on singing along to the music in her routines.
Royalty equivalent: Shrek and Fiona.
19. A.J. Feeley and Heather Mitts: Feeley has a career quarterback rating of 69.6 and once threw three interceptions to Lofa Tatupu in one game. Mitts is a two-time Olympic gold medal soccer defender who could probably intercept Feeley's passes herself.
Royalty equivalent: The Fresh Prince of Bel Air and Queen Latifah.
18. Candace Parker and Shelden Williams: The first woman to dunk a basketball in an NCAA tournament game, Parker was the 2008 Naismith Trophy winner at Tennessee and now plays for the WNBA's Los Angeles Sparks. Williams was the fifth player taken in the 2006 NBA draft after setting a school record for blocked shots at Duke. I bet there is some mean one-on-one played in this household. "First one to 10 gets control of the remote!''
Royalty equivalent: England's King Henry V and Catherine of Valois. "We few, we happy few, we band of spouses ... will take on every other couple in the cul-de-sac in a game of 21. And we'll even spot you 19 points.''
17. Babe Didrickson and George Zaharias. Didrickson was one of the great athletes of the 20th century, excelling in golf, basketball and track and field. She won two gold medals and a silver in track and field at the 1932 Olympics. She won 41 LPGA events and is the only woman to make the cut in a PGA event. A true Renaissance woman, she also sewed her own golf outfits -- beat that, Michelle Wie! Zaharias was a professional wrestler whose nickname was "The Crying Greek from Cripple Creek,'' perhaps the worst sports nickname outside of Hideki Irabu's "The Fat P---- Toad with the Tokyo Zip Code.''
Royalty equivalent: Belle and the Beast. "Tale as old as time, song as old as rhyme ... Beauty and The Crying Greek from Cripple Creek.''
16. Misty May-Treanor and Matt Treanor: May-Treanor is a two-time Olympic gold medalist who teamed with Kerri Walsh as perhaps the best tandem in beach volleyball history. Treanor is a career .223 hitting catcher who has played for four major league teams in the past four years. If Treanor asked his bride to play some volleyball on their honeymoon, I hope she replied, "Yeah, right after you strap on some shinguards and a chest protector and catch some knuckleballs.''
Royalty equivalent: Deborah Kerr and Yul Brynner in "The King and I.''
15. Julianne McNamara and Todd Zeile: McNamara was the female American multi-medal-winning gymnast at the 1984 Olympics (a gold and two silvers) who did not get her photo on a Wheaties box or appear in a Tampax ad. Zeile played 16 seasons in the majors and never made an All-Star team but did retire with more than 2,000 hits and the most home runs by someone whose last name started with Z.
Royalty equivalent: Doug and Carrie Heffernan, "King of Queens."
14. Gabrielle Reece and Laird Hamilton: Reece was a two-time Women's Beach Volleyball League offensive player of the year and a model who frequently posed for magazine covers, including Playboy. Hamilton is a big wave surfer who helped invent tow-in surfing. Their children will grow up to be so impossibly gorgeous and fit it should be illegal.
Royalty equivalent: Prince Charming and Cinderella (before midnight).
13. Jennie Finch and Casey Daigle: Finch won an NCAA-record 60 consecutive softball games as a pitcher at the University of Arizona, won Olympic gold and silver medals, and struck out Albert Pujols in an exhibition. Daigle, a 1999 first-round pick for the Diamondbacks, is best known as being Jennie's husband. So whenever an argument gets heated over paying the bills, Jennie can always end it by saying, "Hey, I struck out Albert Pujols. You didn't strike him out in three chances. In fact, he hit two home runs off you.''
Royalty equivalent: Monaco's Prince Rainier and Princess Grace. That's just based on Finch and Grace Kelly.
12. Curtis Conway and Laila Ali: Conway was a wide receiver for 12 years in the NFL, topping 1,000 yards in receiving three times. Ali followed her famous father into boxing and retired with a perfect 24-0 record as well as a super middleweight championship but did not have Will Smith star in a movie about her.
Royalty equivalent: Elizabeth I and her frustrated suitor, Robert Dudley. Because asking Ali out on a date would be like taking out Elizabeth I, who was King Henry VIII's daughter with Anne Boleyn. You would be so scared of angering her father by bringing her home late, you would never leave the doorstep. Also, like Elizabeth I, you wouldn't want to be slapped by Laila for getting too fresh, either.
11. Bonnie Blair and Dave Cruikshank: Blair is a speed-skating legend, competing in four Olympics and winning five gold medals and one bronze. Cruikshank also skated in four Olympics but never medaled. Which I can only guess results in some serious trash talk around the house. "Who should do the dishes tonight? How about -- I know! Whoever doesn't have a single Olympic gold medal.'' And what happens if -- heaven forbid -- they ever get divorced? Does he get half the medals?
Royalty equivalent: Queen Victoria and Prince Albert. Though I think Victoria's stiff black dresses and layers of petticoats slowed her down on skates.
10. Nancy Lopez and Ray Knight: Lopez won 48 LPGA events and is a member of the World Golf Hall of Fame. Knight played 13 seasons in the majors, made the All-Star team twice and was the MVP in the 1986 World Series, when he famously scored the winning run of Game 6 on Bill Buckner's error (grrrrrr).
Royalty equivalent: Simba and Nala in "The Lion King."
9. Marion Jones and Obadele Thompson: Thompson is an Olympic 100 meters bronze medalist. Jones won five medals at the 2000 Olympics but later had to forfeit them all after she admitted she used performance-enhancing drugs. The two likely bicker when Jones uses Thompson's razor to shave her legs and face.
Royalty equivalent: King Edward VIII, who abdicated his throne to marry a commoner. Only in this comparison, Jones' former husband, disgraced shot putter C.J. Hunter, is less Wallis Simpson and more King Ding Dong.
8. Bret Hedican and Kristi Yamaguchi: Hedican is a two-time Olympian who played 17 years in the NHL, winning the Stanley Cup with the Hurricanes in 2006. Yamaguchi won the 1992 gold medal in figure skating and is the only U.S. Olympic women's champion who has married since then because she is the only one old enough to have entered puberty.
Royalty equivalent: Oscar winner Colin Firth and Oscar-nominated Helena Bonham-Carter in "The King's Speech.''
7. Florence Griffith-Joyner and Al Joyner: Joyner became the first American in 80 years to win the gold medal in the triple jump at the 1984 Olympics. A track icon whose legendary speed spurred many a pop culture reference, Flo-Jo won three gold medals and two silver Olympic medals. Even if she wasn't the fastest woman in a race, she could still win by stretching across the line with her fingernails.
Royalty equivalent: Elizabeth Taylor and Richard Burton as Cleopatra and Marc Anthony.
6. Nadia Comaneci and Bart Conner: Comaneci won five gold medals, including three in 1976 when she became the first gymnast to score a perfect 10. Conner won two gold medals at the 1984 Olympics. Because this is a family website, we will not speculate on the gymnastic moves the two performed on their honeymoon, nor their marks.
Royalty equivalent: Elizabeth II and Prince Philip of England as portrayed by Helen Mirren and James Cromwell in "The Queen.''
5. Chris Evert and Greg Norman ... or Andy Mill ... or John Lloyd: Evert was the undisputed Queen of American sports in the 1970s and '80s, winning 18 Grand Slam singles championships and frequently ranked No. 1 in the world. Not only did she marry three athletes, she also was engaged to Jimmy Connors. She married tennis player John Lloyd in 1979, Olympic skier Andy Mill in 1988 and the Great White Shark in 2008.
Royalty equivalent: Diana and Charles. Though if you replaced be-headings with pre-nups and alimony payments, Evert could be considered the King Henry VIII of sports royal couples.
4. Connie Carpenter-Phinney and Davis Phinney: Carpenter-Phinney competed as a speed skater at age 14 at the 1972 Winter Olympics and won a gold medal in cycling at the 1984 Summer Olympics. Phinney won a bronze medal in cycling at the 1984 Olympics and was the first American to win a stage at the Tour de France (1986), which the French must have really loved.
Royalty equivalent: Katharine Hepburn as Eleanor of Aquitane and Peter O'Toole as Henry II in "The Lion in Winter.'' Which would make their son, Tyler, the best young cyclist in America, Richard the Lionheart (as played by Anthony Hopkins).
3. Don Drysdale and Anne Meyers: Meyers received the first four-year basketball scholarship ever given to a woman, won a silver medal at the 1976 Olympics, was the only woman to sign a contract with an NBA team and is in the Basketball Hall of Fame. Drysdale was a Hall of Fame pitcher who won 209 games, struck out 2,486 batters, led the league in hit-batters five times, won a Cy Young and had cameos on virtually every sitcom that aired in the 1960s.
Royalty equivalent: Shah Jahan and Mumtaz Mahal, whose marriage was commemorated when Shan Jahan built the Taj Mahal for his late wife. Because you would need a similar sized home to hold all the Drysdale and Meyers trophies, awards and Hall of Fame plaques.
2. Mia Hamm and Nomar Garciaparra: Hamm is the most popular women's soccer player in history, a gold medalist and an inspiration to girls everywhere. Nomar was a six-time All-Star, a two-time batting champ and career .313 hitter. On the other hand, he interrupted their honeymoon in Hawaii to call a Boston sports talk radio show. That was as romantic as Napoleon interrupting his honeymoon with Josephine after two days to invade Italy.
Royalty equivalent: Richard Burton and Julie Andrews as King Arthur and Guinevere in "Camelot.'' (Of course, Nomar would have spent so much time messing with his wrist bands that he may never have gotten around to pulling the sword from the stone.)
1. Steffi Graf and Andre Agassi: Graf is a 22-time Grand Slam champion and the only person -- male or female -- to win all four Grand Slam titles and an Olympic gold medal in the same calendar year. Agassi was an eight-time Grand Slam champion, an Olympic gold medalist and one of the greatest tennis players in American history. Such is their supreme royal standing that their first born child, Jaden Gil, will play Centre Court at Wimbledon even if he isn't any good at tennis. (Although from the looks of this commercial, he is.)
Royalty equivalent: Queen Isabella I and King Ferdinand II, the powerful pair who united Spain and sponsored Columbus' voyage to America (but this comparison is definitely minus any of their bad stuff). Actually, you could draw a lesser royal link as well: Agassi revealed in his biography that he wore a wig to hide his increasing baldness, just as Mad King George III did. That is, if King George had worn a faux lion's mane instead of a powdered wig. Fortunately, Agassi says the ridiculous hairpiece only cost him the 1990 French Open. King George lost the American colonies. Advantage: Agassi.
Jim Caple is a senior writer for ESPN.com. You can follow him on Twitter at jimcaple.