By Jim Caple
Page 2
BEAVERTON, Ore. -- I'm sorry. What was that you were saying about Anthony Davis?
"He was our first known athlete to make it on the cover of SI,'' Nike's Nelson Farris says. "I got him by going up and introducing myself and showing him the shoe. It was light-weight and flexible and he wore it on the grass and it worked like a charm. I hand-painted it. John McKay was the USC coach; and the rule was, players had to wear all-black shoes. It was all-white and I had to paint it all black. And then I had to touch up the swoosh, which was kind of a gray color, so that it looked whiter.''
My sports road trip of the Lewis and Clark Trail has taken me to the campus of Nike headquarters, and Farris is trying to tell me about the company's early days. The Nike memorabilia scattered around his office, however, keeps distracting me.
There's a running shoe hand-made by famed Oregon track coach and Nike co-founder Bill Bowerman. There's an original Nike white leather Cortez with the red swoosh, and an old blue nylon trainer. There's an original Air Jordan. There are the jerseys of LeBron James and Lance Armstrong. There's the famous "There is no finish line'' magazine ad.
There's a pair of wood clogs with the Nike swoosh. (They're a gag -- I think.)
CAPLE'S LEWIS & CLARK TALLY
Miles: 439 from Orofino, Idaho to Portland (3,107 total, including side trips).

Total states: 11.

Weather: Warm and sunny.

Diet sodas: 5 units.

Lewis and Clark Trail Markers passed: 48 (256 total)

Price of gas: $2.16.p>

Traffic citations: None.

Civilization alert: After passing one Starbuck's in the first 3,094 miles, I pass two in one block in downtown Portland.
"The first athlete we paid was Ilie Nastase,'' Farris says. "I think we paid him $5,000 and that was a big, big, big, BIG deal for us. And then he promptly won Wimbledon or the U.S. Open or something. That was our first foray into athletic endorsements. In 1972, I think.''
Thirty-two years later, Nike has at least 4,000 athletes signed to endorsement deals worth more than $1 billion, with $500 million tied up with Manchester United and $90 million with LeBron James. It spends at least $300 million a year on marketing, and that's a conservative estimate. Its revenues rose to $12 billion last year. It's the world's largest producer of athletic shoes and apparel, and it's not even close.
It's almost impossible to imagine modern sports without Nike, though we can be certain a lot of athletes and broadcasters would be in lower tax brackets.
---
While portaging their canoes around the great falls of the Missouri, Lewis and Clark's Corps of Discovery wore out their moccasins at a rate of a pair every two days. After reaching Fort Clatsop on the Oregon Coast, the Corps spent the winter preparing for the return trip by sewing 358 pairs of moccasins, about 10 pairs per person. On Christmas day of that winter, Private Joseph Whitehouse presented Clark with a cherished present: a pair of moccasins with a waffle sole and a swoosh on the side.
I'm just making that up. Everyone knows Reebok signed the entire Lewis and Clark expedition to a deal worth 90 million buffalo hides.
Actually, Bowerman developed the first waffle sole by pouring rubber on his wife's waffle iron. You can see that waffle iron (along with Mrs. Bowerman's waffle recipe) on display in the Prefontaine Building (right down the hall from a bronze statue of Steve Prefontaine) on the Nike campus.
The Nike campus is so spectacular that I wonder why they don't sell tickets. It really does have the feel of a college campus, and not just because the swoosh is always visible.
There is never a doubt that this is the home of Nike -- not IBM or Chase Manhattan. Sport is reflected everywhere. The Prefontaine Building is one of 16 named for athletes who have been associated with Nike, including Tiger Woods, Ken Griffey Jr., Lance Armstrong, Mia Hamm, Nolan Ryan and, oddly, Mike Schmidt.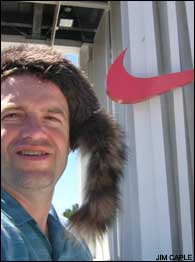 Only the swoosh can overshadow Caple's hat.
There is an Olympic-size swimming pool for employee use, two international-size soccer pitches (which were being used at 1 p.m. on a Tuesday), an outdoor track, two other running paths, a beach volleyball pit, basketball courts, a spinning room with 60 bikes, a simulated Tour de France stationary bike workout and rooms for aerobics and pilates classes. There is a 44-foot climbing wall.
There is a replica of the 18th tee at Pebble Beach, with a bunker guarding the green 317 yards away. The employee restaurants resemble sports bars, complete with memorabilia, autographed photos and beer on tap. There are circulars encouraging employees to sign up for the kayaking and running beer gardens.
Note to editors: Could someone forward this section of the story to ESPN Human Resources?
There is so much sports memorabilia that it must be like working at the Hall of Fame, only Pete Rose isn't hawking his autograph out front. There's even a long walkway adorned with bronze plaques honoring athletes from all sports who have Nike links -- the inscription on the Lester Hayes plaque reads, "The Judge ... commanded respect from all he sentenced.'' There is a bronze sculpture of Tiger that captures him so well I expect it to yell at me when I pause to snap a picture.
"I was showing Jerry Rice around when we opened his building, and he said it was a bigger honor than winning the Super Bowl,'' Nike rep Scott Reames says. "He got pretty choked up.''
Reames leads me on a tour through the design and development wing, where there are so many shoes that Imelda Marcos wouldn't be able to leave without first taking a shower in liquid nitrogen.
We walk past an entire room filled with molds (the official term is "lasts'') of all the athletes' feet. There is a test room filled with so many cameras and sensors that it must have been designed by John Ashcroft. I see a prototype shoe that I'm sworn not to describe. I'm not sure, but I think it runs for you while you lie on the couch drinking beer.
"There's a hyperbaric chamber in here where we can recreate the weather conditions of a 95-degree day in Athens or a winter day in Seattle when it's 45 and rainy,'' Reames says. "Well, I don't know if they can make it rain, but it feels like that.''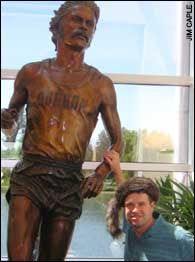 Prefontaine is still larger than life in Oregon.
Nike hires people to study and forecast trends, and the designers library has mockups of a half-dozen or so imaginary demographic models -- each with a name such as Alli and Noah, plus their likes/dislikes and interests. They are all young and hip and decked with the latest electronic toys. Looking at them, I feel terribly old, realizing that Nike considers me too old and hopelessly out of it to be a target of their marketing campaigns.
We walk outside. It is a gorgeous summer afternoon. Everywhere, employees are wearing jeans and shorts. If this is everyday businesswear at Nike, I can only assume that on casual Fridays you can wear your sweat-soaked running shorts and t-shirt without showering first.
"Any question?" Reames asks.
Yeah. Where do I get an application?
---
The swoosh was designed by a college student for $35 -- "Honest to God," Farris says, "(Phil) Knight's reaction was, 'I don't like it that much but I think it will grow on me' '' - and is now as internationally recognized as the Coca-Cola logo, the golden arches or Homer Simpson.
"You'll like this story,'' Farris says, proceeding to tell me about his visit to Niger while his son was serving there with the Peace Corps. "So I get off the plane, take a death-defying taxi ride, one hour by mule; and then we walk into this village where there is no running water, nothing. I walk up and these kids are all staring, and I look at one and this kid is wearing a friggin' swoosh necklace.
"I asked him where he got it, and he said he melted down and hammered out his own swoosh. Because my son had told them I worked for Nike.''
Such heavy branding isn't always a good thing. I owned Nike stock for awhile before selling it several years ago when I grew tired with the company putting the swoosh everywhere. The cool thing about Nike was that the company was a trailblazer that always made customers feel like they were joining a special, fun club when they bought its shoes. It wasn't selling shoes so much as a way of life. Then all of a sudden it seemed like membership was mandatory throughout the world.
I suppose some probably feel the same about ESPN. Indeed, there are moments when it seems that if the athletes aren't wearing Nike or being televised on ESPN, the game doesn't really count in the standings.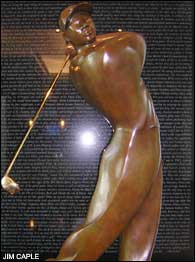 Tiger's just another legendary athlete in the crowd on the Nike campus.
"We did go through that period of the ubiquitous swoosh,'' says Farris, who has a swoosh tattooed on his ankle. "One time, Mad magazine showed Tiger Woods golfing with about 100 swooshes all over him.''
Farris says the swoosh is less prominently displayed on Nike's clothing these days. But it's still as hard to avoid as a Starbuck's, what with Nike slapping the logo on tournaments, camps, golf tours and every team it can, and sending shoe reps to all corners. Nike spent $140 million on commercials last year. It was partnered with the eight BCS teams last winter, plus both of UConn's basketball champions. It represents so many athletes that when Farris talks about how "we'' did in a particular Olympics, he's not talking about American athletes; he's talking about Nike athletes.
And the big story last year was not whether LeBron would enter the NBA draft or which team might pick him, but which shoe company he would chose to endorse.
Nike got him, of course, though I still don't really understand the logic behind paying him $90 million. Farris tries explaining it to me, talking about building product lines and two-percent sales growth for a company with $12 billion a year in sales. But I'm not listening too closely because I'm busy staring at the Olympic torch behind his desk.
It's all a far cry from a waffle iron.
So anyway, about Anthony Davis? What did you give him for wearing your shoe?
"Just the shoe,'' Farris says. "I think we made him about six pairs.''
TOMORROW: Trail's End.
Jim Caple is a senior writer for ESPN.com