Commentary
Super Bowl ads are big business
Originally Published:
February 5, 2010
By
Kelley Carter
| Special to Page 2
Even with a down economy, there's still a fierce hunger to get in the Super Bowl ad game.
"It's the eyes; it's all those eyes," said Bart Cleveland, the creative director at McKee Wallwork Cleveland, whose agency founded the online consumer rating site ADBOWL.com 10 years ago to allow viewers to vote for their favorite spots. "When you think about the cost per viewers, it's about a penny per person. So it's still a valuable media consideration for brands. They get to join on a stage and I think there's some excitement in that."
THE BIGGEST BUZZ
Here's a sampling of five of the most talked-about Super Bowl commercials of all time:
• "Coca-Cola Classic and Mean Joe Greene" (Coke)
In 1979, Pittsburgh Steeler Mean Joe Greene co-starred in a commercial that pulled at the heartstrings, and really demonstrated a conceptual way of looking at advertising.
• "1984" (Apple Computers)
In 1984, Ridley Scott directed this ad, which many people say single-handedly upped the ante for Super Bowl commercials.
• "Respect" (Budweiser)
They only aired this commercial one time during the Super Bowl in 2002, but the brand used its famous Clydesdale horses to pay tribute to the victims of 9/11 in this spot.
• "Talking Stain" (Tide to Go)
In 2008, Tide to Go made its first-ever Super Bowl commercial appearance with this funny, relatable ad that at first glance wouldn't appeal to a football-watching demographic.
• "When I Grow Up" (Monster.com)
In 2008, Monster.com offered a top-notch tongue-in-cheek commercial that featured a series of children talking about what they wanted to be when they grow up -- adults in thankless jobs.
-- Kelley L. Carter
You bet there is.
Let's be honest -- watching the commercials that air during the Super Bowl is almost as exciting as the game itself. Advertisers and brand honchos spend several months trying to figure out how to create the commercial moment of the year, and sometimes they will sock a good chunk of their budget into producing a single 30-second spot.
If they play their cards right, advertisers can attract up to 100 million pairs of eyes -- from a cross-section of demographics -- which makes paying the reported price of $2.5 million to $2.8 million for each 30 seconds a bargain. Plus, that's less than NBC's $3 million price tag last year. To boot, CBS has sold all its available spots for this Sunday's Super Bowl broadcast, the network said on Monday -- in recent years, networks have had spots available up until game day.
Why have this year's spots all sold already? Truthfully, there's no clear answer as of yet. But it's likely due to a healthier economic forecast for 2010 and beyond -- or, it could simply be that the recent recession has caused some major players to bow out, which allowed smaller, lesser-known brands to step up and snatch their moment in the spotlight. There will be no Pepsi commercials this year, for example. But instead, look for a group of newbies who will be making their Super Bowl debuts on Sunday.
"We made the decision to invest in a down economy and we're going to continue to invest this year," said Jim Trebilcock, executive vice president of marketing for Dr. Pepper. Dr. Pepper will be debuting a new commercial on Sunday featuring KISS, which has been generating buzz for the better part of a week. "You're going to see a lot of first-time companies coming in this year on this Super Bowl because their business situation may not mirror the overall economy. I still think everybody's pretty cautious, but I think people are wanting to try to best position themselves as we hopefully come out of this on the back half going into 2011. That's certainly our strategy."
Other brands, like Pepsi, Coca-Cola and Budweiser are sinking their dollars into social media initiatives this year, such as Facebook fan page campaigns.
Venturing into something new like that has worked out quite nicely for Budweiser, which created an ad -- it was a re-enactment of Janet Jackson's famous "wardrobe malfunction" -- that was banned from the air. But getting banned was the best thing for it, since the demand to see it skyrocketed -- and that's where social media came into play, generating millions of hits on YouTube.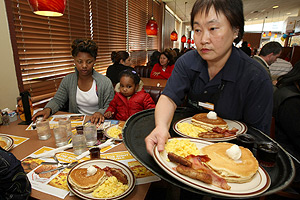 Justin Sullivan/Getty ImagesDenny's offered a free breakfast via its Super Bowl commercial last year, and it was a huge success.
That said, branding experts are convinced that the Super Bowl is still the best way to grab people -- and most often the results are monetized. Denny's got into the game last year, aired their commercial one time (which announced a free breakfast), and several weeks later Denny's customer numbers were way, way up from the previous year. They're doing a repeat commercial this year, in which they'll be giving away something else, though they're being tight-lipped about what it is.
"Honestly, it's probably the only environment where the advertising is almost as important as the game itself. Sixty-five percent of consumers remembered ads more than who remembered who won the game," said Scott Keogh, chief marketing officer for Audi America, a brand that will be debuting its third Super Bowl commercial this year. "We get almost 800 million impressions just on the one ad from the Super Bowl. Then, if you throw social media, the Web, and the pass-around of YouTube and Facebook … it really makes this a very smart purchase."
As for what else is coming this year? Expect more over-the-top, witty, funny, thoughtful commercials which are often filled with hyperbole, gags and stunts.
"You get a different class of commercials on the Super Bowl than you get any other time of the year. Expectations are high and people expect to be entertained," said Mason Wiley, senior vice president of marketing for Hydra. "They're trying to get watercooler chat, and a lot of times, the spots have little to do with the product being sold. But this is a quick way to get really wide exposure, instantly."
Expect that the best spots on Sunday will have a lasting effect, said Jay Giesen, executive creative director at Brunner. "At the end of the day, what really does grab attention and hold it over the long term is the universal human insight. Something that touches all of us. It could be something that tugs at the heartstrings. It could be humor. Or just entertainment. They all play back to something that is a human connection.
"We all may internalize it in different ways, but it touches us in some kind of way. That's what a great ad should do. That is the universal trait of the best spots I've seen in the Super Bowl."
Kelley L. Carter is a freelance entertainment reporter. She can be reached at thekelleylcarter.com.